I started my wide moat Dividend Growth Accumulation Fund toward the end of 2014 to execute my strategy of investing and accumulating high quality stocks consistently, based on my budget and available funds. My strategy is investing a small, fixed amount across 30 dividend payers each and every quarter.
The volatility which the Dividend Growth Accumulation Fund ("the Fund") experienced in January continued in February and again in March. However, when all was said and done, the Fund ended Q1 higher than where it began the quarter. In spite of the elevated volatility, I finished the quarter up on the S&P 500. Year to Date the Fund is still up close to 2% over the S&P 500, returning 3.9% vs. 2% for the S&P 500. Since inception (November 2014), the Fund has returned 10.2% vs. 3.0% for the S&P 500 over the same time period. The Fund's 1-year return versus the S&P 500 is shown below: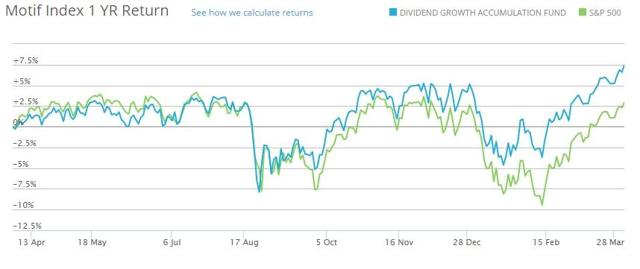 Current Portfolio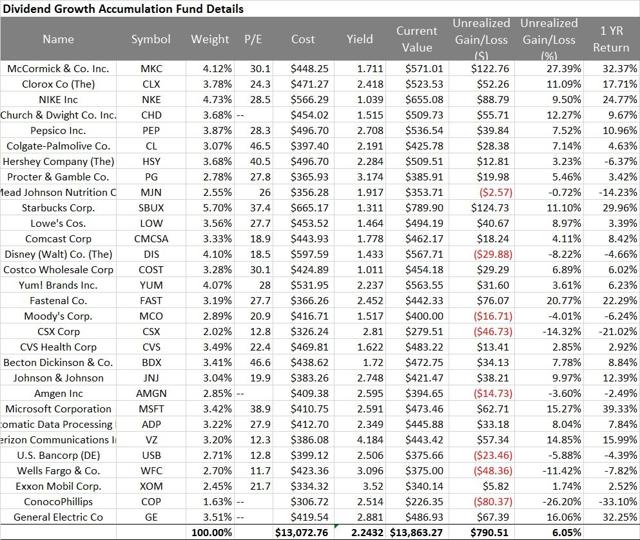 Observations:
My top performers are a surprising mix of large cap names and staples that one typically associates with slow and unspectacular growth. It's a little surprising to see McCormick (NYSE:MKC), General Electric (NYSE:GE), Microsoft (NASDAQ:MSFT) and Verizon (NYSE:VZ) are amongst my top performers to date. All have generated double digit returns, with McCormick up almost 27.5% since I started my accumulation just under 18 months ago.
Starbucks (NASDAQ:SBUX) and Nike (NYSE:NKE) still dominate my portfolio weightings at 5.7% and 4.7% respectively, however this is largely a function of them receiving a slightly larger capital allocation than other positions.
I'm fairly happy with the overall composition of my portfolio. No one position accounts for more than 6% of the portfolio, and just 1 position has a weighting of less than 2%. The whole idea behind 30 diversified positions was to have income streams from a variety of sectors, and that would be nullified if any 1 or 2 positions dominated the portfolio.
Positions related to the resources sector are the ones that are suffering the most. ConocoPhillips (NYSE:COP) has returned -26%, while CSX (NASDAQ:CSX) has returned -14%, courtesy of falling coal volumes. These positions have more cyclicality than I would have liked. CSX's performance is a surprise to me, as I didn't expect rail infrastructure to have quite the cyclicality that CSX has shown.
My banking positions are also lagging the rest of my portfolio. A combination of a low interest rate environment and margin pressures as a result of increased compliance on core mortgage lending have depressed the stocks. Rates will eventually rise, particularly as US economic growth picks up. This should provide a nice tailwind for banking earnings of US Bank (NYSE:USB) and Well Fargo (NYSE:WFC).
I'm currently looking at an effective yield on my portfolio of almost 2.24%, which implies full year dividend income of over $300 on my $13,860 portfolio.
Given the current levels of the Dow at 17,700, my quarterly purchase when the Dow was at 15,750 earlier in the quarter looks to have been well made. The fact that the purchase was made at close to the index lows for the quarter is more luck than anything else; however, part of my assumption behind regular consistent accumulation was that I would get enough of these artificial lows to offset purchases at market highs.
My accumulation has cost me a grand total of $60 in trading costs making 180 separate transactions across 30 different stocks. Part of my aim was to keep my costs low, and I would have struggled to implement this strategy if I wasn't using a low cost transaction service like Motif. A conventional brokerage would have eaten up close to $1800 of my capital in trading costs alone.
I had an aim of creating an all-weather, diversified dividend growth portfolio that could sustain the test of time. 18 months into my accumulation, I haven't seen anything to change my view that the majority of my holdings continue to meet this requirement. The position that I have the most concern over is ConocoPhillips; however, I don't believe current oil price levels will be representative of long term pricing trends.
Future Outlook
I expect to make 3 additional $2,500 purchases of my index over the remainder of the year, with a purchase in each of the remaining quarters. Unfortunately, stocks have risen much more rapidly than I anticipated in March, making cheap accumulation more difficult to achieve. However, given the volatility that we have seen thus far in the year, I'm optimistic that I may have the chance to buy at levels similar to the purchase that I made in Q1.
Disclosure: I am/we are long COP, MSFT, CMCSA, COST, AMGN, PG, CSX, GE, US, WFC, XOM,BDX, CLX, HSY, CHD, VZ, MKC, SBUX, NKE, DIS, LOW, ADP, CL, ADP, CLX.
I wrote this article myself, and it expresses my own opinions. I am not receiving compensation for it (other than from Seeking Alpha). I have no business relationship with any company whose stock is mentioned in this article.