Precious metal prices moved higher during the first quarter of 2016. A composite of the active month futures prices of the four exchange traded precious metals appreciated by an average of 9.54% in Q1 making it the best performing commodity sector of all. The sector fell by 19.46% in 2015. This composite was also down by 8.10% in 2014. The US dollar weakened by 4.22% during the first three months of the year as the U.S. interest rates remained unchanged.
Economic uncertainty around the globe created an atmosphere of fear which resulted in a flight to quality bolstering the sector. Historically, there is an inverse relationship between precious metal prices and the dollar, prices of most precious metals outperformed the dollar. Interest in precious metals increased as volatility in world equity markets and other asset prices resulted in investors and traders seeking safe haven assets.
Global interest rates continue to be at very low levels - in Europe and Japan rates are negative and in China they continue to fall. The U.S. raised the Fed Funds rate for the first time in December 2015 and promised 3-4 additional hikes in 2016 but during the first three months of the year, the central bank did not act.
Some statements during the quarter led market participants to believe that further rate increases have been delayed until global economic conditions improve as the U.S. Fed fears contagion from other weaker markets. Precious metals became more precious during Q1. Precious metals and base metals both moved higher on average and metals registered the highest percentage gains of all commodities.
Gold Review
Gold closed on December 31 at $1060.20 per ounce. It never traded to that level in Q1 2016 as the price of the yellow metal moved higher on the first trading day of the year and never looked back. Gold fell 10.46% in 2015 - it appreciated by 16.41% in Q1 making back all of the losses early in the quarter. Gold closed on March 31, 2016 at $1234.20 per ounce basis the active month COMEX June futures contract. By early February, gold had recouped all of the losses made in the previous year.
Gold traded in a range between $1061 and $1287.80 during Q1. The lows of the quarter came on the first trading day. The move in gold over the three month period was the biggest gain on a percentage basis in 30 years. Physical demand for gold continues to be strong around the world. Central banks have been net purchasers of the yellow metal with most buying coming from Russia and China who have been adding to national reserves.
Lower energy prices have decreased the production cost for gold and the decrease in the value of the dollar has caused the prices of many mining shares to explode higher. Both GDX and GDXJ moved aggressively higher and closed the quarter close to 52 week highs. Open interest in COMEX gold futures contracts increased by 60,161 contracts to 473,563 contracts at the end of Q1 - an increase of 14.5%. Rising price and rising open interest is a supportive sign from a technical perspective. Since gold made highs at just over $1920 per ounce in 2011, it had been making lower lows and lower highs over the past four years. The action over the first 90 days of this year negated the bearish tone to the market as gold broke through resistance.
Outlook for Gold in Q2
I had been bearish on gold; however the action during the past three months has resulted in my changing to a neutral to friendly stance on the precious metal. I now prefer buying sharp sell offs in the yellow metal and taking profits on recoveries and new highs.
There continues to be issues that will pull gold in two directions as we go into Q2. On the bearish side is a global deflationary environment and the prospect of rising U.S. interest rates. On the positive side is a continuation of historically low interest rates around the world. The ECB expanded its policy of quantitative easing during the first quarter with purchases of debt rising from 60 to 80 billion euros per month and the inclusion of corporate debt into the program.
Additionally, the ECB cut European rates to -40 basis points; however they said that rates would not go any lower. Low interest rates are positive for gold prices, as gold has no yield and must compete with other assets. These cheap money policies will eventually lead to inflation, which is likely to be an ugly legacy of recent monetary policy. One of the issues that held the U.S. Fed from raising rates prior to December has been the low rate of inflation, well below the central bank's 2% target rate. However, the bottoming action in Q1 in some commodity prices could mean that inflation is starting to rise.
The world continues to be a dangerous place and a flight to quality could continue to support gold at times during the year. Gold remains strong in all currencies and it is strong relative to other precious metals and all commodity prices for that matter. In a quarter where commodity prices rose by under 2% on average and the dollar declined by just over 4%, gold outperformed all assets by a significant margin. Only high quality government bonds gave gold a run for its money. After bear market action for over four years, there has been a change in the gold market.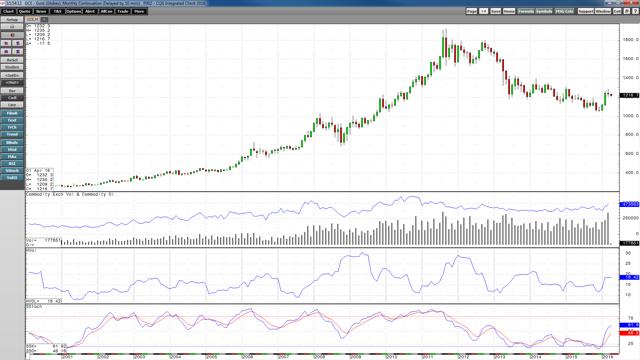 As the long-term monthly chart highlights, the momentum in gold has shifted higher after years of bearish market action. On the upside, key resistance is now at just over the $1307 level - the January 2015 highs. Gold just finished the best quarter in three decades and on the first trading day of Q2 it dropped by around $20 only to recover some of those losses late in the session.
I expect an increase in volatility in the gold market. Key support is at $1160-$1170, the 50% retracement level, of the move that took it from the November 2015 lows of around $1045 to almost $1288. Given the change in price action, the path of least resistance for gold seems to be higher so long as it remains above the key support level.
Silver
The price of silver rallied by 11.86% during Q1 -- it was lower by 11.51% in 2015. While gold eclipsed 2015 losses and moved higher, silver just managed to erase the loss in the previous year. In 2014, silver shed 22.82% of its value. Silver closed on March 31 at $15.44 on the active month COMEX May futures contract. Silver has traded in a range between $13.75 and $16.17 throughout Q1. Silver usually displays a higher degree of volatility than gold and it tends to attract more speculative activity.
As of the end of Q1, daily historical volatility in silver was 26.2% while gold's was 17.17%. Meanwhile, open interest in silver futures traded on COMEX moved from 166,984 contracts at the end of 2015 to 176,344 contracts on March 31, 2015 - an increase of 5.6%. Rising price and rising open interest is a bullish technical signal for gold's little brother. The current action in silver is tepid. Silver opened the new quarter last Friday by moving over 50 cents lower and below the $15 level in May COMEX silver futures only to recover above the psychological level late in the session.
Silver is an industrial precious metal, concerns about the health of the global economy continue to provide a roadblock for significant gains. While many metal prices, posted gains during the three-month period that ended on March 31, the increases in prices were small considering the extent of losses over recent years.
As we move into Q2, I will continue to watch the silver-gold ratio, which closed Q1 at 79.94:1, the ratio moved higher over the quarter by 3.13 a sign of gold's strength relative to silver. The ratio traded to highs of over 83:1 during Q1 which was the highest level in 21 years since 1995. Silver continues to be cheap on a historical basis relative to the price of gold.
Outlook for Silver in Q2
Like gold, the long-term chart for silver has improved given price action during Q1.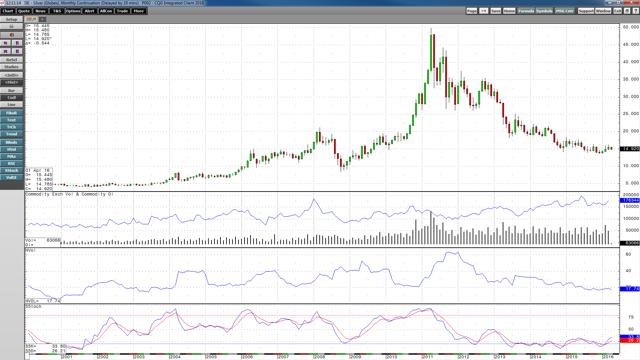 The monthly chart for COMEX silver futures shows that the slow stochastic, a momentum indicator has crossed and shifted higher in oversold territory. This is a positive sign for the metal but it has yet to break out to the upside. Resistance for silver is at the October 2015 highs of $16.37, above there $18 comes into play. Support is at the $14.60 level.
The long-term (40+ year) median for the silver-gold ratio is around 55:1. The divergence in the ratio continues to tell us that either silver is too cheap at current levels or gold is too expensive. The Q1 ending price of gold implies a silver price of $22.44 per ounce if the relationship were to return to its historical mean. That price is $7 per ounce above the current market price. Conversely, silver at $15.44 implies a gold price of $849.20 - eventually something has to give in these precious metals. While the ratio is only a benchmark for value, prices have tended to return to the mean over the past four decades.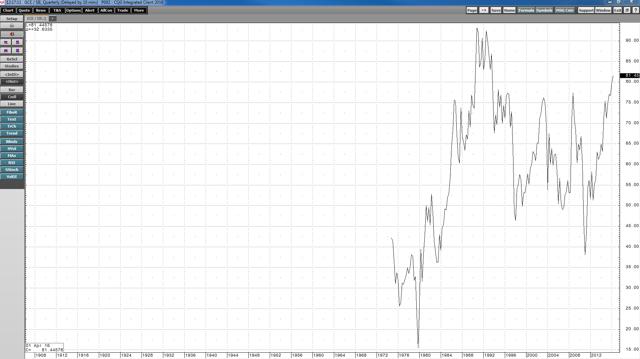 As the quarterly chart of the ratio illustrates, it has a penchant to revert to the mean. The ratio moved back to over 81.5:1 on April 1 as silver declined more than gold on a relative basis. We need to keep our eyes on this value relationship for clues on the trajectory of silver in the months ahead.
Silver fundamentals are difficult to get a handle on as a large percentage of silver production is as a byproduct of copper, lead, zinc and tin concentrates. Low base metal prices could eventually lead to production cuts, which would be a positive factor for the price of silver. On the other hand, lower energy prices have cut production cost for all of these commodities.
Silver tends to attract speculative interest because of its volatility; therefore it could provide clues in coming months as to the price path of all commodities on a macro basis. As in gold, I believe we saw important changes in the silver market in Q1 and I favor buying dips to initiate positions rather than selling rallies. I also favor trading the precious metal as opposed to investing in it, taking profits on price recovery rallies. 2016 is looking like a year where trading rather than investing is the way to achieve optimal results.
Platinum
Industrial precious metal prices had been suffering under a weak global economic landscape for the past few years. While we saw a recovery in the price of platinum, it remains below $1000 per ounce. Platinum closed on March 31 at $976.60 per ounce. Platinum lost 26.24% of its value in 2015 after being down 14.35% in 2014. In the first quarter of 2016 "rich man's gold" gained 9.52%. Platinum traded in a range between $812.40 and $1011.10 during Q1.
Platinum is a rare precious metal that is expensive and difficult to mine. The vast majority of platinum production, eighty percent, comes from South Africa. As an industrial precious metal, a large percentage of platinum demand comes from its use in automobile catalytic converters. Slower growth in China and Europe continues to weigh on the platinum market; industrial demand was weak for the rare precious metal. Currency volatility in the South African rand likely contributed to platinum's weakness.
Investment demand has not been buoyant in platinum and it has remained weak relative to gold. Platinum, like many other industrial commodities, posted a new multi-year low in early 2016 before the price corrected. In a sign that there is little speculative or investor interest in the platinum market, open interest in NYMEX platinum futures fell to 57,780 contracts a decrease of 8,754 contracts or 13.2% during Q1.
The platinum-gold spread closed 2015 at a $168.50 discount, platinum was cheaper than gold. The long-term median level for this relationship over the past four decades has been around a $200 premium for platinum over the price of gold. The premium reflects the rarity of platinum, there is more than ten times the amount of gold produced each year than platinum and on a per ounce basis, industrial applications for platinum are much more than for gold. During the first three months of 2016 the discount increased to $320 - a new, modern day, all-time low. On March 31, 2016 this relationship closed at $257.60, platinum's discount under gold increased by $89.10 from the end of 2015.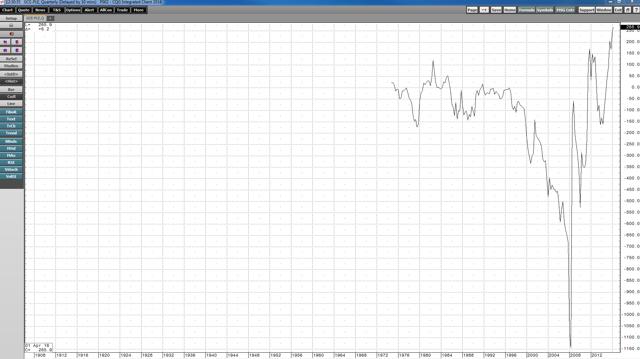 As the quarterly chart of the price of gold minus the price of platinum reveals, prior to 2015 platinum had never traded to a discount of over $200 to the price of gold. In 2008, it traded at over a $1200 premium. The nickname for platinum is "rich man's gold" - in recent years it has been anything but that.
The discount tells us that platinum is either too cheap at its current price or gold is too expensive on a relative basis. The March 31 price of platinum implies a price of $776.60 for gold given a reversion to the mean on the long-term price relationship. On the other hand, it also could imply a platinum price of $1434.20.
Outlook for Platinum in Q2
Platinum has been struggling to rebound. While it moved almost 10% higher on the quarter it faces a wall of resistance at around $1025. Support is at $940 then at $900 with long-term support at the Q1 lows of $812.40 per ounce. As with the silver-gold ratio, at current levels, either platinum is too cheap relative to gold or gold is too expensive relative to platinum on a historical basis. Platinum is rare when compared to gold.
While gold production amounts to approximately 2,800 tons per year, there is only about 250 tons of platinum output each year. Moreover, due to its properties, industrial applications for platinum are numerous. Platinum is also far less liquid than gold. Therefore, I believe that over the long haul, platinum will eventually outperform gold once again.
For the long-term; purchasing physical platinum may be a better option than buying physical gold or silver in the precious metal markets today. Premiums on platinum coins and small bars are high which indicates a shortage of these products available to the general market. I favor buying NYMEX platinum contrasts and standing for delivery as opposed to buying retail platinum bars or coins at very high premiums in this market. Each NYMEX contract contains 50 ounces of the metal, which means that at a price of $976.60 per ounce it costs approximately $48,830 to purchase a platinum contract.
There are some additional fees for taking delivery and removing the metal from warehouse receipt, but those costs are far below the premiums today for coins and small bars making the NYMEX route to physical far more attractive for physical purchases. I believe that if platinum breaks above $1025 the price of the metal will move significantly higher quickly.
Palladium
Palladium closed on March 31 at $564 per ounce, up only 0.36% for Q1. Palladium fell 29.61% in 2015 making it the worst performing precious metal of last year - it was also the worst performing precious metal of Q1. Palladium traded in a range between $451.50 and $608.15 during the first three months of 2016. The lows came in early January and palladium has recovered since then.
Palladium, a platinum group metal, is a rare precious metal. Russia, more specifically the Norilsk Nickel mines in Siberia, produces the majority of the world's palladium. The fact that nickel continues to face selling pressure (it was down another 3.9% in Q1) could mean the Russians have been selling both nickel and palladium. The all-time high for palladium in January 2001 was at $1090 per ounce. As with platinum, a large percentage of palladium demand comes from its use in automobile catalytic converters and the weak global economy weighs on demand for palladium.
Outlook for Palladium in Q2
I believe that the Russians sold huge stockpiles of the metal back in the early 1990s. The Russians were cash starved during that period. It is possible that Russian palladium inventories grew during the past two decades and they have been selling to raise cash. The recent lows in January could have been the result of Russian selling inventories along with their increasing nickel production in the face of lower prices. The lower palladium price has been the result of slowing economies in Europe and China.
If this trend continues, it is possible that demand for automobiles will decrease causing further weakness in palladium prices. The price action in all other precious metals has been a positive for palladium but it is the metal that attracts the least amount of investment demand.
Open interest in NYMEX palladium futures fell from 24,553 contracts at the end of 2015 to 22,247 contracts as of March 31 -- a decrease of 9.4% over the three-month period. The decline in open interest reflects the lack of speculative interest in this metal. I expect palladium to reflect moves in other precious metals.
The bottom line...
The overall trend in precious metals changed in Q1. What has remained constant is that from a historical basis, both silver and platinum continue to be cheap relative to the price of gold or gold is expensive and overpriced relative to its precious cousins.
At the end of 2013 I wrote, "I strongly believe that gold is too expensive…My $880 price target for gold is a reflection of a reversion to the mean for long-term price relationships, the silver-gold ratio and the platinum-gold spread. I continue to believe this to be the case." I was dead wrong, gold did exactly the opposite.
While I am not a raging bull on precious metals I do believe that the market has shifted from selling rallies to initiate positions to buying dips and taking profits on rallies. I expect volatility to pick up in all markets and given the action in gold over the first three months of 2016, it appears that gold has moved from an alternative asset back into the mainstream.
This means that during periods of fear and uncertainty investment funds will flow back into gold and as the waters calm they will flow out. This is likely to increase volatility in terms of all precious metals. In order for me to turn raging bull on the precious metals sector, I would have to see a trend develop where the silver-gold ratio and platinum-gold spread begin to trend toward historical norms.
Precious metals will key off action in the U.S. dollar and the potential for rising U.S. interest rates during Q2 and the balance of 2016. Action in the Market Vectors Gold Miners ETF (GDX) outperformed action in the gold price; GDX was up by 45% in Q1. The Junior Gold Miners ETF (GDXJ) also gained 45% in Q1. I believe that gold will have to add to gains to maintain these values. Lower production cost due to lower energy prices and a weakening dollar added to gains in gold mining shares during the first quarter of 2016. Silver mining shares (SIL) rallied by 43% in Q1 which is a positive sign for silver as we go forward in 2016. I believe that silver is the precious metal most likely to surprise on the upside in coming weeks and months.
One of the reasons I have changed my tune on precious metals is that central bank policy has become inconsistent and volatile. The U.S. Fed promised rate hikes in 2016. Yellen and company have been backtracking from that position and that has caused weakness in the dollar. The highly contested Presidential election in the U.S. may also add to volatility in markets over coming months. Terrorism remains a potent catalyst for fear and uncertainty around the world. All of these factors add up to an uncertain global landscape. Markets are a reflection of geopolitical and economic forces and the current state of affairs indicate that high volatility across all asset classes will remain the norm rather than the exception.
One of the interesting developments in the precious metal markets has been the outperformance of gold and silver mining equities relative to the prices of the metals themselves. This tells us that investors are more comfortable with paper assets than physical gold and silver bars and coins. I see a rising chance of divergences developing between the physical and paper precious metals markets. I could make a case where precious metal prices on paper vehicles such as futures, ETF and ETN products fall and premiums on physical metals more than compensate for the depreciation in paper the assets.
The next three months of 2016 is likely see a pickup in volatility across all asset classes; therefore, there will be opportunities for traders. Trading rather than investing is likely to yield the best results for those venturing into the precious metal markets during the months ahead - buy dips to initiate positions and use rallies to take profits.