BlackBerry's (BBRY) poor financial performance for its fiscal 2016 Q4 (ended February 29) has provoked calls for the ouster of CEO John Chen. I believe this is premature. BlackBerry's problems are not of Chen's making, and Chen still represents BlackBerry's best hope.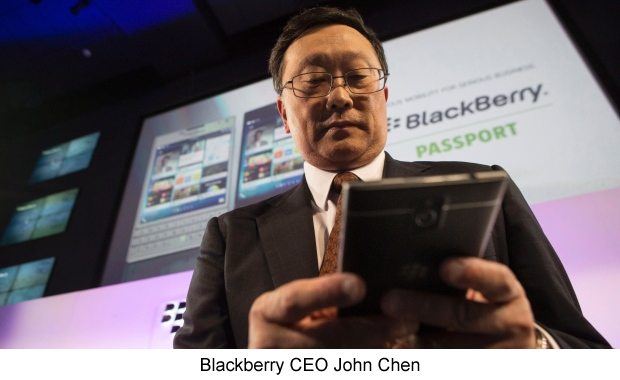 Source: CBC
Culture of Denial
That Chen is BlackBerry's best hope is hardly a ringing endorsement of BlackBerry. Those who have followed my coverage of BlackBerry know that it has been mostly negative. For BlackBerry's previous fiscal quarter, I rated BlackBerry a sell.
Why then, would I take issue with fellow SA contributor Bill Maurer's call for Chen's firing? It's not that I'm oblivious to BlackBerry's problems. BlackBerry's most serious problem has been its culture of denial that refused to face fundamental realities of the smartphone industry.
Those realities have included the disruptive breakthrough of the touchscreen UI, and the subsequent growth of powerful, app-driven ecosystems in Google's (NASDAQ:GOOG) (NASDAQ:GOOGL) Android and Apple's (NASDAQ:AAPL) iOS. Even as these mobile operating systems have grown, there has been denial of BlackBerry's lack of competitiveness in hardware and software, which has persisted to this day.
This culture of denial has to some degree been mirrored in the attitudes of BlackBerry supporters, whose expectations have been consistently unrealistic. As recently as March 31, SA contributor Michael Blair was predicting an "uneventful" earnings report. In fact, the earnings release was quite eventful.
BlackBerry suffered a massive earnings implosion, with a nearly 30% y/y decline in revenue to $464 million (GAAP), and a 950% decline in GAAP net income to a loss of $238 million. Unit hardware sales declined by 54% y/y to a paltry 600,000. Hardware revenue fell by 34% y/y. The only bright spot was the 94% y/y Software and Services revenue growth to $130 million.
Part and parcel to the unrealistic expectations were unrealistic expectations regarding the impact of the Priv Android-based smartphone. I have previously written that I didn't think the Priv was the phone that was going to turn around BlackBerry's hardware fortunes, and this was indeed the case, as unit sales declined from the prior quarter's 700,000.
In the chart below, I show percent change in hardware unit sales and revenue starting from a baseline in fiscal 2014 Q1: 6.8 million unit sales and revenue of $3.07 billion: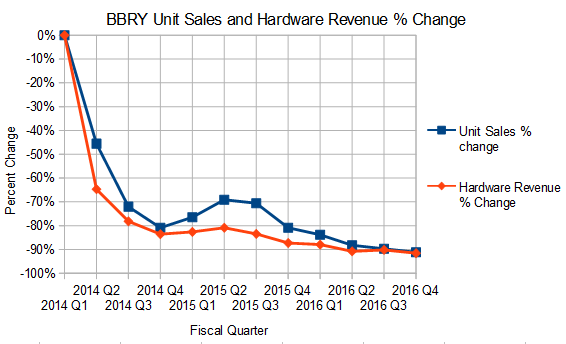 Why don't I blame Chen for this mess? Mainly because Chen came into BlackBerry in 2013 as an outsider. BlackBerry already was deeply mired in its culture of denial. The power of even a CEO to change a corporate culture is limited. BlackBerry had significant organizations devoted to hardware design and engineering, as well as operating system design. Chen would not be able to jettison those organizations arbitrarily. His management team would be pleading for just one more chance to make things work.
And his hardware and operating systems teams have gotten those chances repeatedly. When they've not been able to deliver, Chen has chipped away at the entrenched interests within the company. Chen has made cuts to hardware engineering, and the introduction of the Priv amounted to a warning that BB10 would eventually be axed.
More Cuts Ahead
I viewed the Priv as a pathfinder for a non-BlackBerry OS strategy. Jettisoning BB10 has been essential for some time. Once again, the culture of denial simply refused to acknowledge how non-competitive BB10 had become. It must have been almost a Herculean task to bring about an Android device.
But the BlackBerry corporate culture could not be completely denied. So BlackBerry's vestigial hardware engineering team set about designing what it thought would be a compelling BlackBerry smartphone. Of course, it had to have a keyboard. This added cost and complexity to otherwise undistinguished hardware. The Priv runs the antiquated Qualcomm (NASDAQ:QCOM) Snapdragon 808 processor, not even close to being able to justify the Priv's flagship price tag of $700 (at the time of initial release).
The fact that the Priv could not achieve the objective of reversing BlackBerry's hardware sales decline comes as a surprise only to those still enmeshed in the culture of denial. It never really stood a chance against much better flagship phones from Samsung (OTC:SSNLF) and other Android makers.
The failure of the Priv is not an indictment of the Android OS strategy. I consider that still a viable strategy that can be made to work. BlackBerry's security software, combined with integrated services and mobile device management, still can offer a reasonable discriminator versus other Android devices. What BlackBerry must do is stop trying to design its own hardware.
There was some indication that this is precisely where Chen intends to go next. During the conference call on April 1, Chen made the following statement:
I too am looking at a more of midrange profit-oriented type of devices with good security for Android. But I'm not prepared to make an announcement as such. The first thing I want to do is to get my cost deflation and expenses and capabilities lined up correctly in the device process.
The key takeaways from this statement are that, first of all, Chen isn't giving up on Android. He can't. It's the only viable OS that BlackBerry can use. Chen does realize that he can't charge flagship class prices for what is basically mid-range hardware. Chen knows he has to move to a lower price point, and he knows he has to cut costs to do that.
There's really nothing more to cut, without completely eliminating hardware engineering, except for some minimal support staff. That's where BlackBerry has to go next. This is the Google model I've been proposing for some time, where BlackBerry simply commissions designs from an HTC or LG. Chen probably knew this was where he had to go all along too, but he had to give his hardware people one more chance to fail before he could justify getting rid of them.
Investor Takeaway
The bottom line is that, regardless of the wisdom of replacing Chen, he and the Android strategy are going to get at least one more shot. Although unit sales continued to decline, there's some indication that hardware sales are close to bottoming out, as I showed in the chart above. Hardware still represents about 40% of revenue, so there's a strong motivation to try to make hardware work for the company. Even as BlackBerry becomes more software and services oriented, there's still value in being able to offer a "complete package" as a turnkey solution.
Another reason not to want to abandon hardware is that enterprise mobile management is likely to get more crowded. If, as I have speculated, Apple starts to offer its mobile management solution beyond the education market, this could drain away iOS device users from the BlackBerry's Good Technology successor platform.
Although there's plenty of downside risk, which is hard to quantify, I still consider that there's a reasonable market for a well executed, mid-priced, BlackBerry Android phone. Such a device can sell at least a few million units per quarter, which is about what Chen has indicated BlackBerry needs to break even. Based on this expectation, I now rate BlackBerry a hold, albeit a moderately risky hold.
Disclosure: I am/we are long AAPL.
I wrote this article myself, and it expresses my own opinions. I am not receiving compensation for it (other than from Seeking Alpha). I have no business relationship with any company whose stock is mentioned in this article.
Editor's Note: This article discusses one or more securities that do not trade on a major U.S. exchange. Please be aware of the risks associated with these stocks.