Breakfast All Day, An Impressive Run-Up, Then A Short Case
As of Friday, shares of McDonald's (NYSE:MCD) were up almost 40% from their August lows, powered by the company's move to serve breakfast all day, which it announced last summer in a clever response (screen captured below) to a tweet by U.S. sprinter Lolo Jones.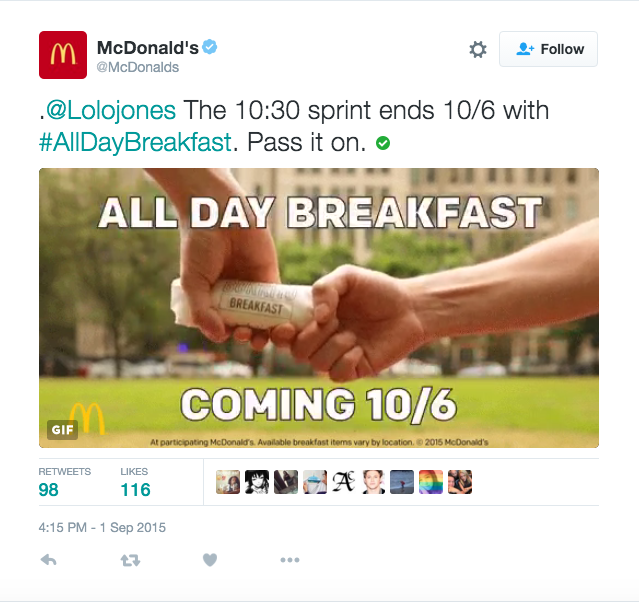 On April 1st, though, Seeking Alpha contributor Short/Long Trader presented this short case for McDonald's, via Seeking Alpha contributor Brad Kenagy's "best ideas" contest ("23 Underfollowed Seeking Alpha Contributors Share Their Best Ideas"):
McDonald's is a company that consumers love, and its share price has ascended to new heights. However, its valuation has gone well beyond its intrinsic worth. Over the past five years, McDonald's average TTM P/E has been 18.9. Right now, it is 26.2. Short interest has spiked to a 10-year high and total debt is at an all-time high of $24 billion. Although consumers will continue to love McDonald's, its share price will experience a correction in the near term that better reflects its overall outlook.
Shorting a popular stock based on valuation can be risky, but it's worth noting that Short/Long Trader has been prescient on bearish calls before. For example, in an editors' pick article last September (The Case Against SunEdison), he warned us against SunEdison (SUNE) when it traded at about $13 per share. On April 1st, 2016, SUNE closed at $0.43, and traded even lower after hours on bankruptcy fears.
Staying Long MCD While Hedging Against A Correction
For McDonald's shareholders who are still bullish on the stock after reading Short/Long Trader's short case for it, but want to limit their downside risk in the event it does correct toward its previous, lower valuation, we look at two ways of hedging the stock over the next several months.
One of these hedges may be of interest to McDonald's longs; the other won't be, but we'll present it anyway for illustration purposes. If you'd like a refresher on hedging terms first, please see the section titled "Refresher On Hedging Terms" in this article of ours from last month, Locking In Gold Gains.
Hedging MCD With Optimal Puts
We're going to use Portfolio Armor's iOS app to find optimal puts and an optimal collar to hedge MCD below, but you needn't use the app to do this. You can find optimal puts and collars yourself by using the process we outlined in this article if you're willing to take the time and do the math. Whether you run the calculations yourself using the process we outlined or use the app, an additional piece of information you'll need to supply (along with the number of shares you're looking to hedge) when scanning for an optimal put is your "threshold," which is the maximum decline you are willing to risk. This will vary depending on your risk tolerance. For the purpose of the examples below, we've used a threshold of 15%. If you are more risk-averse, you could use a smaller threshold. And if you are less risk-averse, you could use a larger one. All else equal, though, the higher the threshold, the cheaper it will be to hedge.
Here are the optimal puts as of Friday's close to hedge 200 shares of MCD against a greater-than-15% drop by mid-September. Of the two hedges we'll present, this is the one that may be of interest to McDonald's shareholders.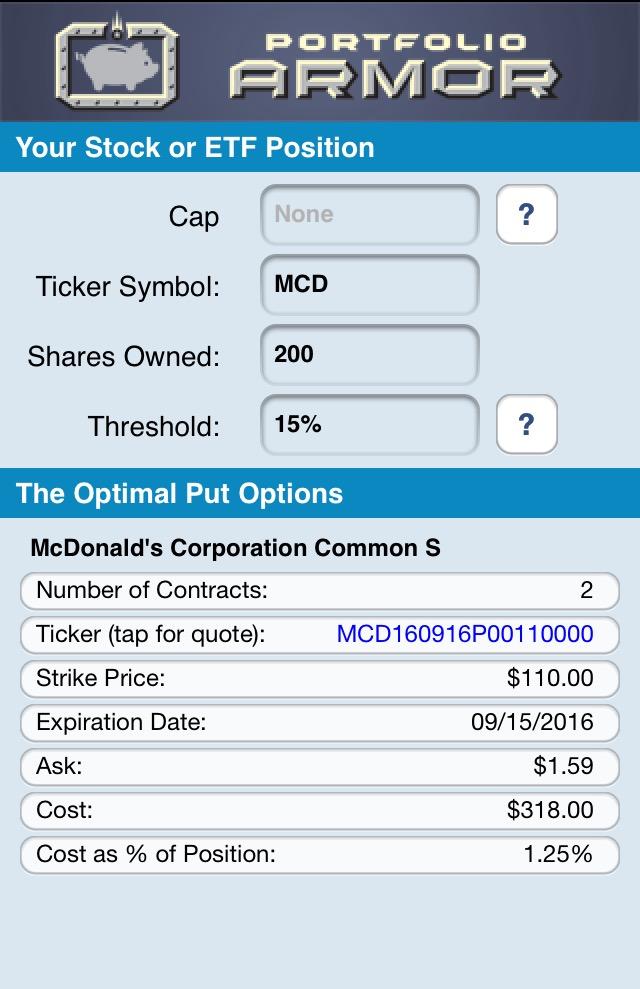 As you can see at the bottom of the screen capture above, the cost of this protection was $110, or 1.25% of position value. A couple of points about this cost:
To be conservative, the cost was based on the ask price of the put. In practice, you can often buy puts for less (at some price between the bid and ask).
The 15% threshold includes this cost, i.e., in the worst-case scenario, your MCD position would be down 13.75%, not including the hedging cost.
Hedging MCD With An Optimal Collar
When scanning for an optimal collar, you'll need one more figure in addition to your threshold, your "cap," which refers to the maximum upside you are willing to limit yourself to if the underlying security appreciates significantly. A starting point for the cap is your estimate of how the security will perform over the time period of the hedge. For example, if you're hedging over a several-month period, and you think a security won't appreciate more than 8% over that time frame, then it might make sense to use 8% as a cap; you don't think the security is going to do better than that anyway, so you're willing to sell someone else the right to call it away if it does better than that.
We checked Portfolio Armor's website to get an estimate of MCD's potential return over the next several months. Every trading day, the site runs two screens to avoid bad investments on every hedgeable security in the U.S., and then ranks the ones that pass by their potential return (those screens, incidentally, have something in common with Short/Long Trader: they also suggested avoiding SunEdison last September). Potential return, in its terminology, is a bullish estimate; in the case of MCD on Friday, the site's potential return estimate of 17% seemed particularly bullish given that the median Wall Street price target for stock. As you can see in the screen capture below from Yahoo Finance, that median price target was $130. And since that's a 12-month price target, it implies a potential return of less than 1% over the time frame of our hedge.

So, instead, we used the more bullish 17% estimate as the cap.
This was the optimal collar, as of Friday's close, to hedge 200 shares of MCD against a >15% drop by mid-September, while not capping an investor's upside at less than 17%. This is the hedge we are presenting purely for illustration purposes.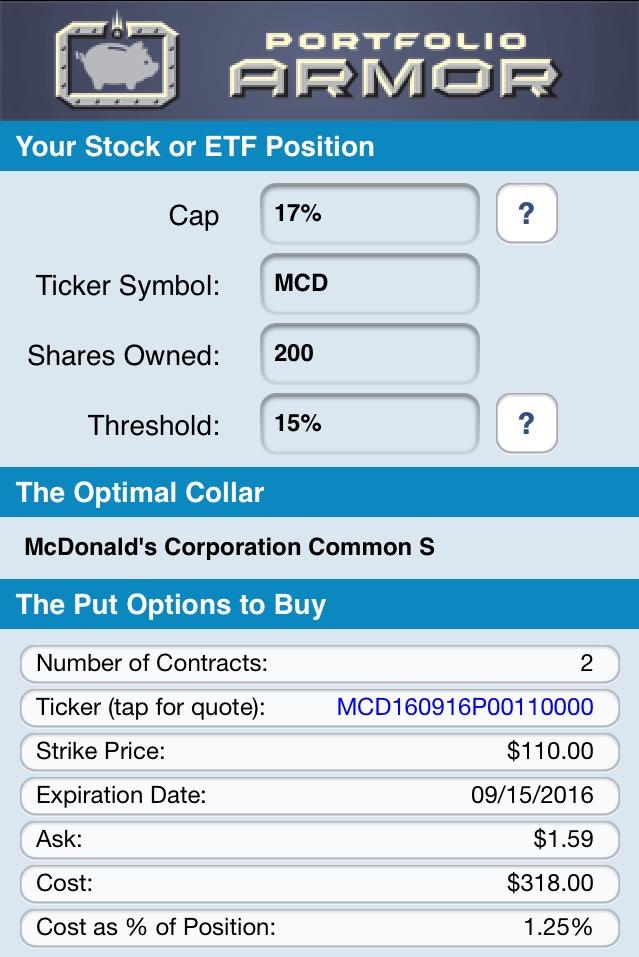 As you can see in the first part of the collar above, in this case, the put leg is at the same strike as the optimal put above, so the cost is the same: $318, or 1.25% of position value. But as you can see in the second part of the collar below, the income generated from the call leg is negligible: $4, or 0.02% of position value.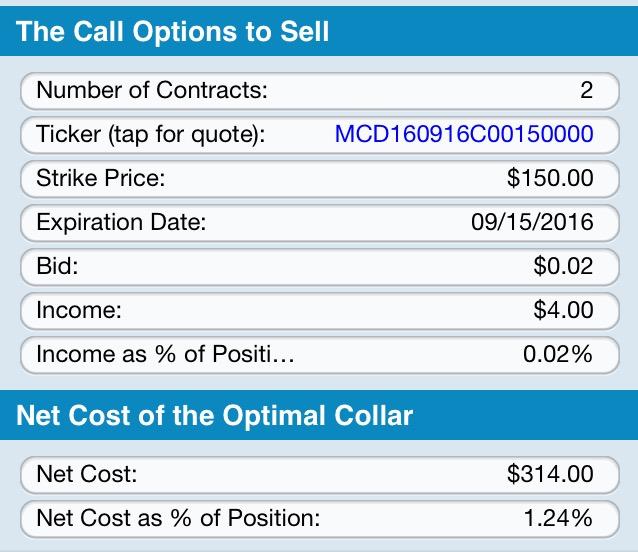 So the net cost of this collar is only one basis point cheaper than the optimal put hedge, after rounding - far too little of a cost reduction to make it worthy of consideration. Given that, readers may wonder why we called this collar optimal. It's optimal in the sense that it's the least expensive collar that meets the parameters we specified, but it's not preferable to optimal put hedge above. In fact, if you entered MCD in the hedged portfolio construction tool on Portfolio Armor's website on Friday, to build a hedged portfolio around the stock, that tool would have automatically hedged MCD with optimal puts.
Readers of our previous article on hedging Barrick Gold (NYSE:ABX) may note that this is the opposite of the situation with that stock. In the case of Barrick, we presented the put hedge for illustration purposes, and the collar hedge was the more attractive one. It can be helpful to run the numbers both ways before deciding which way to hedge.
Disclosure: I/we have no positions in any stocks mentioned, and no plans to initiate any positions within the next 72 hours.
I wrote this article myself, and it expresses my own opinions. I am not receiving compensation for it (other than from Seeking Alpha). I have no business relationship with any company whose stock is mentioned in this article.
Editor's Note: This article covers one or more stocks trading at less than $1 per share and/or with less than a $100 million market cap. Please be aware of the risks associated with these stocks.