Tesla Motors (NASDAQ:TSLA) finally showed off their Model 3 Thursday night.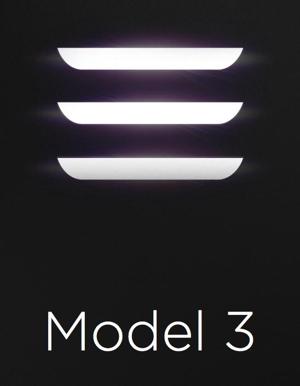 The presentation opened only five minutes behind schedule, which compared to the Model X debacle was no more than fashionably late. Mr. Musk offered a mercifully short tale of the little company out to change the world, with a secret plan, and so on, all accompanied with the nicest PowerPoint visuals seen these many years.
And then we saw the newest Tesla. We even learned some substantive things about the car. Mr. Musk told us about the price, the range, the acceleration and SuperChargers. Then came the demo rides, a flood of tweets, pictures and articles that told us even more about Model 3.
Inspection of posted images shows the tires to be 235/35ZR20, so we know the (performance) wheels will be 20". The overall diameter of the tires (26.5") and side view images let us scale the wheelbase, overall length and height. Aaron Robinson of Car and Driver was clever, brought a magnet to the Model 3 event, and reports the body is mostly aluminum, not steel.
Having previously predicted Model 3 design I was pleased to see how well Tesla has adhered to my suggestions, (just kidding ...).
Tesla Model 3 Specifications, Actual vs. Predicted


| Feature | Actual | Predicted |
| --- | --- | --- |
| Base Price | $35,000 | $35,000 |
| 0-60 Time | <6 seconds | 5.6 seconds |
| Range | 215 miles (EPA) | 220 miles (EPA) |
| SuperCharger | Standard | Standard |
| Wheel/Tire Size | 20" - 235/35ZR20 | 20" - 265/35R20 |
| Wheelbase | 114.6" (scaled) | 114.6" |
| Length | 168.5" (scaled) | 182.5" (BMW 3 Series) |
| Height | 54.5" (scaled) | 52.5" (4" < Model S) |
| Drivetrain | RWD & Dual Motor | RWD & Dual Motor |
| Body | Aluminum | Aluminum |

Smaller Overall
Perhaps the most important design revelation is how much smaller Model 3 is on the outside than the BMW (BAMXY) 3 Series competition. While the Tesla has a longer wheelbase, allowing for a more commodious cabin, overall it is considerably lower and shorter than the BMW. This is good news for investors because a smaller, lower Model 3 will be lighter, have lower aerodynamic drag, use less aluminum and require a smaller battery. It doesn't hurt that Model 3 looks great, too.

Model 3 has a longer wheelbase and larger wheels and tires than the BMW 320ix, but is shorter overall and lower than the BMW. - Image Tesla, silhouette and annotations, Author
Other Cost-Cutting Innovations
Tesla looks to sell a lot of Model 3 cars. I was very wrong about the market for Model 3, predicting just 25,000 reservations in the first week. As I write this less than 48 hours after the Model 3 event, Tesla has received over a quarter million Model 3 deposits! (Make that 276,000 pre-orders). But will Tesla make money on Model 3?
I previously estimated Model 3 costs based on projected size, weight, battery characteristics and so forth. Model 3 looks to be quite close to these estimates, just a little bit smaller which may reduce cost some. Model 3 margins, especially on the $35,000 entry version, look to be very thin. Tesla will need to be innovative - in the sense of economical solutions, not falcon doors - if the shareholders are to win on Model 3.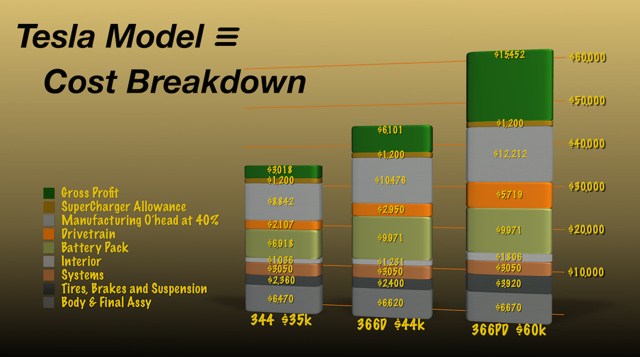 Costs based on pre-reveal projections leave little room for profit on the $35,000 entry version. - Author
Model 3's Glass Ceiling
One simplifying innovation is Model 3's huge rear window that sweeps forward to form the roof. Not only does this glass roof eliminate parts, it also improves rear headroom, allowing Model 3 to be lower, more aerodynamic, and in the end have a smaller battery. This is the kind of big-picture innovative thinking Tesla will need if Model 3 is to be a financial success.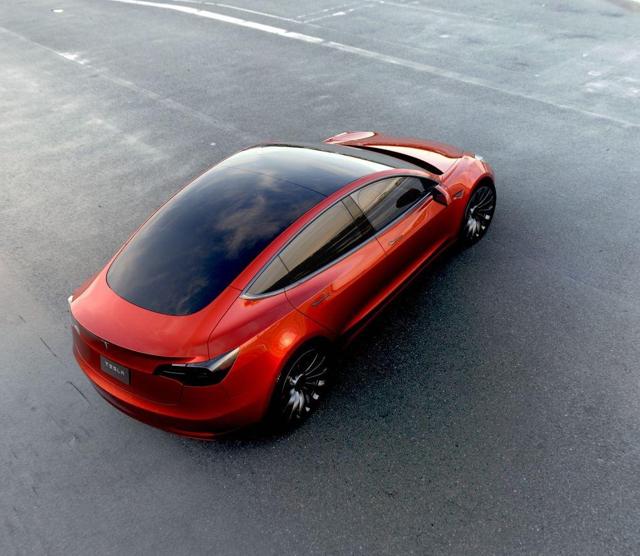 Model 3 incorporates a huge rear window that runs forward all the way to the 'B' pillar, effectively replacing the conventional roof structure. - Tesla Motors
Simpler Inside
More evidence of Tesla's focus on design simplicity that bodes well for cost is found in the passenger compartment. The big touchscreen, sine qua non for Model S and Model X is here, but in landscape orientation this time. But all the other displays and control switches - even those on the steering wheel - are gone. It's just stalks and the touchscreen. This is a significant simplification - fewer items to purchase and install, less wiring to hook it all up, and less congestion behind the dash for easier assembly and servicing.
Another simplification is the covered storage bin in the console that effectively replaces the conventional glovebox. This seems a minor thing until one considers that moving the glovebox to the console frees up volume in the dash assembly, allowing passengers to be moved a bit farther forward, and of course eliminating the switch, wiring and actuator that controlled glovebox opening on earlier Teslas.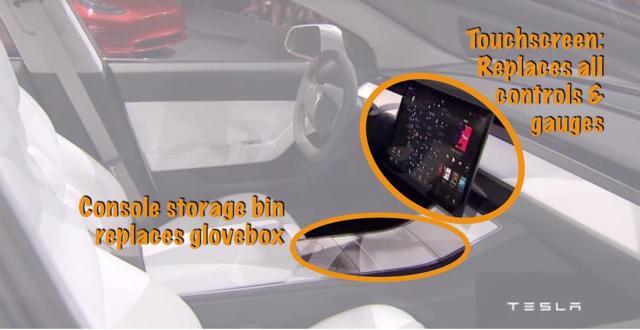 Model 3 uses a single touchscreen display to replace all gauges and controls. A large, covered console storage bin replaces the conventional glovebox. - Image, Tesla Motors, annotations, Author
A Car For The Future, Not The Past
Innovation on Model 3 is interesting beyond the implications for lowering cost and simplifying assembly of the car. Elimination of control switches - particularly those steering wheel switches and scroll-wheels - speaks to how Tesla sees us using cars in the future. And what is inferred is remarkable.
All Model 3 cars will come with autopilot hardware and presumably Tesla expects very many buyers to opt for full autonomy. Since it's just a software upgrade, margins on the autonomous option will be great. But if you look at the rest of Model 3 in the context of an autonomous car that will be driving itself as much or more of the time than the driver, Tesla's touchscreen, elimination of gauges and steering wheel controls all makes sense. If you aren't going to have your hands on the wheel much of the time, why put a bunch of switches and controls there? If the car looks out for where it's going, you can watch the screen ... The design philosophy embodied in Model 3's driver interface represents the way cars will be. The switches, levers, and dials that abound on legacy ICE cars are going to look like the cab of a steam locomotive when Model 3 hits the road.
Can Tesla Get To Market On Time?
Over a quarter million people are already in line to buy a Tesla Model 3 car. The Chevy (NYSE:GM) Bolt 200-mile range electric car, touted to be the ultimate Tesla killer, and likely to be available sooner, has by comparison no waiting list at all. Once again, we see that Tesla can connect with this market and the legacy ICE carmakers aren't doing as well. But if Tesla can't get Model 3 into the hands of waiting buyers in a timely fashion, these customers (and $10 billion of business) will end up going elsewhere. Tesla's track record for on-time delivery is against them here. Investors (the 'long' investors anyway) are hoping this time will be different.
If Tesla manages to focus on simplifying innovation - no fancy doors or magic seats, please - this time likely will be different. Tesla's huge investments in capex have put in place much of the manufacturing capacity needed for Model 3 and Tesla can deliver sooner and cheaper than many investors are expecting.
Conclusions
Tesla's future and the value of TSLA shares are bound up with growth prospects and growth realized. As investors become more sanguine about Tesla's prospects, they apply a lower discount rate (consciously or simply through gut feel) to future company valuations. Because Tesla has a long growth path ahead, future valuations tend to focus several years out, making the price for TSLA very sensitive to the implied discount and thus to investor sentiment.
One of the constraints on Tesla's future growth is the ability of the company to take market share from more established legacy ICE carmakers. And investors have worried greatly about Tesla's ability to compete with other car companies. While Model S has been a great success against high-end luxury ICE cars, especially in the US, how Tesla would fare in more mainstream markets and against electric cars like the Bolt hasn't been clear.
Whether a Silicon Valley car company that advertises through Twitter (NYSE:TWTR), has no franchised dealers, and is forbidden to even mention price to customers in several states, can reach mainstream car buyers has been a troubling unknown. It isn't an unknown anymore. On Friday, Tesla received deposits for more Model 3 cars - even though customers will have to wait two years or more - than the total of all the electric and plug-in hybrid cars sold in the US last year by all carmakers combined.
In coming months, investors can look forward to a positive news flow from Tesla. Model X deliveries increasing, a P100D arriving, cash flow issues associated with delayed and troubled Model X introduction moderating, and maybe even a positive Model X review or autopilot advancement somewhere along the line.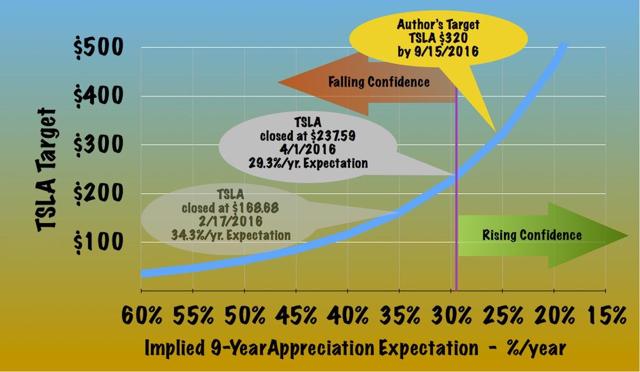 Because Tesla has long-term growth prospects in cars, grid storage and other areas, many investors are eyeing very high valuations many years away. This makes the price of TSLA extremely sensitive to compound appreciation rate expectations, and hence to investor sentiment. - Author
Short Interest
Short interest in TSLA dropped slightly last week, but it remains above 30%. The stock rose sharply Friday on exceptional volume of near 16 million shares. If Model 3 orders continue pouring in this coming week, and/or other news favorable to the company comes to light, we could see a bit of a short squeeze. And, the synergistic effect of the huge order response for Model 3 should not be underestimated by investors.
Hundreds of thousands of people across the world have placed deposits of $1,000 for a Tesla in the last couple of days. These people will be talking with friends and associates, sharing news of their Model 3 reservation on social media, and getting the word out about the car and the company. This must necessarily increase awareness and bring additional buyers into the market for TSLA shares. In combination with the high level of short interest, we may be in for an interesting week or two.
Disclosure: I am/we are long TSLA.
I wrote this article myself, and it expresses my own opinions. I am not receiving compensation for it (other than from Seeking Alpha). I have no business relationship with any company whose stock is mentioned in this article.
Editor's Note: This article discusses one or more securities that do not trade on a major U.S. exchange. Please be aware of the risks associated with these stocks.