Update: According to poll results, most like the company's cloud efforts.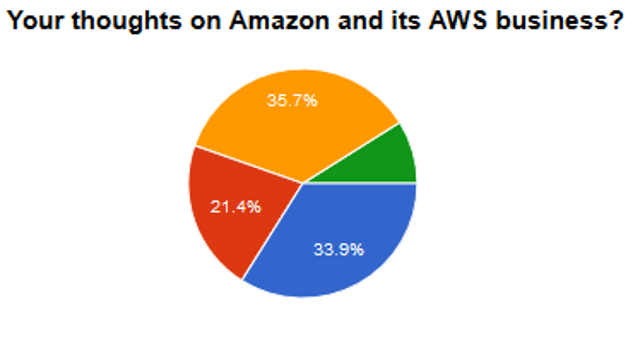 AWS is Amazon's (NASDAQ:AMZN) unnoticed gem - 33.9%
AWS is impressive - don't be surprised if the business is spun out - 21.4%
Competition is heating up in the space - AWS will face challenges - 35.7%
Don't dismiss the retail side - e-commerce is still king at Amazon - 8.9%
And while most are positive on AWS, some suggest (in the comments and poll results) that the platform will see increased competition. Will it become more difficult for AWS to compete going forward? Can the company use its dominant position to maintain market share? Keep the conversation going.
And check in tomorrow for more Market Challenge!
Everyone knows Amazon Web Services is top dog in the space it operates. Just how important is AWS to the company? A recent article from Bert Hochfeld presented numbers on the cloud platform that caught our eye.
According to the data, AWS produces 40% of Amazon's operating profit by segment. And, as Hochfeld points out, AWS revenues are growing at about 70% year on year. What's more remarkable is that AWS is approaching a $10 billion/year run rate. When you look at the "low estimates," some suggest AWS could be a $20 billion a year business. That's better than shabby.
According to a Statista study cited in Hochfeld's story, AWS has about 27.2% of the Infrastructure-as-a-Service (IaaS)/Platform-as-a-Service (PaaS) market. The next five competitors combined maintain 37% and everyone else has a 35% share. Amazon's cloud capacity is 10 times bigger than its next 14 competitors combined, Gartner data suggests. How's that even fair to the others (which include Microsoft (NASDAQ:MSFT) Azure, Google (NASDAQ:GOOG) GOOGL), IBM (NYSE:IBM) and Oracle (NYSE:ORCL))?
AWS makes up about 7% of Amazon's sales. But given the platform's rapid growth, it's difficult to ignore AWS's growing presence within the company and among competitors.
What do you think? And what do you think of Amazon's entire business? Long Term Growth Investor points out the strength of Amazon's third-party sellers. Bill Maurer says investors should pay close attention to the company's upcoming earnings. If AWS innovation isn't enough, Mark Hibben highlights the company's push into artificial intelligence in the home.
Offer your ideas on this stock below.