As most investors recognize, a dividend payment is the ultimate sign of corporate strength. It's true, REITs are forced to pay out at least 90% of taxable income in the form of dividends, but that does not necessarily mean that all REITs can be strong.
REITs can be financially-engineered or rigged to look stable so investors will chase yield, but many times a ridiculous yield combined with a vulnerable business model can signal doom and gloom.
For that reason, it's important to always look under the hood to determine whether or not the dividend can "stand a licking and keep on ticking." (Timex used the slogan in a well-recognized advertising campaign).
Last week I wrote an article on Gladstone Commercial (NASDAQ:GOOD), an externally-managed Net Lease REIT that pays out an above average yield of 9.2%. I view GOOD as a classic example of a "sucker yield" in which the flat dividend growth ($1.50 since 2008) combined with high leverage (61% debt) and a high payout ratio, signal an underlying flaw in the business model.
I view unsafe dividend payouts as one of the best ways to measure durability. For that reason, it's critical that investors analyze the underlying safety of the dividend, the ability for the dividend to grow, and the overall merit of the stock.
Last week I caught up with HCP, Inc.'s (NYSE:HCP) CEO Laurelee Martin to discuss the company's business model and specifically the durability of the dividend. As many know, HCP has one of the best dividend growth records in the REIT sector - over 31 years in a row of annual dividend increases - and accordingly, the large-cap healthcare REIT is highly motivated to maintain its reliable growth record.
In my article today I will examine the growth engines of HCP in an effort to determine the overall safety of the company and the likelihood of a dividend cut. In addition, I will take a closer look at the sustainability of the enterprise to determine whether the worst is over.
Let's Start With The 31-Year Dividend Record
Going back as far as 1985, HCP has been an extraordinary example of dividend repeatability. REITs are most appropriately valued based on the cash distributions they are capable of distributing to their stakeholders. In order to deliver an attractive level of cash distributions, a REIT must be capable of producing solid funds available for distribution (FAD). As evidenced by the snapshot below, HCP has managed to generate very reliable and predictable earnings with a record of increasing annual dividends for over 30 years in a row.

HCP is one of only 10% of S&P 500 companies that are called Dividend Aristocrats (companies that have increased dividends every year for at least 25 consecutive years).
Investors are questioning whether or not HCP's dividend record is at risk. I am one such investor who has questioned the strength of the stalwart REIT. A few months ago I opted to downgrade HCP from a STRONG BUY to a BUY and then to a HOLD. I was glad that I was able to liquidate all of my shares in HCP before the collapse in the share price. Here's the 1-year Total Return performance:

HCP's quarterly dividends paid during 2015 aggregated $2.26 per share, which represents a 3.7% increase from 2014. On January 28, 2016, the Board of Directors declared a quarterly cash dividend of $0.575 per common share.
The annualized distribution rate per share for 2016 increased 1.8% to $2.30, compared to $2.26 for 2015. As you can see below, HCP's dividend growth has slowed a tad based on the company's more recent history of increasing dividends by around 4% to 5% per year.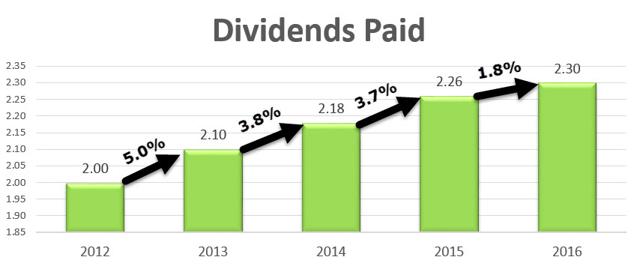 Since 2010, HCP has averaged 3% same-store Cash NOI growth along with a 70% expansion of the investment portfolio. Here's a snapshot of the company's FAD and dividend growth during the same period: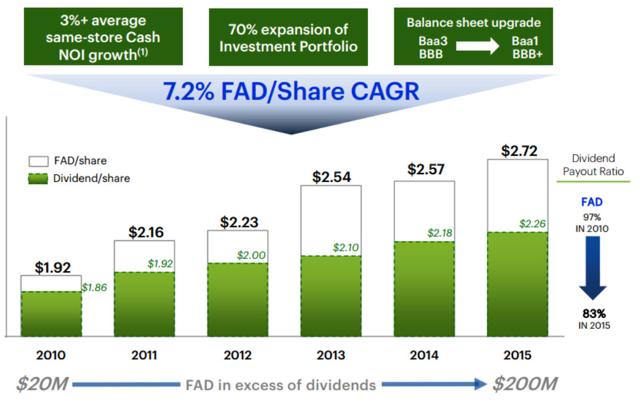 Although the dividend growth has been modest, HCP has become a safer security based upon its reduced payout ratio. In 2010, HCP's FAD payout was around 97% and at the end of 2015 it was around 83%.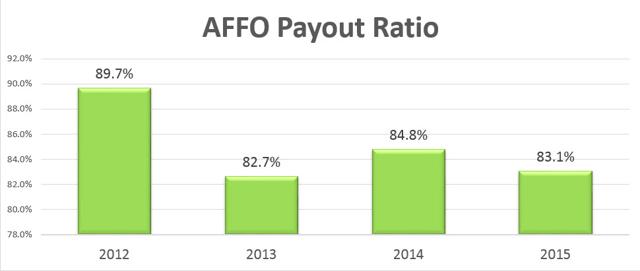 Based on HCP's long-term dividend record, there is no argument that the company meets the test of being labeled a "blue chip." In Ralph Block's book, Investing in REITs, he explained the definition of a Blue-Chip REIT:
The blue chip REITs take you safely through the ups and downs in the sector's cycles and deliver consistent, rising, long-term growth in FFO (funds from operations) and dividends. Because they are financially strong and widely respected, they will always have access to the additional equity and debt capital that fuels the engine.

They will not always provide the highest dividend yields or even, in many years, the best total returns, nor can you buy them at bargain prices - but they should provide years of double-digit returns with a high degree of safety. These are the REITs least likely to shock investors with major earnings disappointments, and will provide very satisfying returns.
Block's last sentence (underlined for a reason) reads, "the REITs least likely to shock investors with major earnings disappointments, and will provide very satisfying returns." Why then has HCP been the worst performing healthcare REIT year-to-date?

Let's Take A Closer Look At The Business Model
Based on market capitalization, HCP is the third largest healthcare REIT with around $15.2 billion of shares traded:

HCP's portfolio consists of 1,179 properties that generate around $1.9 billion of income. As you can see below, HCP has a diversified asset pool that consists of senior housing (41%), post-acute/skilled nursing (23%), life science (14%), medical office (14%), hospitals (4%) and international investments in the UK (4%).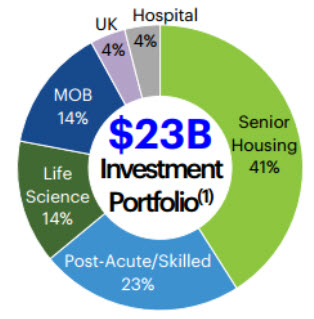 Within each of HCP's business units the company has an expanding platform of best-in-class partners: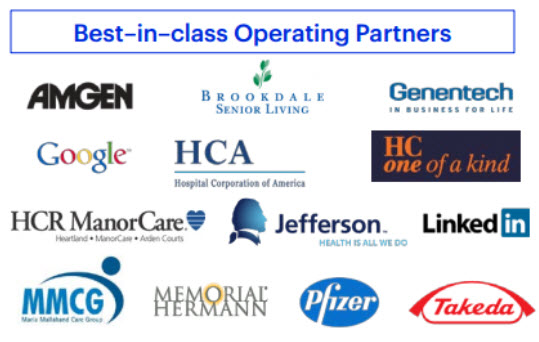 One of HCP's partners, HCR ManorCare, has been a thorn in the side for the REIT. ManorCare's second-half 2015 performance declined due to ongoing, industry-wide changes in the reimbursement models for skilled nursing operators. As evidenced below, ManorCare's weakness in core performance has put more pressure on rent coverage.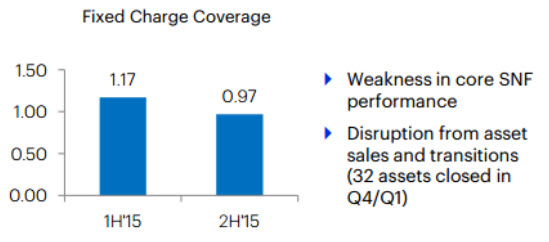 As Lauralee Martin told me last week, "we know there is too much exposure (to ManorCare) and the portfolio needs to be diversified and structured. ManorCare was around 34% when I got there - way too much." As evidenced below, HCP has reduced exposure to ManorCare, now around 24% of the company's portfolio.

Here's what Martin said on the latest earnings call:
Both we and HCR management were disappointed with HCR's results in the fourth quarter, which is typically a seasonally stronger quarter. These results were impacted by core operating performance weakness and $14 million of unfavorable non-routine items, including short-term disruption related to the sales process of the 50 non-strategic assets, 33 of which have closed to-date with 17 still in process. So some disruptions will continue into the first half of this year; as well as legal costs associated with the Department of Justice defense.
Martin summed up ManorCare (on the earnings call) as follows:
Resolving the HCR ManorCare portfolio issue is our highest priority. Our goals in resolving the HCR ManorCare challenges are: reduce our concentration to HCR as an operator, improve the coverage and credit quality of our lease, and ensure HCR's high quality care and service delivery continues.
HCP's second largest tenant is Brookdale and on my call with Martin last week she said that "we've gotten ahead of the anticipated challenges of new senior housing supply (with Brookdale). We have invested in our portfolio so that it is competitively positioned both on a quality and price point."
Around 50% of HCP's Brookdale buildings are triple-net leased with blended rent coverage of 1.03x and the leases are all guaranteed by Brookdale. The Net Lease portfolio is structured with multiple pools with staggered lease maturities (do not exceed 5% until 2023 and remain below 10% through 2027).
The other 50% leased to Brookdale is RIDEA (and that represents around 12.5% of HCP's NOI). The RIDEA exposure provides stable and growing cash NOI for HCP and the company expects 3% to 4% same-store growth in 2016. Also, HCP's RIEDEA exposure with Brookdale is spread out over the various senior housing sectors, further diversifying concentration.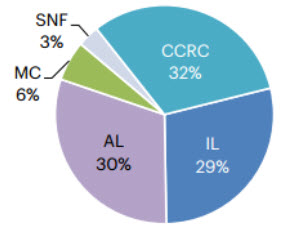 Second, you will recall that as part of our 2014 Brookdale transaction, Brookdale agreed to $55 million of lease restructure payments in installments over a three-year period as consideration to convert 49 assets from a triple-net lease to RIDEA. Starting in July 2016, the payments stepped down and will be phased out by the third quarter of 2017. Also, as part of this transaction, we have a rent reduction of $6.5 million this year in exchange for cancelling 49 purchase options on Brookdale's triple-net portfolio.
HCP's life science portfolio has had strong leasing momentum this year, driving occupancy to a new all-time high of over 98%, a 300 basis point improvement over prior year. Last year I visited HCP's master-planned project known as the Cove (see article HERE) and the company has pre-leased half of the state-of-the-art space with CytomX Therapeutics and Denali Therapeutics as lead tenants.
CytomX will lease 76,000 square feet beginning in the fourth quarter of 2016. They recently had an IPO based on their cancer-fighting research. Denali will lease 38,000 square feet beginning in the third quarter of 2016. Led by former Genentech neuroscience leadership, Denali is a private company focused on neurodegenerative diseases and seeded with over $200 million, the largest first-round venture financing in biotech history.
In response to HCP's Phase 1 leasing success and continued strong demand from life science users in South San Francisco where direct vacancy is still below 1%, HCP recently commenced the $185 million development of Phase 2, which will add two Class A buildings totaling up to 230,000 square feet and is expected to be delivered by the third quarter of 2017. Here's a snapshot of HCP's development projects: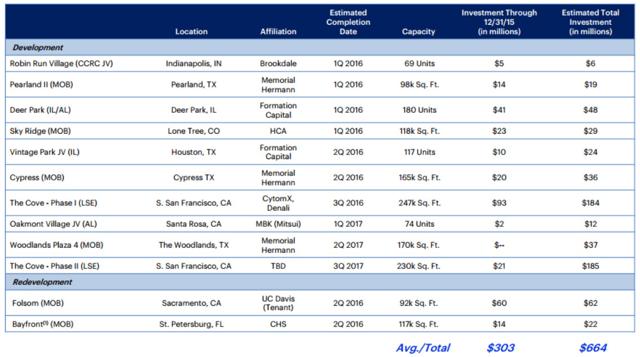 In 2015 HCP acquired Edgewater Science and Technology Park in South San Francisco for $83 million. The six-building campus was recently renovated and is 100% occupied.
HCP's medical office portfolio also had a solid year of leasing with year-end occupancy close to 92%, representing 110 basis points of growth over the prior year, driven by strong retention rates of 83% and recent acquisitions.
HCP has expanded its MOB platform by over 20% over the past two years, primarily with on-campus buildings, while adding 11 new health system partners and expanding two existing relationships. Here's a snapshot of HCP's capital allocation strategy:

As you can see below, HCP's expansion is focused in major market MSAs.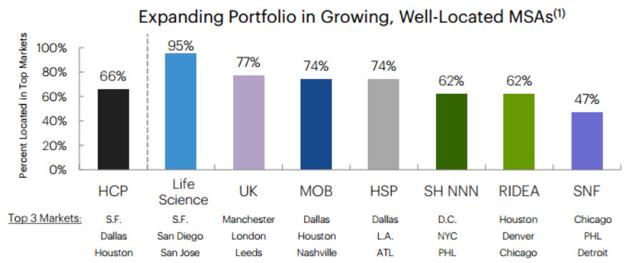 Here's a breakdown of sector-based income. Note: I asked the CEO about HCP's limited role in the hospital sector and she said, " hospitals are difficult to underwrite, the business, its strategy, and government reimbursements. We prefer to invest in their on-campus medical office buildings."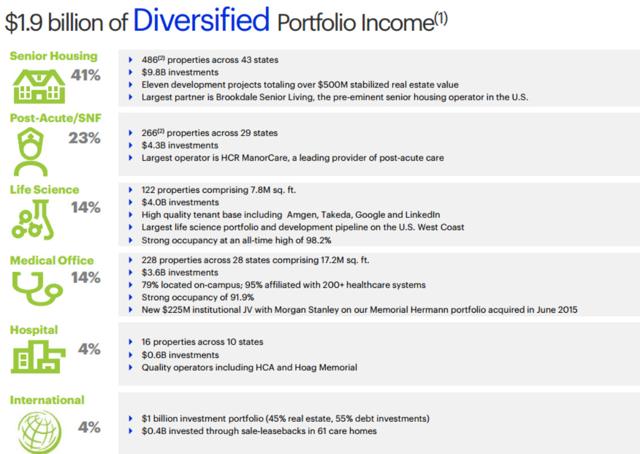 The Balance Sheet
In Q4-15 HCP raised $600 million of senior unsecured notes at a 4% coupon. Proceeds were used to refinance a $500 million bond maturity representing 36% of the company's 2016 total maturities and to pay down on the revolver.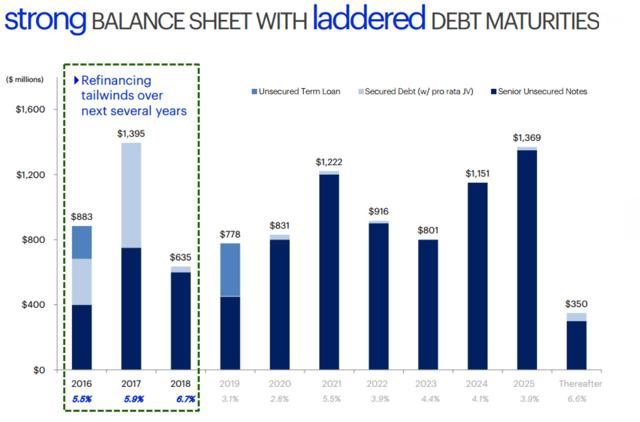 During 2015, HCP raised $2.3 billion of debt at an attractive blended rate of 3.5%. The company continues to deliver on the capital recycling front, generating $430 million of additional proceeds during the quarter, bringing the total for the year to $560 million.
Proceeds for the quarter included $208 million from the sale of ManorCare's non-strategic assets, $110 million from creation of a new institutional JV (Memorial Hermann MOB portfolio) and $45 million from monetizing an interest in MOB Ventures III and IV. As evidenced below, HCP improved liquidity and financial leverage with these proceeds: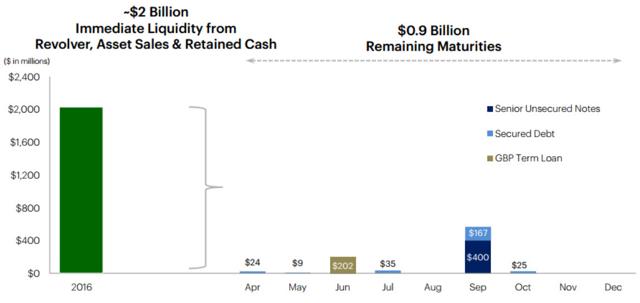 HCP's Leverage ended the year at 45%. Fixed charge coverage and net debt to adjusted EBITDA for 2015 were 3.9x and 5.6x respectively. Secured debt ratio improved to 4.4% (HCP continues to refinance higher rate mortgage maturities with lower cost unsecured notes). At year end, HCP had $1.6 billion of liquidity. Since 2010, HCP has reduced its weighted average interest rate by 160 basis points.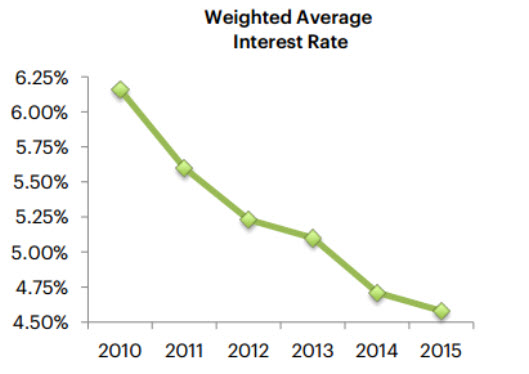 Also, since 2010 HCP has increased its weighted average maturity to 5.6 years: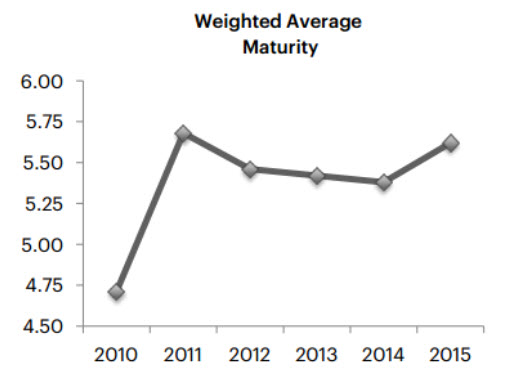 Less than 5% of HCP's debt is floating rate: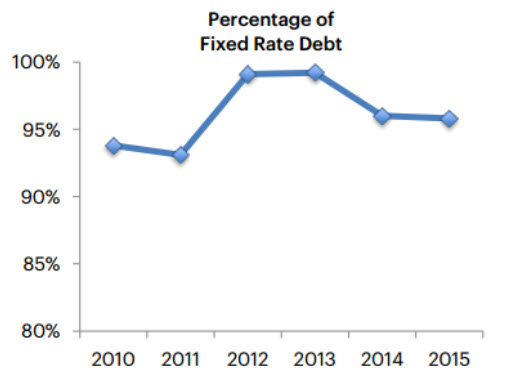 One key differentiator for HCP is that the company targets a balanced portfolio between longer-term escalating NNN leases and operating businesses with shorter-term leases (RIDEA). Keep in mind that HCP has limited RIDEA exposure (~13% of portfolio income) compared to the peers and the longer-term NNN-leased properties are finances with long-term fixed rate debt. HCP is one of just two REITs rated BBB+ by S&P (Ventas is the other one):

The Results
Since 2010, HCP has averaged 3.3% Same-Store Cash NOI growth (Includes 2015 ManorCare lease amendment). Excluding ManorCare, HCP's Same-Store Cash NOI growth in 2015 would have been 3.7%.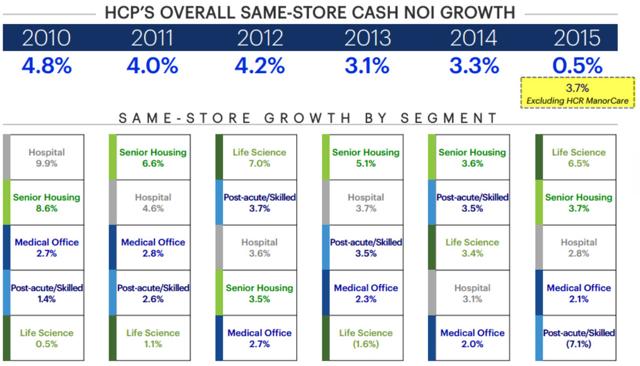 For Q4-15 HCP reported an FFO loss of $0.99 per share, reflecting non-cash impairments of $836 million related to the ManorCare investments. The impairments reduced the carrying value of HCP's ManorCare DFL real estate portfolio from $6 billion to $5.2 billion at year end, which approximates a fair value of the assets based on the market level coverage and cap rate assumptions. In addition, the carrying value of HCP's 9% equity investment in OpCo was reduced by $19 million.
Excluding the impact of impairments and other items totaling $1.79 per share for the quarter, HCP reported AFFO of $0.80 per share and FAD of $0.67 per share, representing growth rates of 1% and 2%, respectively, compared to the fourth quarter of 2014. The results benefited from accretive acquisitions closed in 2015.
For the full-year (of 2015) HCP reported a 2015 FFO loss of $0.02 per share that was primarily impacted by non-cash impairments related to ManorCare. Excluding the impact of impairments and other items, 2015 AFFO was $3.16 and FAD was $2.72 per share, representing year-over-year growth rates of 4% and 6%, respectively.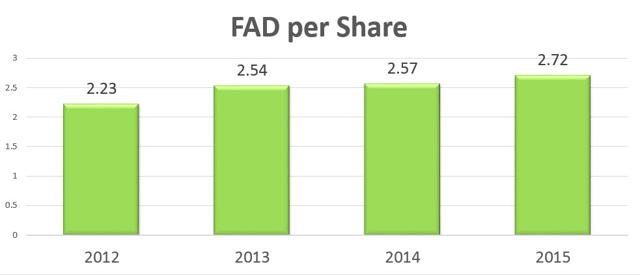 The earnings performance, despite the amended ManorCare lease, was driven by same-store cash NOI growth of 3.7% from 75% of the portfolio, and accretive acquisitions totaling $4 billion since 2014. In addition, the results included a $0.04 of one-time gains from monetizing three senior housing development loans.
In terms of outlook, beginning January 2016, HCP's income from ManorCare investments will be recognized on a cash basis, resulting in a reduction to the FFO run rate totaling $150 million or $0.32 per share. There is no impact to the company's cash performance metrics, including same-store and FAD.
HCP's 2016 guidance reflects contractual rent of $456 million from the ManorCare real-estate portfolio, inclusive of a scheduled 3% increase in April. In addition, the guidance reflects $130 million of proceeds in the first half of 2016, bringing total proceeds from ManorCare's non-strategic asset sales to $350 million.
Also, in 2014 Brookdale agreed to a $55 million lease restructuring with payments in installments over a three-year period as consideration to convert 49 assets from a NNN lease to RIDEA. Starting in July 2016, the payments stepped down and will be phased out by the third quarter of 2017. Also, as part of the same transaction, HCP has a rent reduction of $6.5 million (in 2016) in exchange for cancelling 49 purchase options on Brookdale's NNN portfolio.
With these assumptions, HCP expects full-year 2016 FFO to range from $2.74 to $2.80 per share, which reflects placing the above-referenced ManorCare portfolio on a cash basis. The FAD range is from $2.62 to $2.68 per share (in the chart below I used $2.65 as the mid-point):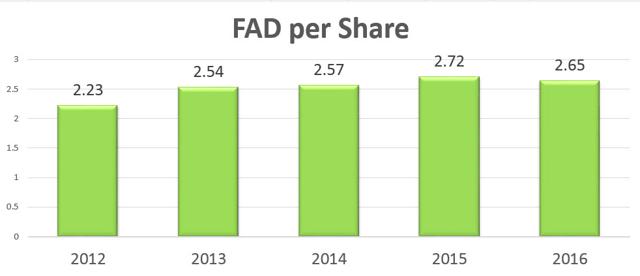 Using the above assumptions, it appears that HCP's payout ratio will move up to around 87%.

That's elevated, but not dangerous. I consider HCP's dividend reasonably safe and it's clear that the market is not giving the company much credit for managing risk during its most difficult transition.
Is HCP a BUY?
HCP is not out of the woods, yet. I believe that skilled nursing operators will continue to experience pressure in 2016 as occupancies continue to decline. Given the risks associated with bundled payment services (began in 2013 to curb overspending on SNFs) it's likely that SNFs and especially rehab facilities will have lower patient volumes. However, HCP owns mostly Net Leased properties and that should limit operator risks.
The key here is diversification. HCP clearly had too many eggs in its basket and I am becoming more bullish now that the company is more diversified. As Laurelee Martin (the CEO) pointed out to me, "diversification is important."
As evidenced by the Total Return chart below, the last 5-years have been painful for HCP Investors:

How cheap is HCP today?

The dividend yield is tempting:

I'm no market timer, so I'm not calling it the bottom, but based upon my thorough analysis of the company's fundamentals, and more recent share price, I'm initiating a BUY: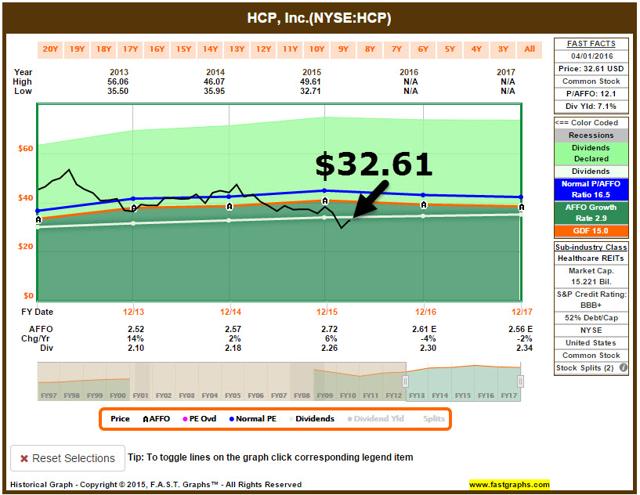 In closing, it's not just the fundamentals that prompted me to bump my recommendation from a HOLD to a BUY, but also management. HCP has a veteran team that has successfully demonstrated it can manage risk. While there is certainly still risk on the table, I'm impressed with the CEO's disciplined approach to managing risk (something the previous CEO was lacking).
As Josh Peters (with Morningstar) writes,
The dividend represents a commitment by a company to its shareholders - a commitment that many of those shareholders are counting on for income.
HCP has generated a consistent earnings stream that has been relied upon for over three decades and while the market seems to be out of favor with the shares, I believe HCP's management team is committed to the most important thing: protecting my principal at ALL costs. Is the worst over for HCP?
Of course I can't tell you that. But I can "sleep well at night" knowing that management is deeply committed to continuing its enviable track record of paying and increasing dividends. Summed up, HCP can "take a licking and keep on ticking."
Author's Note: I'm a Wall Street writer, and that means that I am not always right with my predictions or recommendations. That also applies to my grammar. Please excuse any typos, and I assure you that I will do my best to correct any errors if they are overlooked.
Finally, this article is free, and my sole purpose for writing it is to assist with my research (I am the editor of a newsletter, Forbes Real Estate Investor), while also providing a forum for second-level thinking. If you have not followed me, please take 5 seconds and click my name above (top of the page).
The only guarantee that I will give you is that I will uncover each and every rock I can, in an effort to find satisfactory investments that "upon thorough analysis promises safety of principal and satisfactory return. Operations not meeting these requirements are speculative." (Ben Graham).
REITs mentioned: (NYSE:LTC), (NYSE:HTA), (NYSE:VTR), (NASDAQ:CTRE), (NYSE:HR), (NYSE:NHI), (NYSE:UHT), (NASDAQ:SBRA), (NYSE:DOC), (NYSE:HCN), (NYSE:OHI), (NYSE:MPW), (NYSE:SNH), (NYSE:SNR), (NYSE:CHCT), and (NYSE:CCP).
Sources: SNL Financial, FAST Graphs and HCP Investor Presentation.
Disclaimer: This article is intended to provide information to interested parties. As I have no knowledge of individual investor circumstances, goals, and/or portfolio concentration or diversification, readers are expected to complete their own due diligence before purchasing any stocks mentioned or recommended.
Disclosure: I am/we are long O, DLR, VTR, HTA , STAG, GPT, ROIC, HCN, OHI, LXP, KIM, WPC, DOC, EXR, MYCC, BX, TCO, SKT, UBA, STWD, CONE, BRX, CLDT, HST, APTS, FPI, CORR, NHI, CCP, WSR, CTRE, WPG, KRG, SNR, LADR, HCP.
I wrote this article myself, and it expresses my own opinions. I am not receiving compensation for it (other than from Seeking Alpha). I have no business relationship with any company whose stock is mentioned in this article.