"Kinross Gold Corporation (KGC) (TSX:K) (NYSE (NYX): KGC) is pleased to announce that it is proceeding with the Phase One expansion of its Tasiast mine in Mauritania. Phase One is expected to increase mill throughput capacity from the current 8,000 tonnes per day (t/d) to 12,000 t/d, while significantly reducing Tasiast's operating costs and increasing production. Preparations for Phase One construction to install incremental crushing and grinding capacity to the existing carbon-in-leach (CIL) circuit, which includes an oversized semi-autogenous grinding (SAG) mill and gyratory crusher, will begin immediately. Phase One is expected to reach full production by the end of Q1 2018 with estimated capital expenditures of approximately $300 million."
Kinross Gold Corporation is a senior gold mining company. The Company is engaged in gold mining and related activities, including exploration and acquisition of gold-bearing properties, the extraction and processing of gold-containing ore and reclamation of gold mining properties. The Company's segments include Fort Knox, Round Mountain, Kettle River-Buckhorn, Kupol, Paracatu, Maricunga, Tasiast and Chirano. Its gold production and exploration activities are carried out principally in Canada, the United States, the Russian Federation, Brazil, Chile, Ghana and Mauritania. Its gold is produced in the form of dore, which is shipped to refineries for final processing. It also produces and sells silver.
The company says it will go ahead with the expansion of the Tasiast gold mine in Mauritania.
The Tasiast Lands are located in northwestern Mauritania, approximately 300 km north of the capital Nouakchott and 250 km southeast of the major city of Nouadhibou.
The Tasiast Lands fall within the Inchiri and Dakhlet Nouadhibou Districts. The Tasiast mine is located at 446600E, 2275600N (UTM, WGS84, Zone 28N).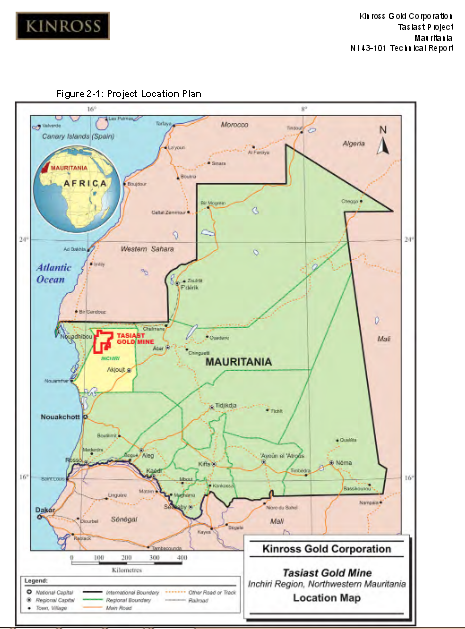 The first phase of the expansion is expected to increase mill throughput capacity to 12 thousand metric tons/day from 8 thousand metric tons/day.
Once the first part of the expansion is complete, Tasiast will have all-in-sustaining costs of $760/oz., compared with current production costs of ~$1,400/oz.: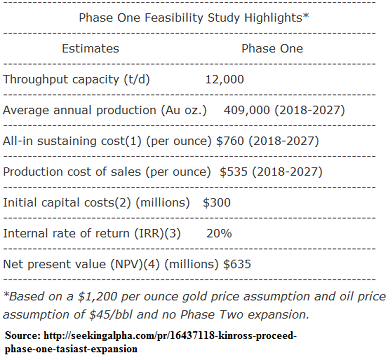 I went through the technical report of the Tasiast expansion project and what I don't like about the project is the absence of the electric power grid:
The mine is located in a remote area where there is no electric power grid.

The source of mine water supply is located 64 km west of the mine and consists of a semi-saline underground aquifer, which is exploited by 47 wells. Water is pumped from the bore field to the mine.

In 2016, the Tasiast mine employs approximately 1,140 employees, of whom approximately 1,010 are Mauritanian nationals. Staff accommodation is provided at the mine site.

The terrain surrounding the Tasiast deposit is flat, and is adequate for construction and operation of the camp, mine, plant, tailings, and waste rock disposal facilities.
Valuation of the phase one of the expansion project:
" The economics of the Tasiast Expansion Project were evaluated using a real (non-escalated), after-tax discounted cash flow (DCF) model on a 100% project equity (unlevered) basis. Unless otherwise stated, all economic parameters are shown on an absolute basis (not incremental to existing operations). Production, revenues, operating costs, capital costs and taxes were considered in the financial model. The main economic assumptions are a US$1,200/oz gold price and a 5% discount rate."
Using Net Present Value (NPV) calculation:
The feasibility study estimates a NPV of $635 million and a 5% discount rate. Considering that the company has 1.24 billion shares outstanding, I calculate the NPV per share of the project as:
$635/1,240M S/O = $0.51 per share.
About the IRR of the Phase One expansion:
"The Phase One expansion has robust standalone economics, including a positive 20% expected internal rate of return." (J. Paul Rollinson, President and CEO, commentary in relation to the Tasiast two-phased expansion studies).
The internal rate of return (IRR) is 20%. The IRR represents the life of mine cash flow coupled with the capital investment. A project with an IRR of 30% to 35% would be a financially robust operation.
Analysts' opinion on Kinross Gold:
When I wrote my last article on Kinross the mean recommendation was 3.0 therefore the analysts ranked Kinross as a hold with a mean target price of $2.90 and a high target price of $4.29.
The Consensus Price Target of a period 'is the average of individual price target estimates submitted by covering sell-side analysts'. Normally it is a 12-month period.
Evidence suggests that analysts rely on price-multiple heuristics such as PEG rather than formal valuation models to compute
target prices (Bradshaw, Mark T. "The use of target prices to justify sell-side analysts' stock recommendations." Accounting
Horizons 16.1 (2002): 27-41). And that 'only 12.8% of analysts' reports refer to any variation of discounted cash flow as a
basis for the price targets' (Asquith, Paul, Michael B. Mikhail, and Andrea S. Au. "Information content of equity analyst reports."
Journal of financial economics 75.2 (2005): 245-282).
Assuming that analysts' target prices on Kinross are based on present value valuation models (such as DDM or DCF) and not based on valuation heuristics that are a function of P/E multiples, if I add $0.51 (NPV p.s. of the Tasiast Phase One expansion) to the mean target price of $2.90 (before analysts were bullish on Kinross), I will obtain a rough target price of $3.41 per share. And $4.8 as a high target price.
KGC is upgraded to Buy from hold with a $4.50 price target, raised from $3.50 at TD Securities and is upgraded to outperform from market perform with a $5 price target, up from $4, at Raymond James.
Following the news that the company is proceeding with the expansion of its Tasiast mine, the stock hit a 52-week high last Thursday and closed at $3.48 per share, 2.35% up from the previous market day.
According to my point of view, the stock may already have reached its target price.
Why I don't agree with the last analysts' upgradings of Kinross:
A) if Kinross will fund the phase one expansion of Tasiast project (I rely on the feasibility study's figures only), through the issuance of new common shares, the NPV should be divided on a greater amount of shares.
TD Securities believes that KGC can fully self-fund the Tasiast expansion phase with cash on hand and operating cash flow. But Kinross has also a total debt of $1,981.40 million to reduce and as I previously wrote the company is destroying value since it earns returns that do not match up to its cost of capital.
The issuance of new shares, which proceeds may be used to fund part of the expansion project, will reduce EPS and therefore the share price. This is the first reason why I am not convinced about the last upgradings of the stock.
B) The main economic assumptions of the phase one expansion project are a US$1,200/oz gold price and a 5% discount rate.
For Kinross I calculated a higher discount rate based on the historical exposure of the gold stock's returns to the returns on the S&P 500 and to changes in the gold price. Assuming the same growth rate, g, since the terminal value of the stock is very sensitive to the difference between the discount rate and the growth rate, with a higher discount rate I may obtain a much smaller NPV p.s. of the phase one expansion project at Tasiast and therefore a lower mean target price. This is the second reason why I am not convinced about the last upgradings of the stock and its new target prices.
Even lower: I would consider the $3.00 share price of the bought deal public offering as a value that also includes the NPV p.s. of the one phase expansion project.
Disclosure: I/we have no positions in any stocks mentioned, and no plans to initiate any positions within the next 72 hours.
I wrote this article myself, and it expresses my own opinions. I am not receiving compensation for it (other than from Seeking Alpha). I have no business relationship with any company whose stock is mentioned in this article.