Oil prices were on March 30th after news broke that the EIA (Energy Information Administration) reported an increase in crude inventories but a decrease in some key categories of petroleum products. On top of this, production data came in strong while motor gasoline demand faltered a bit but the overall picture showed some positive signs. In what follows, I will dig into the data provided and say why, in my opinion, this is positive news for investors in the United States Oil ETF (NYSEARCA:USO) as well as in oil-related companies like Breitburn Energy Partners (NASDAQ:BBEP), Approach Resources (NASDAQ:AREX), and Memorial Production Partners (NASDAQ:MEMP).
Inventory data was mixed
According to the EIA, crude inventories for the week came in at 534.8 million barrels. This represents an increase of 2.3 million barrels compared to the 532.5 million barrels we saw the prior week and is the largest glut in crude the U.S. has seen in several decades. While this build was negative, it actually came in lower than the 2.6 million build forecasted by the API (American Petroleum Institute) a day earlier and was well below the 3.2 million barrel build forecasted by analysts. In the graph below, you can see the trend that crude has taken over the past 52 weeks.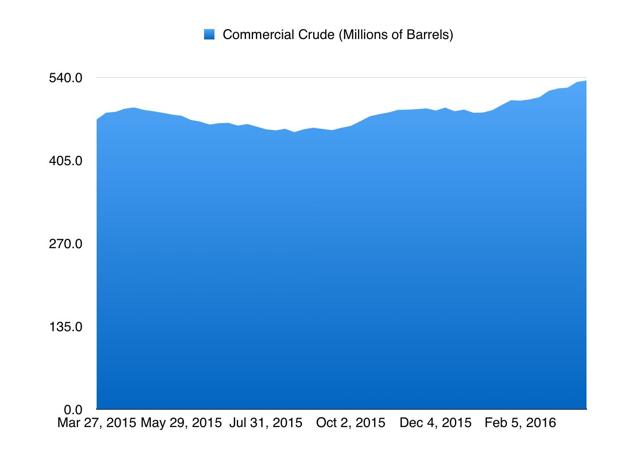 While this build was a negative (any build right now is), there were plenty of categories that showed improvement week-over-week. Motor gasoline, for instance, reported a decline of 2.5 million barrels, dropping from 245.1 million barrels to 242.6 million while distillate fuel stocks dropped 1.1 million barrels from 162.3 million barrels to 161.2 million. Both of these are very much welcomed, especially distillate fuels at a time when demand has been (for most of the year at least) weak.
Unfortunately, there were enough increases across the board to cause total crude plus petroleum product inventories to rise by 1.6 million barrels from 1.3543 billion to 1.3559 billion. Fuel ethanol, for instance, reported a 0.5 million barrel increase, climbing from 22.5 million barrels to 23 million and propane/propylene stocks ticked up 0.6 million barrels from 62.2 million barrels to 62.8 million. The biggest increase other than crude was in the "other" category of petroleum products, which rose by 1.6 million barrels from 239.8 million to 241.4 million.
A look at production and demand data
On the supply side, there's no doubt that inventories rose but the drops in motor gasoline and distillate fuel stocks are very positive in my mind. However, what was really a good sign to me was that production has continued to decline. For the week, domestic output averaged 9.022 million barrels per day, down from 9.038 million barrels per day seen a week ago (for a weekly drop of 112 thousand barrels). This is not material in nature but the trend is good as well as the fact that this came about despite an increase of 11 thousand barrels per day in output in Alaska. Lower 48 production actually declined by 27 thousand barrels per day from 8.531 million barrels to 8.504 million. In the graph below, you can see the historical production trend over the past 52 weeks.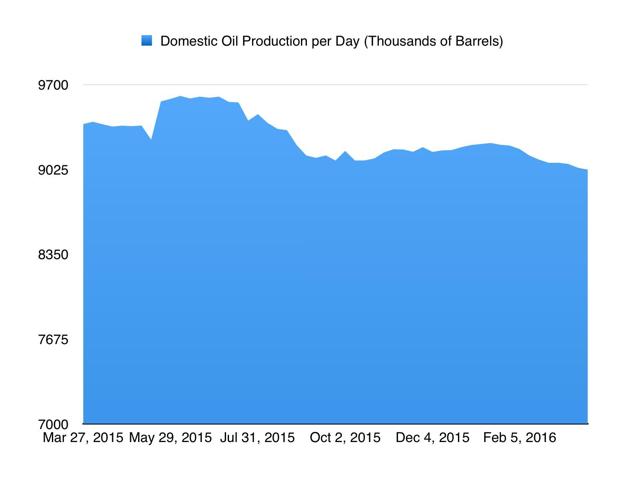 From a demand standpoint, we did see some weakness in motor gasoline, with the metric coming out to 9.244 million barrels per day, down 2.7% year-over-year. However, if you take the four-week average demand, you arrive at 9.404 million barrels per day, roughly 5% greater than the 8.957 million barrels per day seen the same period a year earlier. Fortunately, the weekly decline was more than offset by a distillate fuel demand, which rose 14.1% week-over-week from 3.373 million barrels per day to 3.848 million barrels per day but the downside is that, even in light of this, demand is still down in this category when you look at the four-week average by 3.4% year-over-year.
Rig counts fell again
One other positive indicator for the week related to the U.S. oil rig count. According to Baker Hughes (NYSE:BHI), the number of domestic oil rigs in the country dropped by 10 units to 362. This is down 54.9% compared to the 802 units in operation seen the same week last year. Although there were many changes across the board, the Granite Wash saw the largest decline, reporting a drop of 4 units (both oil and natural gas combined) for the week. Meanwhile, the rig count for oil in Canada remained unchanged at 11 units, down 45% from last year's 20 units. As the rig count continues to drop, the amount of oil being produced in the future will have a much higher probability of falling at a nice clip. In spite of this, though, fears associated with a potential production freeze holdup by OPEC and non-OPEC nations pushed oil prices down by 4% on April 1st.
Takeaway
At this moment, things definitely look mixed regarding the oil data released this week. We certainly saw some negative signs but I believe the overall positive aspects, namely motor gasoline and distillate fuel stocks, four-week average motor gasoline demand, domestic production, and falling rig counts at home, put a more positive tone on the picture than a negative one. Ultimately, the fall in output continues to reinforce my stance that the long-term picture for crude should be positive and that we will eventually see production fall far further than it has lately.
Disclosure: I am/we are long BBEP, AREX, MEMP.
I wrote this article myself, and it expresses my own opinions. I am not receiving compensation for it (other than from Seeking Alpha). I have no business relationship with any company whose stock is mentioned in this article.
Editor's Note: This article covers one or more stocks trading at less than $1 per share and/or with less than a $100 million market cap. Please be aware of the risks associated with these stocks.