Disney (NYSE:DIS) cannot seem to get a fair shake in this market. Despite a very successful 2015 with double digit EPS growth the stock sold off and hit a low of about $88. Even now the stock trades 18% below its 52 week high and 14% above its low. What has investors so worried about the entertainment giant? I'm getting in while the getting is good.
Every business comes with their share of issues, Disney is no exception. The primary concern for investors that are bearish on Disney seems to be with ESPN and the "cord-cutting" trend that is impacting them currently. At their March shareholder meeting in California CEO Bob Iger fielded many questions from investors over the health of their ESPN branch. For their last quarter the Media Networks segment, of which ESPN is a part of, lost 6% in operating income and revenues.
With ESPN negatively impacting the broader company Disney has taken steps to offer the content separate from traditional pay-TV services. In early March, Sony (NYSE:SNE) announced that their Vue service would offer ESPN alongside the other Disney offerings at just $39.99 a month. The sports network is also available on Sling and Apple (NASDAQ:AAPL) is seeking to add ESPN to its slimmed down TV packages available over Apple TV. There are still many levers for the company to pull before investors should consider ESPN a lost cause.
Another principle concern investors have with Disney is the future loss of Bob Iger. Mr. Iger has been the individual most responsible for Disney's rapid growth in recent years having spearheaded the acquisitions of Pixar in 2006, Marvel Entertainment in 2009 and Lucasfilm in 2012. All good things must come to an end, however, and in June 2018 he will hang it up. In the on-deck circle is Thomas Staggs, a Disney employee of over 25 years, and a man chosen by Iger himself likely with the blessing of the Disney family. Thomas Staggs has held both CFO and COO positions and his performance in both is what led to Mr. Iger choosing him. We must also remember how Mr. Iger came to be at Disney, with Walt's brother Roy leading a shareholder revolt that led to Michael Eisner's ouster in 2005. Should Mr. Staggs fail to meet shareholder and Disney family expectations I have little doubt another such revolt would not take place if need be.
The negatives at the company are strongly overshadowed by the positives. In December of 2012 the company closed out their $4.06 billion purchase of Lucasfilm, George Lucas' brainchild that gave us all the Star Wars franchise. Last year the world was finally given another Star Wars, and that film gave investors $1.87 billion in gross ticket sales for 2015 alone. The cash train for Star Wars has just left the station, with merchandising, DVD/Bluray sales, digital downloads and future licensing revenues still coming in it is safe to say that $4 billion was a great price.
Disney also purchased Pixar in 2006 for $7.4 billion. Since 2006 the Disney Pixar group has brought us Cars, Up, Toy Story 3, Cars 2, Brave, Monsters University and Inside Out to name a few. The success of those films alone have grossed $4.2 billion worldwide, that doesn't account for merchandise sales. On top of Pixar, Disney has its own animated films, and they currently own the highest grossing animated film ever in Frozen which so far has grossed $1.2 billion. Nipping at Frozen's heels is the newly released Zootopia which grossed $73 million its opening weekend alone. Things are going well for Disney in the film department, and from successful films comes lucrative merchandising agreements.
The company further capitalizes on their movies via their theme parks and cruise ships. Their last reported quarter saw operating income rise 22% QoQ. Disney is also opening up a theme park in Shanghai on June 16, 2016. Within hours tickets for opening day were sold out for Disneyland Shanghai, not really a surprise when you consider the population of Shanghai is estimated to be north of 24 million people. Having a Disneyland in the most populated city in the world is almost guaranteed to produce incredible returns.
The company yields 1.3% right now and pays semi-annually. In December of 2015 the company raised the dividend to $.71 to bring the annual amount to $1.42. Their past raises have been remarkable, the company has nearly doubled their paid amount from 2012.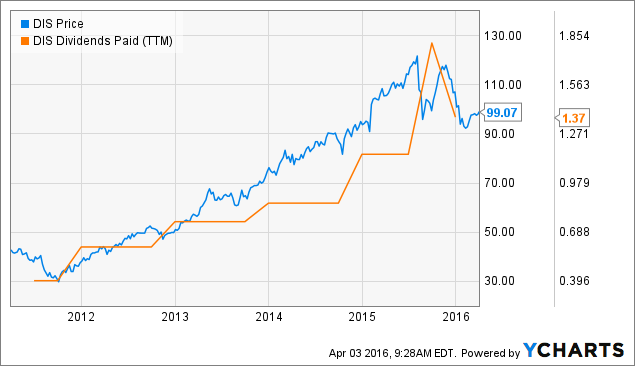 With a low payout ratio, just 37%, and increasing FCF of $6.7 in the TTM, I expect dividend growth to continue annually.
As stated before, Disney has not gotten much love from the markets despite the incredible overall growth. Their 5 year averages for P/E and P/CFL are 19.9 and 14.7 respectively yet are trading at 18 and 14.2 making them attractively valued. If you use their forward P/E of just 15 they look grossly undervalued especially compared to the S&P 500 P/E of 22.86.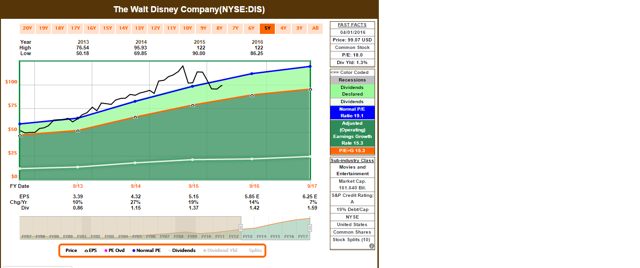 If the shares start trading hands at the average P/E we have almost 13% of upside left. This is a company that should likely be granted a "premium" valuation by the market due to its growth and dominance in their industry.
The market has gotten expensive but there are still some good deals to be had out there. I believe Disney is one of those. Their A credit rating is another incentive for me as well. Thanks to the expensive market I'll likely be exiting some of my other positions to fill Disney, likely Mattel (NASDAQ:MAT) and Dunkin Brands (NASDAQ:DNKN). I'm still deciding on that however, but Disney is at the top of my list to buy at this time. The growth, dividend, management and family involvement with the company makes this a great long-term holding and one I won't worry much about.
Disclosure: I/we have no positions in any stocks mentioned, but may initiate a long position in DIS over the next 72 hours.
I wrote this article myself, and it expresses my own opinions. I am not receiving compensation for it (other than from Seeking Alpha). I have no business relationship with any company whose stock is mentioned in this article.
Additional disclosure: I am long: DNKN, MAT, AAPL.