It has been more than a year since Coach (NYSE:COH) announced its strategic transformation plan to boost brand value and achieve operational efficiency and we are seeing signs of improvement. After the results of the second quarter, a number of analysts have become bullish and owing to this optimism, COH's shares have been gaining momentum. Currently COH is sitting about 3.2%, 7.9% and 15.8% above the 20-day, 50-day and 200-day EMA respectively, signaling a strong upward momentum.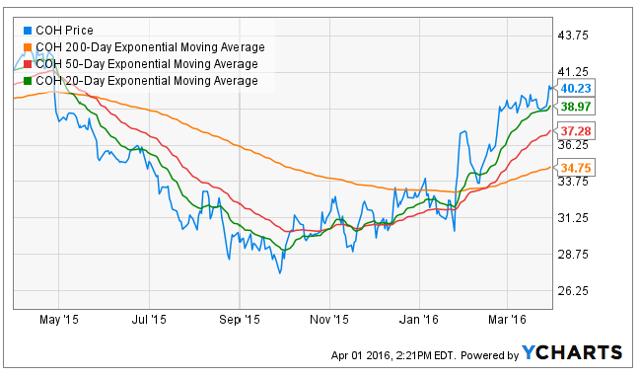 So as far as financial performance is concerned, what is going on? In Q2 2016, COH reported a number of positives including the growth in net sales compared to Q2 2015 and the encouraging results of Stuart Weitzman. Comps for the North American region fell by 4%, but compared to the comps growth a year ago (-9%) this actually represents considerable improvement.
So what exactly is the 'fight' that is keeping COH's management on its toes? A couple of quarters back, COH, attempting to grow its top-line rapidly, made a huge mistake by offering excessive discounts to customers. COH might have forgotten that the entire concept of 'luxury' revolves around exclusivity. As an important player in the luxury goods industry you would definitely not want to see your goods becoming ubiquitous and unfortunately COH's brand has, to a great degree, lost the exclusivity that convinced its customers to buy handbags worth more than $500. Analyzing the chart below, it is clear that most of COH's premium handbags are being sold at factory outlet brand stores at a discount. Once the brand value is eroded, customers are less willing to pay the full price.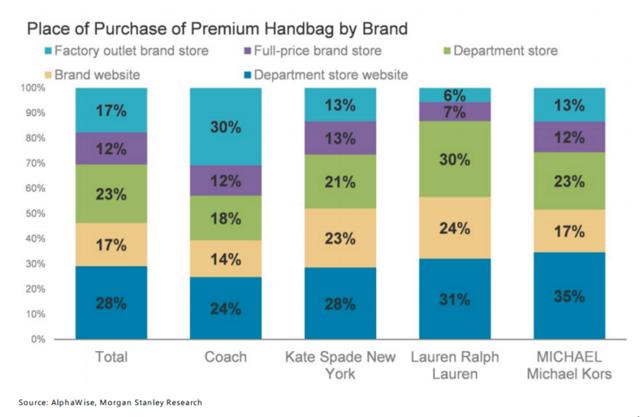 This is a sticky situation to be in but COH has been fighting back valiantly. To uplift its brand and improve comps, COH has been setting up modern luxury concept stores across the globe. These stores with their exotic ambiance, exude elitism and are already playing a key role in the turnaround. Last quarter alone, COH managed to renovate and open at least 65 modern luxury concept stores internationally and as more renovations are completed COH can realistically deliver positive North American comps before the start of 2017. In addition to this, the rising sales of handbags in the above-$400 price range is a very encouraging sign as it indicates that COH's attempts to re-elevate its brand are working. According to the latest transcript, handbags in that high price bracket accounted for 35% of COH's total handbag sales. A year ago their contribution was only 30% so this is a noticeable improvement.
Keeping in mind the discussion above, it doesn't come as a surprise that COH's accounts receivables growth has outstripped the growth in revenues in recent years. This is not an encouraging accounting trend, which when coupled with the COH's history of accruals ratio and rising DSO, casts doubt on the company's earnings quality.
Closure of North American stores during the turnaround has certainly contributed to the decline in revenues but investors should, in any case, keep an eye on COH's accruals ratio in 2016. Ideally I am looking to see negative accruals ratio because it indicates that the company derives a small proportion of its earnings from discretionary sources and hence has more cash-based earnings. Although COH's earnings quality improved slightly in 2015 compared to 2014, the company's accruals ratio is still very high. A large proportion of its earnings are based on discretionary items instead of cash flow.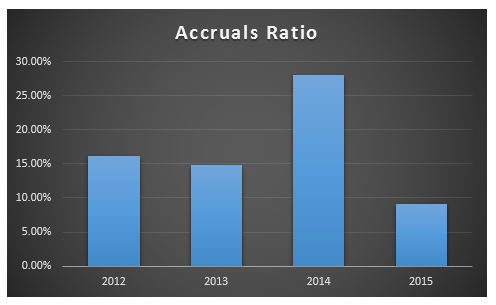 (Source: Morningstar)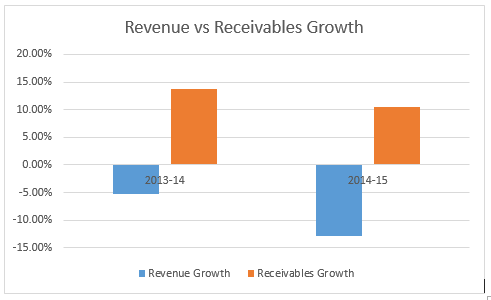 (Source: Morningstar.com)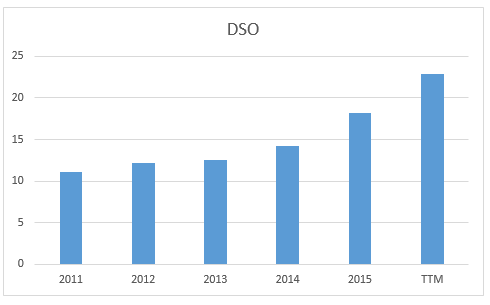 (Source: Morningstar.com)
Based on the PE ratio, COH is trading at a premium to its industry peers and the company's current multiple is approximately 77% higher than the 5-year average. To get an idea of the downside risk associated with investing in COH, we can look at the gulf between the company's current and forward PE multiple. COH is sporting a TTM PE multiple of 30.6x versus a forward PE of 18.8x, which means assuming price is kept constant, the market is expecting a 62% rise in earnings. This is a very optimistic estimate even for a company like COH that boasts history of beating earnings' estimates. Thus COH is possibly overvalued.
Conclusion
All in all, COH looks expensive. Premium valuation isn't justified because of the numerous risks and concerns discussed earlier. COH's revenues may be reaching a local minimum as the company is moving in the right direction. However, I am staying away until I see genuine improvement in earnings quality and clear signs that COH's brand image is rebuilding.
Disclosure: I/we have no positions in any stocks mentioned, but may initiate a short position in COH over the next 72 hours.
I wrote this article myself, and it expresses my own opinions. I am not receiving compensation for it (other than from Seeking Alpha). I have no business relationship with any company whose stock is mentioned in this article.