Freeport-McMoRan (NYSE:FCX) is a company that produces copper, oil and gold. Technically, they also produce a few other raw materials, but those materials do not represent a large enough portion of revenue to warrant substantial consideration. To be fair, even gold is fairly small source of revenue for the company. Last summer I was able to put together a method of tracking movements in share prices relative to the movement in EBITDA that would be projected using commodity prices. The technique worked fairly well estimating price movements initially. It provided clear signals for the company's shares being too expensive or cheap, but shares of FCX stopped moving as well with the model in late fall.
Impact on EBITDA - Copper
This article is going to focus on the price movements in FCX relative to the two major commodities (copper and oil) they produce. Therefore, I want to start with demonstrating the impact on EBITDA from movements in copper prices: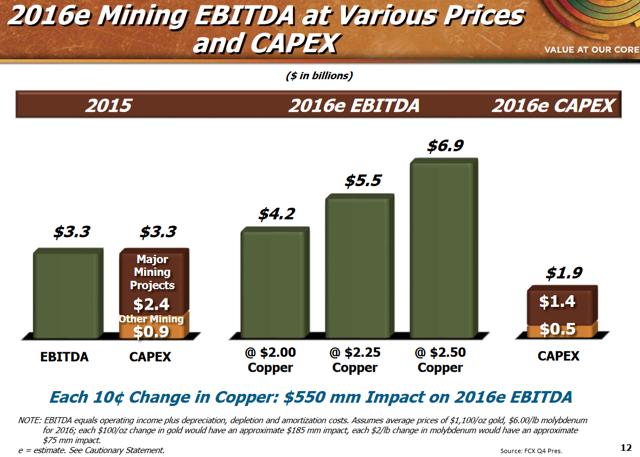 The expectations for EBITDA change by $1.3 to $1.4 billion for each $.25 change in copper prices. Copper prices most recently were at $2.161 per pound. During 2015 management became substantially more receptive to cutting capital expenditures, and their projection for $1.9 billion in cap-ex compared to the $3.3 reported in 2015 demonstrates that commitment.
Impact on EBITDA - Oil
Management also put together a fairly easy to read slide for their oil and gas projections, but it is worth pointing out that these are projections for 2017. I believe this is based on management deciding that 2017 creates a better baseline for assessing that piece of the company.
Here we can see that a $10 change in the oil price creates a $.4 to $.5 billion change in EBITDA. We can also see that management is being conservative with capital expenditures.
As an analyst, I appreciate the way management changed their presentation. Those slides from the 2015 Q4 presentation are materially better than the corresponding slides from the 2015 Q2 presentation. In previous quarters, management put it into one slide and was demonstrating the EBITDA based on copper changes with oil prices held static. They included useful disclosures, just like the new copper slide has for gold prices, but providing quicker tools for analysts and investors to assess both parts of the business (mining and oil) is an intelligent choice.
Price Movements
The following chart uses the iPath DJ-UBS Copper Total Return Sub-Index ETN (NYSEARCA:JJC) and the United States Brent Oil Fund, LP (NYSEARCA:BNO) to estimate the movements in commodity prices through futures contracts. To get a feel for valuation on FCX, I want to see how they are moving relative to the commodity values.

In January, FCX bottomed out. The bottom for share prices wasn't quite the bottom for the commodities, but it was reasonable for shares to hit very cheap levels since they were moving like a leveraged investment in the commodities. Since the company had a very high debt load, it was reasonable for shares to move dramatically based on smaller movements in commodities prices. FCX was desperate for stronger prices to bring some relief to their margins and improve cash flows. FCX issued equity at low prices and sold a significant share in one of their copper mines.
The interesting thing for me is that FCX was following projections of their earnings fairly well for a year or two prior to this. While late fall saw the model become less effective, the weakness doesn't even remotely compare to what happened since January. Using an arbitrary starting point in early April (when the company traded with forward EBITDA estimates), shares for FCX were down about 80% compared to copper being down about 31.5% and oil down about 52%. Since then shares of FCX rebounded about 164% compared to copper moving up 12% and oil up 20%.
When Was FCX Last Seen Around These Prices?
Prior to March, the last time FCX traded right around $9.89 was November 11th, 2015. The difference in share prices is a gain of less than 1%. During that period, oil prices moved down over 25% and copper prices moved down 3%. The dramatically lower level of expected EBITDA and operating cash flows shows that investors have taken a dramatically more favorable view of risk over the last few months. While the S&P 500 has rallied over the last couple months, the gains for FCX have been astounding.
Unless investors believe they have a better method for estimating future commodity prices than using the market rate on futures contracts, it is difficult to justify the dramatic climb over the last couple months. A higher price was certainly warranted, but I don't think $10.00 is warranted by the outlook for earnings. The ETFs I'm using for projecting copper and oil prices are not simply tracking current prices. The ETFs hold futures contracts on the underlying commodities, so their prices should track the future contracts very closely to prevent arbitrage opportunities.
My View
I think FCX has climbed too rapidly given the fundamental challenges that remain. There are still substantial problems facing the company. The slowing growth within the Chinese economy is one of the largest factors since the demand for copper in China is a substantial factor driving global pricing. If China is able to increase its growth rate in GDP and opts to spend on further infrastructure, it could drive copper prices higher and completely overwhelm any other aspect of analysis. Despite that risk factor, I see more risk than return baked into current share prices.
An Alternative Explanation
When shares were trading around $5, I argued that the prices reflected investors baking in a significant risk of bankruptcy. Those risks were materially reduced when FCX sold their position in the copper mine. The price received indicated a very favorable valuation of the assets. Using that level of valuation for the assets suggested that FCX had a materially better chance of surviving (since they could sell assets) than would have been expected previously.
Conclusion
Freeport-McMoRan put together some great presentations for shareholders and analysts to make it easier to assess the impact of copper and oil prices on their EBITDA for future periods. They also made a commitment to reduce capital expenditures which was a necessary change.
Despite those positive factors, the substantial rise in valuation is simply too much. Relative to late fall of last year the expected cash flows from operations are clearly dramatically lower. The decline in copper and oil prices since the middle of November, 2015, tells the tale of declining fundamentals. The company's ability to sell assets and generate cash was a huge positive, but I don't see it offsetting the challenges from weak copper and oil prices.
Based on the current commodity prices, I would expect FCX to trade closer to $7 and possibly up to $8.50. The higher end is more than the commodity prices justify alone, but the sale of interest in one of their assets was very favorable and reduced the risk premiums.
Disclosure: I/we have no positions in any stocks mentioned, and no plans to initiate any positions within the next 72 hours.
I wrote this article myself, and it expresses my own opinions. I am not receiving compensation for it (other than from Seeking Alpha). I have no business relationship with any company whose stock is mentioned in this article.
Additional disclosure: Information in this article represents the opinion of the analyst. All statements are represented as opinions, rather than facts, and should not be construed as advice to buy or sell a security. This article is prepared solely for publication on Seeking Alpha and any reproduction of it on other sites is unauthorized. Ratings of "outperform" and "underperform" reflect the analyst's estimation of a divergence between the market value for a security and the price that would be appropriate given the potential for risks and returns relative to other securities. The analyst does not know your particular objectives for returns or constraints upon investing. All investors are encouraged to do their own research before making any investment decision. Information is regularly obtained from Yahoo Finance, Google Finance, and SEC Database. If Yahoo, Google, or the SEC database contained faulty or old information it could be incorporated into my analysis.