Paychex Inc (NASDAQ:PAYX) is one stock I regret not buying years ago. The company is in a growth industry of HR outsourcing to small and medium-sized businesses. It is a capital light industry, with fairly high barriers to entry. I think Paychex might be something Warren Buffett might like. One other thing to like about Paychex is that it is once again a dividend grower. After going flat in 2010 and 2011, Paychex has resumed its dividend growth since then, and dividend growth has been accelerating over the last few years. Overall growth prospects appear to be a lot better for this company than they used to be, and so I think now is a good time to take a closer look at Paychex. That's what this article intends to do.
The cash machine
Paychex does payroll processing for small businesses (hence the name), and also human resources outsourcing. More recently, Paychex has been providing compliance services regarding the Affordable Care Act, or Obamacare.
Paychex generates a lot of free cash. In 2015 Paychex generated $994 million in operating cash flow and had to allocate $101 million in capex, leaving $893 million in free cash flow. That means capex is only 10% of operating cash flow. Of the $893 million of free cash flow, $592 million goes to dividends; a ratio of about 66%.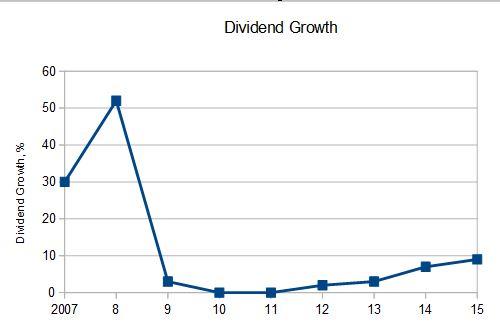 Paychex Dividend growth.
That dividend is growing, but only so over the last couple years. Last year management raised the dividend 9%, and I fully expect this dividend growth to continue for as long as growth numbers stay robust.
For example, in calendar 2015, revenue increased an impressive 7% with payroll revenue increasing 4% and HR services increasing 12%. Payroll service revenue increased due to growth in both the client base and revenue per check. In HR services, the number of employees served grew double-digits. As human resources becomes more of a complex task, both in hiring and in regulatory compliance, the value proposition from outsourcing only gets better. I believe this is what is driving Paychex's solid growth numbers, and I believe this is a long-term trend.
Calendar 2016 guidance is +7% to +8% for overall revenue. Of that, Human Resource Services are expected to increase 10%-13%, and Payroll is expected to increase 4%-5%. Overall net income is expected to increase 8%-9%, with potential for double-digit EPS growth if there are buybacks.
Is it a buy?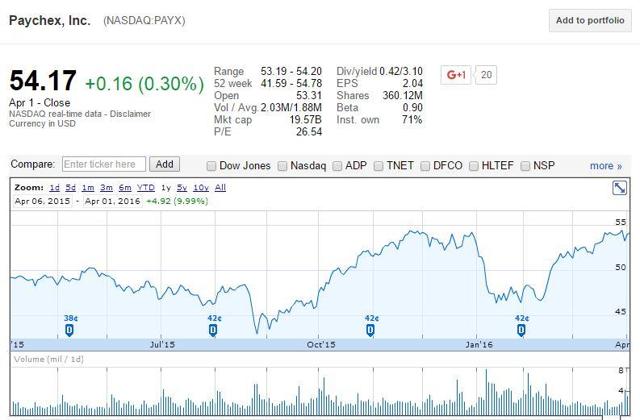 Courtesy of Google Finance.
As you can see above, Paychex is up quite a bit over the last couple months. In fact, since February 1 shares are up 11.5%. If shares appear to be a bit highly-valued, that's because they are. According to data from FAST Graphs, shares of Paychex have averaged 24.3 times trailing earnings over the past ten years. That's pretty high all by itself. But today, shares of Paychex actually trade at 27 times, about an 11% premium to the ten-year average. When looking for growth companies, I typically don't like when a company's PE ratio trades at over 2 times the earnings growth rate. Paychex trades at around 3 times.
Shares also yield 3%, which is not bad when one considers the earnings growth trajectory. However, I still think it's best to wait until shares are at or near their average valuations, maybe lower.
Conclusion
Paychex is a company at the right place and the right time to harness the tailwinds of increasing complexity in both HR and compliance. This is a company very much worth holding onto in the long run. I just believe that it's best to wait for a better price on this one.
Disclosure: I/we have no positions in any stocks mentioned, and no plans to initiate any positions within the next 72 hours.
I wrote this article myself, and it expresses my own opinions. I am not receiving compensation for it (other than from Seeking Alpha). I have no business relationship with any company whose stock is mentioned in this article.