Through Berkshire Hathaway (NYSE:BRK.A) (NYSE:BRK.B), Warren Buffett has had amazing investment success, making him an investing legend and household name. Over the past 51 years, the annual returns of Berkshire have more than doubled those of the S&P 500 (NYSEARCA:SPY), including dividends (20.8% for Berkshire versus 9.7% for the S&P 500).
This is a truly impressive track record and I have nothing but respect for Warren Buffett. Not only is he a great investor, but he has maximized shareholder returns by not charging high (or any) management fees for managing Berkshire's investments.
But how much of a difference has the absence of fees made and what would the returns have been if Buffett had been running Berkshire with a hedge fund fee structure, as is somewhat the case with David Einhorn's Greenlight Capital Re (NASDAQ:GLRE) and Bill Ackman's Pershing Square Holdings (OTCPK:PSHZF)? To answer this question, I ran the numbers assuming Berkshire actually did have a hedge fund fee structure over the past 51 years.
In this analysis, we will call the envisaged fee-charging entity the Berkshire Hedge Fund ("BHF") and assume that BHF has a common 2%/20% fee structure (2% of capital and 20% of profits) with a high watermark (e.g. following loss years, performance fees aren't charged until losses are recouped). I believe that the results of this comparison are quite interesting, though not surprising (see exhibit 1, below).
Exhibit 1: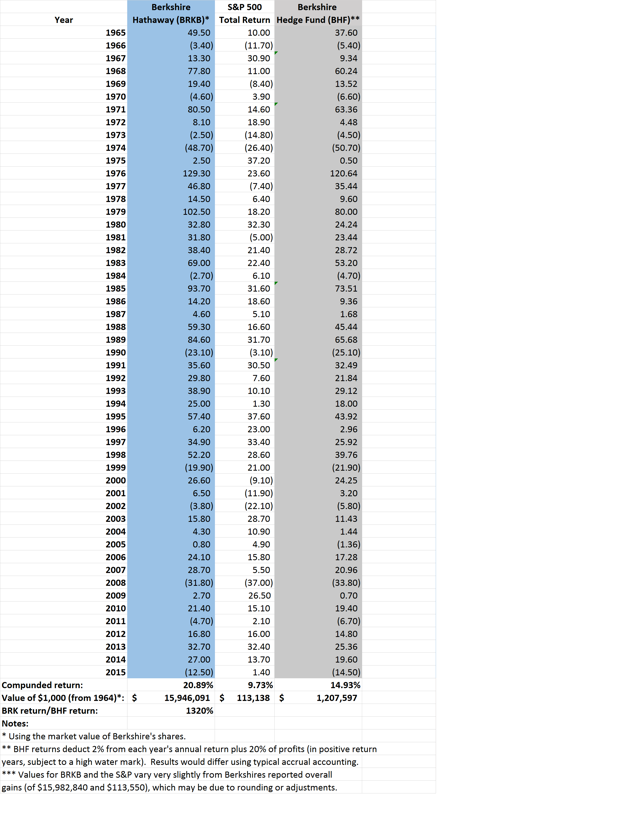 As mentioned before, Berkshire's annual returns (using the market prices of BRK.B) over the past 51 years have been an impressive 20.8% versus 9.7% for the S&P 500. Under a common 2%/20% hedge fund structure, on the other hand, the annual return figure for BHF would have been only 14.9%.
In other words, Berkshire's annual performance is a whopping 6 percentage points better than that of BHF in absolute terms and 40% better in relative terms. This already large differential is then dramatically more substantial when considering compounding over time. To illustrate this point, consider that $1,000 invested in Berkshire in 1964 would have grown to over $15.9 million by year-end 2015 compared to only $1.2 million for BHF.
The lessons to be learned from this example are two-fold. First of all, the analysis illustrates that some investors can add substantial value over the long term, even with the headwinds of a high fee hedge fund structure. While I believe that this is a rare exception (and that hedge fund fees are value destructive, in aggregate) long-term outperformance with a high fee structure can clearly be done. Even with the 2%/20% structure, Buffett outperformed the S&P 500 by 5.2 percentage points annually (albeit, far short of his actual outperformance of 11.1 percentage points, without the fees).
The second lesson to be learned from the example is just how much of an impact high fees can have on performance. Berkshire's annual returns were over 20% without the fees and less than 15% when including them. As already mentioned, this differential is even greater when considering the dramatic impact of compounding (e.g. over the 51-year period, the compounded return for Berkshire was over 13 times that of BHF).
Conclusion
Over the history of Berkshire Hathaway under Warren Buffett (considered to be one of the greatest investors of all time), the company "only" delivered 5.2 percentage points of annual outperformance when incorporating high hedge fund fees. I don't say "only" because this level of outperformance is bad. I actually believe that it's very impressive, particularly considering the high fee levels used in the analysis and the 51-year time frame over which it was maintained.
Rather, I say "only" to give some context with regard to investor expectations. 5.2 percentage points of annual outperformance is what an investing legend was able to achieve under the prescribed scenario. Not only do I believe that most hedge funds will perform much worse, but I believe that very few will deliver any long-term outperformance under these high fee structures.
High management and performance fees don't necessarily guarantee poor performance over the long term, but they create a huge drag on performance and are a headwind that few investment managers can overcome. This is something that all investors should bear in mind when considering a high fee investment alternative.
Disclosure: I am/we are long BRK.B, SPY.
I wrote this article myself, and it expresses my own opinions. I am not receiving compensation for it (other than from Seeking Alpha). I have no business relationship with any company whose stock is mentioned in this article.