The biotech sector greeted trading in the second quarter like a flower welcomes the spring. Biotech rose nearly three percent in the first trading day of April as frost finally feels like it is melting on this beaten down and oversold area of the market. Combined with Thursday's large gains, the sector is up more than five percent in two days, vastly outperforming the overall market; which is something biotech investors have not been able to say in quite some time.
There are a couple of possible reasons for this action. As noted, the sector is deeply oversold with the large cap concerns in the industry selling at their cheapest valuations since at least 2011. In addition, "window dressing" by fund managers in front of the close of the first quarter probably kept a lid on biotech and kept it largely from participating in the substantial rally in the overall market in March.
A slew of Ad Comm recommendations for new drugs certainly didn't hurt, including that of Nuplazid from Acadia Pharmaceuticals (NASDAQ:ACAD) which has huge potential and now looks on its way to approval. A better than 10% rise in Regeneron (NASDAQ:REGN) on Friday as it announced successful results from two Phase III clinical trials evaluating dupilumab in adult patients with inadequately controlled moderate-to-severe atopic dermatitis with partner Sanofi (NYSE:SNY) also was helpful. All in all it was a very good week for biotech investors.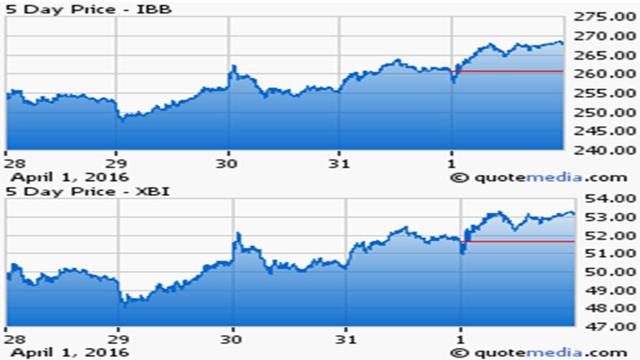 Medivation is being touted as a possible buyout target by major pharma players like AstraZeneca (NYSE:AZN), Roche (OTCQX:RHHBY) and Sanofi (SFY) among others. The firm has been placed in a negative light by a letter sent by presidential candidate and avowed socialist Bernie Sanders to the head of the National Institutes of Health questioning the $129,000 annual price tag of its prostate drug Xtandi. This compound does almost $2 billion in annual sales, some 60% of which emanates from the United States.
The main pipeline of Medivation consists of the late-stage breast cancer drug talazoparib, which could do $200 million in peak sales, and the blood cancer drug pidilizumab, which is in a Phase II trial but has had some challenges. As noted in our last Biotech Forum Daily Digest, Medivation has become a battleground stock of late with myriad analyst firms issuing or reiterating Buy ratings while others are placing Hold ratings on the stock. This is not one I own right now but Medivation is one of the few sizable but not massive acquisition targets (between $5 billion to $10 billion in market capitalization) in the sector right now.
In a late-breaking clinical trial session at the American College of Cardiology's 65th Annual Scientific Session, Amgen's (NASDAQ:AMGN) Repatha trial showed that in patients with reproducible statin intolerance due to muscle-related side effects, Repatha vs. Merck's (NYSE:MRK) ezetimibe resulted in significantly greater reduction in low-density lipoprotein cholesterol (LDL-C) after 24 weeks. The mean LDL-C reduction from baseline at weeks 22 and 24 was 54.5% for Repatha vs. 16.7% for ezetimibe. Muscle-related side effects were reported in 20.7% of Repatha patients and 28.8% of ezetimibe patients.
The is the second nice win for Repatha over the past week or so. Amgen recently won a patent ruling around Repatha against Regeneron and its partner Sanofi. The stock was also reiterated as a Buy with a $193 price target at Morgan Stanley last week.
Late last week the European Medicines Agency's Committee for Medicinal Products for Human Use (NASDAQ:CHMP) adopted a positive opinion recommending approval of migalastat from Amicus Therapeutics (NASDAQ:FOLD) for the first-line treatment of Fabry disease patients who have amenable genetic mutations in alpha-Gal A, a lipid substrate-degrading enzyme whose deficiency is the cause of Fabry.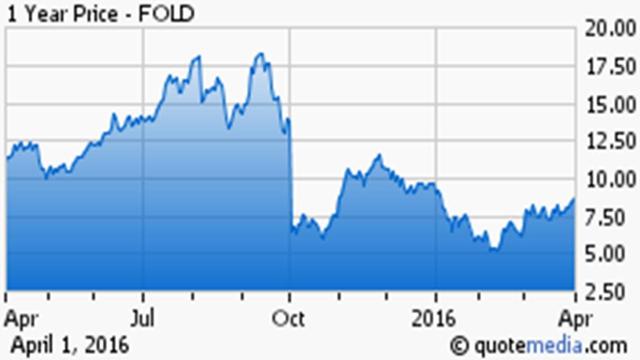 I have held Amicus in the past but it is not currently in my portfolio. The stock has rallied some 40% from its recent lows in mid-February and is back pretty much to the levels it began 2016. This is a very volatile stock and the company is at least a few years from profitability. Amicus does have a decent pipeline including a candidate for Pompe disease that showed encouraging results but is in a very early stage of development. Goldman Sachs was the last analyst firm to issue a rating on Amicus, initiating a Neutral rating and $10 price target last week.

Aratana (NASDAQ:PETX) saw its first activity among analysts in some five months last week. The small veterinary medicine concern was reiterated as a Buy both at Credit Suisse and Jefferies by two four-star ranked analysts (TipRanks). Credit Suisse has an $11 price target on Aratana and Jefferies is at $12. The stock currently trades at just over $6.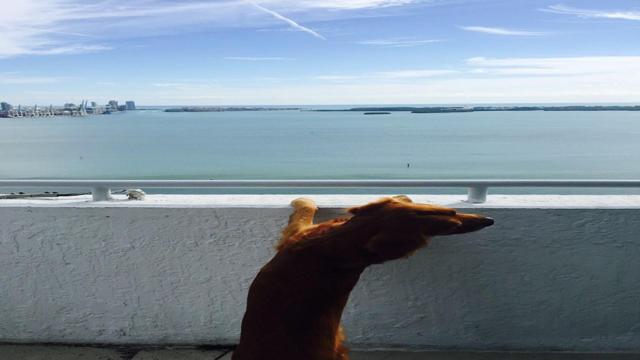 Cooper
I have a small piece of this speculative concern as it is one of few pure plays in this space and also has an interesting pipeline. I also have a Golden Retriever named Cooper that just turned 7 at the end of March so have a personal bias on this one. Aratana's compound Galliprant for osteoarthritis was just approved and should be on the market by the end of the summer. Jefferies believe the compound will achieve over $75 million in peak sales in the U.S. The company will need to raise financing at some point in the foreseeable future, but finding a possible European distribution partner could alleviate this concern if reached. I have Aratana, which has a current market capitalization of just over $200 million, rated as a Speculative Buy.
Regeneron also got some love from analysts this week. Given the Phase III trial results mentioned at the beginning of this post, this is hardly surprising. DoctoRx had a good piece on why this event is a market moving one for Regeneron late this week.
Analysts also climbed aboard the Regeneron train on this announcement. On Friday, UBS reiterated its Buy rating and $575 price target on REGN. The same day Robert W. Baird reissued its Buy rating and $526 price target on the stock. After Friday's big rally, the stock goes for just north of $400 a share.
This is still far below the over $600 the shares hit this summer before the big downturn in the biotech sector. I don't currently own the stock as it is a "tweener" for me. I find better values in the large cap part of the market that are in my portfolio such as Celgene (NASDAQ:CELG). And with a market capitalization of over $40 billion, the stock is too expensive to include in the speculative small cap portion of my biotech portfolio.
Note: New analyst ratings are a great place to start due diligence, but nothing substitutes for deeper individual research in this very volatile sector of the market. Many of the small cap names highlighted in the "Analyst Insight" will eventually appear in the "Spotlight" section, where we do deeper dives on this type of promising but speculative small cap concern.

In today's spotlight feature we look at a small biotech concern called Agenus (NASDAQ:AGEN). I have owned the shares since they traded for a little under $3 a share late in 2014. They climbed to $10 in the last rally in biotech which ended in late July and quickly turned into the deep bear market the sector currently resides within. Once the stock tripled I had cashed out half of my original stake using the "Jensen Rules" which I reiterated frequently on these pages. The stock early this year actually fell below my original acquisition cost and I added a few shares, as little has changed on this promising small cap concern other than sentiment has turned putrid on the small cap portion of the biotech sector. The shares have been in rally mode recently gaining some 35% in the month of March and now trade just north of $4 a share. It seems an appropriate time to revisit the investment case for Agenus.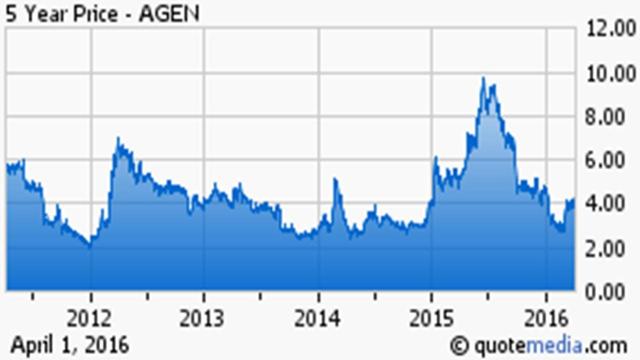 Agenus currently has a market capitalization of just north of $350 million and is a mid-stage developmental concern. The company concentrates in three major areas. It has an adjuvant called QS-21 Stimulon that is used to make vaccines more effective. It is used in conjunction with a malaria vaccine that was recently approved for Europe and Africa made by GlaxoSmithkline (NYSE:GSK). A shingles vaccine made by the same company with Agenus' adjuvant should also be out soon. In the second half of 2015, the company monetized its future royalty stream from this product to the tune of $115 million so it could concentrate on the other two and potentially more lucrative parts of its business. The company ended 2015 with $172 million in cash on hand, or approximately half of its current market capitalization. This means the company is funded through 2018 and has no need to raise additional capital.
Pipeline: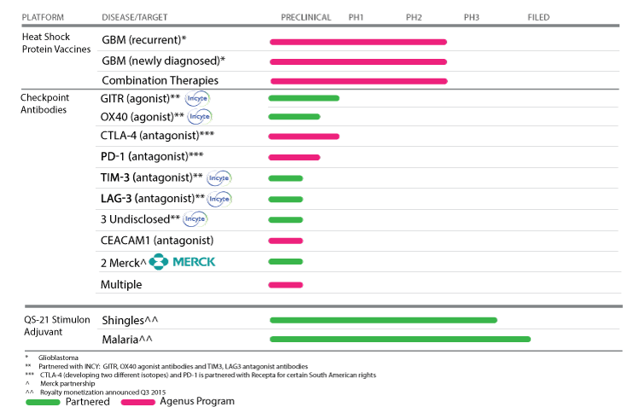 The first area of focus is so-called Prophage vaccines. Derived from each individual's tumor, Prophage vaccines contain the potential neo-epitopes of that patient's cancer and are designed to activate the body's immune system to target cancer cells bearing these neo-epitopes. Prophage vaccines, based on the company's proprietary Heat Shock Protein ('HSP') platform technology, are intended to leave healthy tissue unaffected and limit the debilitating side effects often seen with traditional cancer treatments such as chemotherapy and radiation therapy. The company has a few indications it is exploring in this arena (see chart).
The other focus area in its developmental pipeline is around its checkpoint inhibitor platform. These checkpoint inhibitors are a broad class of molecules used by the immune system to help it decide what cells are cancerous and need to be destroyed. They are used in conjunction with other drugs to form an effective payload.
The company has significant collaboration deals with both Incyte (NASDAQ:INCY) and Merck to develop a variety of this indications. These large companies made upfront payments, agreed to developmental milestones and will pay Agenus a royalty stream with any approved products. Agenus now checks in with more checkpoints than anyone else in the immuno-oncology space
Analyst Commentary:
There has been a paucity of analyst activity on this stock in 2016 until recently. On March 4th Agenus was reiterated as a Buy at H.C. Wainwright with a $10 price target. On March 12th, Maxim Group upgraded the shares to a Buy and currently has a $7 price target on the stock. That is on the low end of views on the prospects of Agenus. Five analysts follow the company and have price targets ranging from $7 to $15 on this small biotech concern.
Outlook:
The company already has one developmental success with QS-21 and also has multiple "shots on goal" in a couple of key focus areas within its pipeline. I find it very encouraging that two major players in the industry have chosen to partner with Agenus as it shows that its technology is attractive and valuable. Finally, the company has no need to raise additional funding for the foreseeable future and has numerous trial milestones over the next year or so. Given these attributes the company remains an attractive but speculative high risk/high reward play that remains in my portfolio.

Thank You & Happy Hunting
Bret Jensen
Founder, Biotech Forum
Disclosure: I am/we are long ACAD,AGEN,AMGN,CELG, PETX.
I wrote this article myself, and it expresses my own opinions. I am not receiving compensation for it (other than from Seeking Alpha). I have no business relationship with any company whose stock is mentioned in this article.
Editor's Note: This article covers one or more stocks trading at less than $1 per share and/or with less than a $100 million market cap. Please be aware of the risks associated with these stocks.