I had initiated coverage on Aramark (NYSE:ARMK) in the beginning of 2015, when the stock price was ca. USD29 with a BUY rating. The stock price has moved higher by ca. 15% to USD33.5 currently, after having touched the 52-week high of USD35.1 during December 2015. Our initial investment thesis was based on: i) organic growth on the back of market share gains and emerging markets potential helped by outsourcing, ii) operational improvement through margin expansion and iii) strong free cash flow (FCF) generation that should help deleveraging and be accretive to equity value. In this investment essay, we would be revisiting our thesis and whether our positive stance still holds for the remainder of 2016.
Aramark has a highly predictable and defensible business model given its i) recurring revenues base with long-term contracts, ii) excellent retention ratios and iii) solid FCF generation due to its asset light business with low capital expenditure (CAPEX) and working capital needs.
2015: Excellent execution towards long-term goals: The Company has done well in 2015 especially on the margin front that should soothe investors' concerns after dismal performance during the beginning of the year. It witnessed organic sales growth of 2% and also managed to expand its profit and operating margin by 30bps to 6.2% (vs. annual target of 20bps improvement). It has reduced its debt leading to savings from less interest payments.

Source: Company filing
2018 Long-term goals very ambitious: Management discussed their medium term goals at their annual investor day with guidance on 3-5% organic revenue growth and margin expansion of at least 100 bps over the next three years, that translates to ca. 33bps improvement on annual basis (cf. ca. 20bps expansion before). Key initiatives include: i) portfolio optimization, ii) partnerships and alliances, iii) tuck-in M&A opportunities and iv) entry into new geographies.
USD16 billion of revenues by 2016 driven by self-help: The Company expects to grow its revenues to USD16 billion (vs. USD14.3 billion in 2015) by 2018, that translates to an annual increase of USD600 million with ca. USD1 billion from new business, USD300 million from growing the base, partly offset by USD700 million from customer attrition.

Source: Company filing
We believe that there is huge opportunity to capture from self-op market that accounts for ca. 50% of the current market and would benefit from the growing trend of outsourcing mainly in education and healthcare. Moreover the market is highly fragmented, with large organized service providers taking just 10% of the pie.

Source: Company filing
We would like to highlight three pockets of growth by end-markets with huge potential driven by self-help
End-market

Market opportunity

Self-Op

Outsourced

Comments

Education (ca. 25% of sales)

USD85bn

80%

20%

Retention rates of ca.~98%

Emerging markets (ca. 20% of sales)

USD330bn

60%

40%

Mainly emerging Markets (90% of the market is self-op) with rising middle class

Focus : healthcare in China and mining in Chile

Uniforms (ca. 10% of sales)

USD25bn

60%

40%

Highly diversified focused on smaller, local businesses

Sales to grow 4%-6% in the near term
Source: Company filing
It intends to accelerate growth by recruiting the right talent, focus more on innovation and improve service to win new business and strengthen its existing customer relationships. It should be noted that its recent order win of Yosemite National Park was the biggest in its history and aims to minimize the ecological impact on the park.
Cost take-out in food and labour to drive ca. 80% of its 100bps margin improvement by 2018: While historical ARMK margin uplift came from efficiencies related to sales, general and administrative (SG&A) expenses, a significant chunk of the envisaged 100bps improvement will accrue from cost take-out in food and labour (ca. 80 bps) going forward. The company is aggressively investing in technology and a standardized labour model across the organization.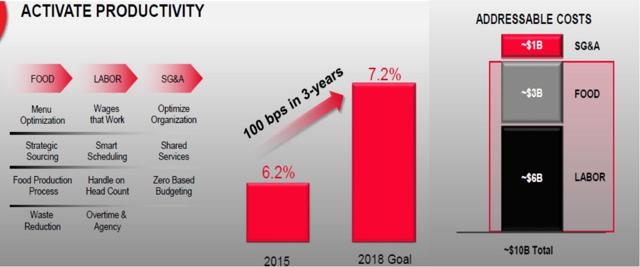 Source: Company filing
Strong FCF to help de-lever balance sheet: Working capital is expected to be minimal (<USD50 million) while capex could be in the range of 3.25-3.50% of sales. Management has guided for annual FCF generation of more than USD800 million that would be mainly used to de-lever and partly pay dividends. However the company does not have a rigid dividend policy and could look into repurchases as debt load comes down.
What are the risks related to the volatile macroeconomic conditions, exposure to oil and gas sector and increases in minimum wage?
1. The company is well-diversified in terms of end-market exposure with more than 60% from less cyclical sectors such as education, correction and healthcare clients. Moreover, it has limited concentration with no client accounting for more than 2% of sales.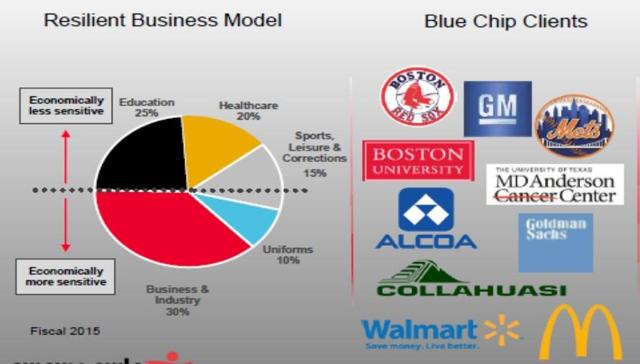 Source: Company filing
Further, labour and food are largely variable costs and could be brought down if sales were to remain weak as was the case during the 2008 recession.
2. Oil and gas clients are part of the business and industry group, which are economically more sensitive and account for less than 3% of sales.
3. Management stated that less than 1% of its employees are currently at the minimum wage threshold (<USD9.0) that constitute ca. 35,000 US employees currently. It further guided for federal minimum wage to only impact EPS by ca. USD0.10.
Upbeat positive commentary continued into 2016: Management continued to display confidence in its growth potential during the Q1 2016 result release (in line with December investor day meet), with retention ratios of mid-90%s, traction in new business and efficiency improvements. Q1 2015 organic revenues grew 3.3% Y/Y (35 bps beat) driven by growth across segments and adjusted operating margins grew ca. 30 bps Y/Y with ca. 50 bps from efficiency, partly offset by reinvestment (ca. 20 bps). Though the company would witness modest Q2 2016 revenue growth and margin expansion (due to costs related to the Yosemite contract), it will see strong acceleration during the second half with accruals from Yosemite contract kicking in.
Aramark maintained its FY 2016 guidance (at constant currency) with adjusted EPS of USD1.65-USD1.75, while it guided for a larger FX headwind at USD0.05 (vs. USD0.03 before) that should help meets its mid-term targets of 3%-5% organic revenue growth, higher margins leading to mid-to-high single digit operating income and double-digit net income growth.
Final Thoughts: While Aramark is the smallest amongst its peers (Compass Group and Sodexo), it is the best positioned to drive earnings growth of 8-10% levels (cf. 4-5% for peers) over the next 3-5 years. Aramark growth story is more attractive driven by scope for margin expansion and de-leveraging that would be accretive to earnings growth as well as equity value.
Disclosure: I/we have no positions in any stocks mentioned, and no plans to initiate any positions within the next 72 hours.
I wrote this article myself, and it expresses my own opinions. I am not receiving compensation for it (other than from Seeking Alpha). I have no business relationship with any company whose stock is mentioned in this article.