Business Overview
Alloy Steel International (OTCPK:AYSI) is a leading manufacturer of high-tech, proprietary wear plates (branded as ARCOPLATE) for the mining and mineral processing industries. AYSI's patented production process enables 6-30mm chromium carbide overlays to be applied evenly to mild steel backings, creating an alloy-clad steel plate that is highly resistant to wear. ARCOPLATE significantly improves the life of traditional wear plates, with laboratory and field trials showing that ARCOPLATE outlasts all major competitors in sliding abrasion tests. Please refer to my prior article for additional background on the company.
In particular, AYSI's products provide three main benefits to mining customers:
Protects expensive equipment from wear and tear: Wear plates are replaceable, consumable parts that protect equipment from wear and tear. Without wear plates, for example, a bucket assembly on a walking dragline would need to be replaced every two years. Instead of replacing the entire assembly, AYSI's wear plates are welded onto the bucket and replaced periodically for a few thousand dollars. AYSI's wear plates, therefore, are a low-cost, mission-critical component of a mine's operations.
Reduces maintenance downtime: As noted above, AYSI's wear plates have the longest life in the industry as a result of its patented production process and proprietary alloy technology. Given that downtime is the single largest cost for a mine (due to the high fixed costs), mining companies focus intently on maximizing efficiency and uptime. In order to replace a wear plate, equipment must be taken offline. AYSI's plates need to be replaced less frequently than those offered by competitors, thereby reducing downtime and saving money.
Ensures a predictable wear rate: A predictable wear rate is vitally important to AYSI's mining customers. Unexpected downtime creates costly bottlenecks in a mine. If a plate cracks, delaminates, or wears in an unpredictable manner, equipment must be taken offline to repair. In many cases, this involves stopping the entire production line. Low-quality wear plates naturally have inconsistent wear rates, making AYSI's predictable wear patterns integral to a mine's operational efficiency.
Business Model Review
AYSI's consumable wear plates represent a unique source of stable, recurring revenue. As long as mining companies continue to mine, wear plates will wear out and AYSI will be in a position to sell replacement wear plates to its long-term customers. In fact, AYSI's business model is uniquely insulated from the macroeconomic and secular headwinds facing the mining industry today. This insulation is due to AYSI's stable, hedged business model (as discussed below).
Volume - Friction is Your Friend
Mining companies today face the troubling combination of slowing global demand coupled with overcapacity and excess supply. As one would expect, this dynamic has caused the average commodity price to fall over 30% during the last 18 months, with iron ore prices leading the decline (down ~60% over the last three years).
Economics 101 clearly explains how mining companies should (and have) responded to this troubling supply-demand dynamic. Mines have high fixed costs relative to variable costs, meaning pulling the incremental tonne of ore out of the ground has a very low marginal cost. As a result, miners have responded (surprisingly yet rationally) to falling prices by mining more ore. As commodity prices fall, miners have increased production in order to cover the fixed costs of their mines. Thus, while commodity prices have fallen dramatically, ore production has actually increased.
Exhibit A and B show monthly iron ore shipments from Port Hedland and Port of Dampier, which handle BHP (NYSE:BHP), FMG, and Atlas Iron's (OTC:ATLGF) and Rio Tinto's (NYSE:RIO) Pilbara iron ore exports out of Australia, respectively.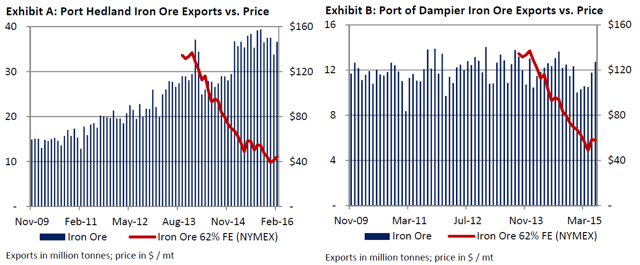 In fact, given the long life of existing mining assets, this supply-demand imbalance is likely to persist, meaning commodity prices are likely to remain challenged and supply is likely to continue to grow as miners focus on increasing production in order to cover fixed costs.
Given this dynamic, demand for AYSI products has proven to be uniquely hedged against falling commodity prices. The key determinant of the wear plate replacement cycle and, therefore, AYSI's sales is wear rate (i.e., "friction is your friend"). As more ore is mined, the additional friction necessitates more frequent wear plate replacements. On top of this, miners have increasingly focused on mine-level efficiencies (aka, uptime/production), which has allowed AYSI to win new customers given the unique value proposition offered by AYSI's proprietary wear plate technology. This implicit volume hedge has created stable, recurring demand for AYSI's products.
AYSI Pricing - Unavoidable Headwind
The other important input into AYSI's topline growth is pricing. AYSI charges a premium relative to competitors given the extended life and uniquely predictable wear rate of its proprietary plates. Moreover, AYSI's wear plates only represent a small (though mission critical) component of a mine's cost structure, meaning customers are generally price insensitive.
That said, many of AYSI's mining customers are facing financial difficulties, including negative operating leverage as commodity prices fall, approaching debt maturities, and difficulty in rightsizing cost structures given the high fixed cost component of their business models. On top of that, AYSI's largest competitor (Bradken (OTCPK:BRKNF)) has been competing on price given that demand for its capital intensive mining products has been hit hard by miners' reduced capex budgets (Note: Bradken's consumable products - see "Base" in Exhibit C - have proven incredibly stable, further evidencing the stability of recurring, consumable-focused business models like AYSI).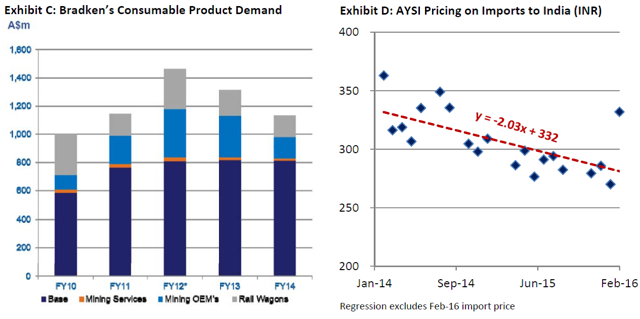 Given these dynamics, pricing pressures are unavoidable. The pricing pressures are visible in AYSI's India customs import data (Exhibit D), which shows an average ~5-10% annual pricing headwind over the last two years. It is important to note, however, that these pricing concessions have been partially offset by increased production and new client wins (as clients continue to focus on the unique value proposition offered by AYSI's wear plate products).
Cost of Goods Sold - Natural Hedge
Similar to the commodity price hedge inherent in AYSI's wear plate demand, cost of goods sold ("COGS") is also a natural profitability hedge (helping to offset pricing pressures). In particular, the two largest components of AYSI's COGS are hot rolled steel plates and chromium alloy. As seen in Exhibit E below, the prices of both steel and chromium have fallen over the last 18 months. More generally, as commodity prices fall and AYSI's customers look to cut prices on mining supplies, AYSI benefits from the falling commodity prices in terms of lower raw material inputs into its production process.
As a result, AYSI's margins have proven to be stable despite the pricing pressures evident in its topline. COGS as a percentage of revenue (excluding the 6% patent royalty) has been stable at ~48%, despite the annual pricing pressures discussed above. In fact, AYSI's gross profit margin has been ~47% in 2013-2015, demonstrating the stability of AYSI's uniquely hedged, high-margin manufacturing business.

Flexible Overhead and High Cash Flow Conversion
Given AYSI's long-term, sticky customer relationships and highly automated production processes, AYSI has continued to right-size its overhead to maintain profitability. In fact, EBITDA margins have remained at an attractive 27%+ over the last three years, meaning AYSI has consistently generated $7-8 million of EBITDA per year.
More importantly, AYSI has an incredibly high cash conversion rate. Based on discussion with management, the business has maintenance capex of ~$300-400K per year. AYSI hit an inflection point in 2015 in terms of cash generation as management decided to halt investments in its Indonesian facility. As a result, capital expenditures fell from over 5% of sales to less than 1.5%, significantly increasing the cash generation capabilities of the business (see below).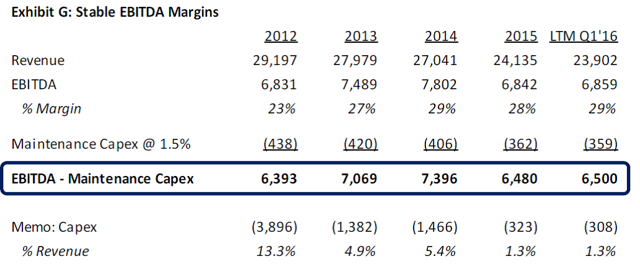 Recap: Stable, Hedged Business Model
AYSI's business model has proven to be uniquely insulated from the macroeconomic and secular headwinds facing the mining industry. In particular, as commodity prices have fallen, mining companies have increased production to cover fixed costs, thereby generating increased demand for AYSI's wear plate products. Moreover, falling raw material input prices have acted as a natural/countercyclical hedge against AYSI's mining customers, allowing AYSI to largely offset the unavoidable pricing pressures in the industry. Finally, given AYSI's flexible overhead structure, the company has maintained highly attractive EBITDA margins and has recently hit an inflection point in terms of its ongoing cash generation. Thus, in spite of the headwinds in the mining industry, the manufacturing and sale of wear plates has proven to be a uniquely stable, recurring, highly profitable, and cash generative business model for AYSI.
Fortress Balance Sheet - Substantial Downside Protection
"Confronted with a challenge to distill the secret of sound investment into three words, we venture the motto, Margin of Safety." - Ben Graham
While the above characteristics make AYSI a surprisingly stable business in an otherwise volatile end market, what makes the AYSI opportunity particularly compelling is the downside protection afforded by its fortress balance sheet. In particular, the $25.2 million, or $1.45 per share, of liquid assets (at fair market value) provide substantial downside protection for investors.
The fair market value of AYSI's liquid assets (even before ascribing any value to AYSI's attractive wear plate manufacturing business) represent a ~30% premium to AYSI's current share price.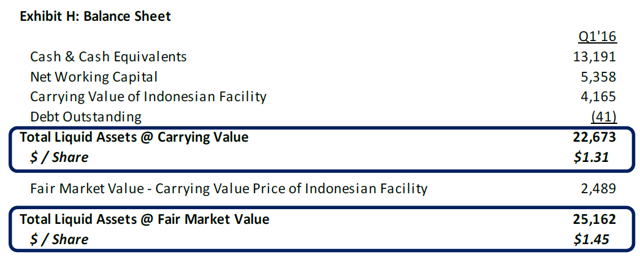 Expected Sale Proceeds from Indonesian Facility
In April 2010, AYSI acquired 37,600 square meters, or 9.3 acres, of land in the Kawasan Industrial Estate Cilegon in Indonesia through a newly formed subsidiary PT Alloy Manufacturing Indonesia, LLC. The industrial estate is located ~100km west of Jakarta with access to both the Jakarta-Merak toll road and Merak seaport. AYSI paid 625,000 IDR/square meter in April 2010 to acquire the land.
Since then, AYSI has invested over $2.1M in constructing a 5,000 square meter high-specification factory with high floor loading capacity and ceiling height clearances (complete) and an adjacent lunch room and training center for employees (partially complete).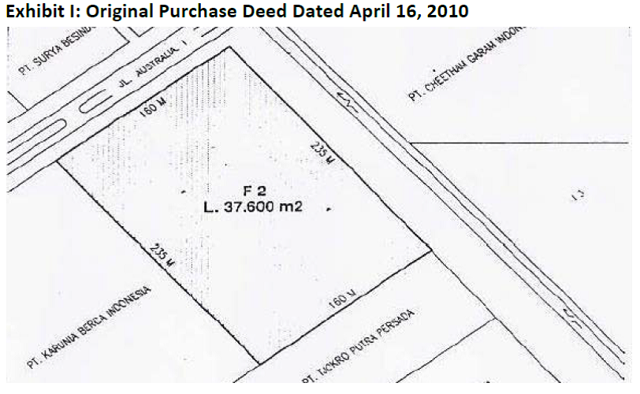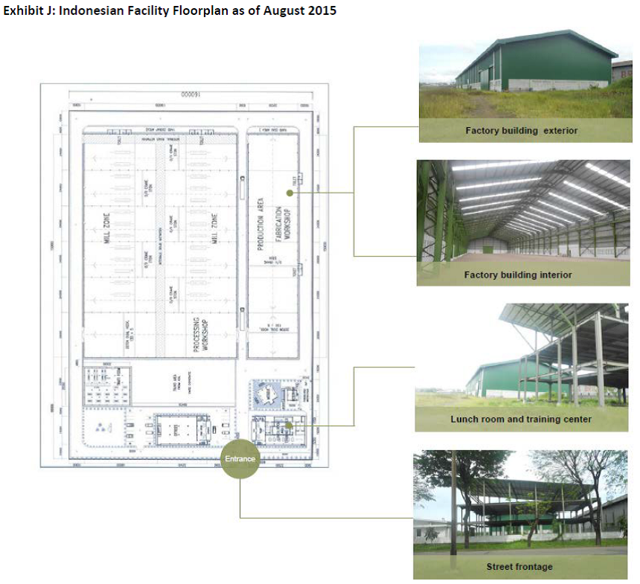 On August 5, 2015, AYSI's Indonesian facility was listed for sale with a leading international real estate broker (later disclosed in the 2015 AYSI Annual Report). According to discussion with the company, the Board determined that given the outlook for the mining industry, it no longer made sense to invest in the Indonesian facility, prompting the Board's decision to monetize the asset. Following that decision, the Board marked the asset at a carrying value of $4M.
Since then, discussions with local real estate agents from the Kawasan Industrial Estate have confirmed that there has been interest in the facility predominantly from Asian buyers. Moreover, similarly positioned undeveloped plots in the industrial park have recently sold for approximately IDR 1,800,000 per square meter given the attractive proximity to local steel production and port access.
Assuming IDR 1,800,000 per square meter and $2.1M for the buildings (at cost), the fair market value of the Indonesian facility is approximately $6.7M (see Exhibit K below).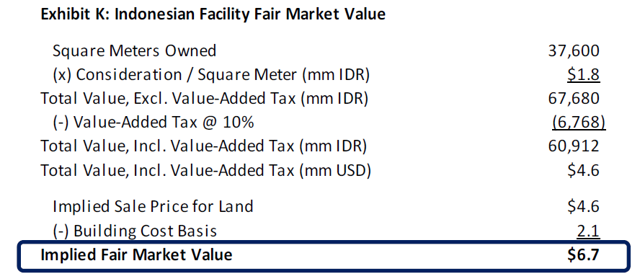 Intrinsic Value
AYSI's share price today represents a ~30% discount to the fair market value of its liquid assets even before assuming any value is ascribed to the ongoing business. As discussed above, however, despite its exposure to a volatile end market, AYSI's wear plate manufacturer is a uniquely stable, recurring, highly profitable, and cash generative business.
As seen below in Exhibits L and M, I believe that AYSI is worth $2.75-$4.00 per share, representing an intrinsic value that is 2.5x-3.6x the current market cap.
TEV/EBITDA: 4-7x TEV/EBITDA => $2.72-$3.91 per share
P/E: Assuming 8-11x P/E => $3.20-$3.97 per share
Thus, at current trading levels, AYSI offers an asymmetric risk-reward with considerable downside protection ($1.45/share of liquid assets) and 2.5x+ upside given the attractive financial profile of the wear plate manufacturing business.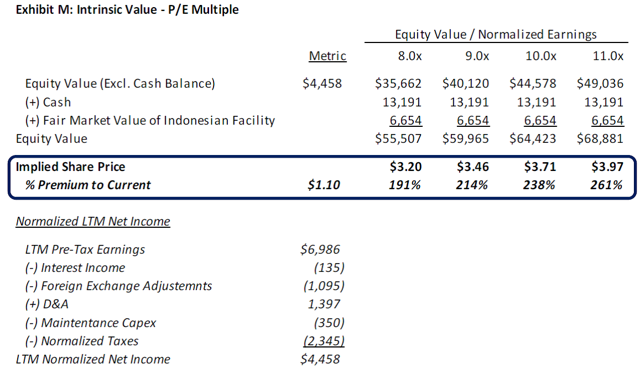 Risk and Mitigants
See below for selected risks and mitigants associated with an investment in AYSI. Note that investments are not without risk and every investor should do his or her own diligence
Risks

Mitigants

Commodity prices likely to remain depressed

Demand for wear plates determined by ore production, not price
Fixed costs drive miners to produce as long as marginal cash cost > price
Cash costs remain < commodity prices (with meaningful buffer) for most scaled mines
Demand for wear plates likely to continue to be determined by replacement demand rather than outfitting of newly constructed mines

Continued pricing pressures

Low-cost, mission-critical component of a mine's operations
Input costs continue to fall, offsetting impact of pricing pressures on margins
Miners increasingly focused on efficiency/uptime; mines with high quality wear plates will benefit from higher utilization, creating competitive advantage
Potential bankruptcy of largest competitor, Bradken, may create shortage of high quality wear plates and further pricing discipline (3.4x net debt/EBTIDA)

BHP represents 29% of revenue

Customer concentration is unavoidable given the scale of major miners
BHP supply agreement originally signed in 2009
Concentration has fallen from 36% of revenue in FY14 to 29% in FY15
Management focus on further growing existing relationships with diversified set of miners (Fortesque, Rio Tinto, Vale, Codelco, and Glencore)

Kostecki Family own 60% of outstanding shares

Conservative stewards of capital with focus on long-term returns
Steven Kostecki (CEO) has extensive experience in the business
Resumption of quarterly reporting in Feb-14 indicates movement towards more shareholder friendly policies

Cash not returned to shareholders

Increased focus on capital allocation given decision to sell Indonesian facility
Strong balance sheet represents strategic asset available for acquisitions
Acquisition opportunities at attractive valuations likely to increase (e.g., potential disposition of Bradken assets to raise capital)
Supporting Documents
Disclosure: I am/we are long AYSI.
I wrote this article myself, and it expresses my own opinions. I am not receiving compensation for it (other than from Seeking Alpha). I have no business relationship with any company whose stock is mentioned in this article.
Editor's Note: This article covers one or more stocks trading at less than $1 per share and/or with less than a $100 million market cap. Please be aware of the risks associated with these stocks.