Square Enix (OTCPK:SQNXF) is a video game company that is active all throughout the software sector of the industry, making money from traditional software releases, mobile games, and subscription-based online multiplayer games. While its headquarters are in Japan, it has acquired numerous foreign subsidiaries in the past several years, and has a very strong foothold in foreign markets as well as the Japanese market. I truly believe it should be trading much closer to its bigger peers, Electronic Arts (NASDAQ:EA) and Activision (NASDAQ:ATVI), the two biggest video game companies that aren't in the messy hardware sector of the industry. While Electronic Arts has a market cap of $20B, and Activision has a market cap of $25B, Square Enix is valued at just $3B.
Is this justified? A little, but not to this extent. Electronic Arts and Activision made a little over $4B in revenues in 2015, while Square Enix is projected to have made almost $2B in revenues (their fiscal year ended March 31st, and they expect to release their annual report on May 12th), making them a little less than half as large as their bigger brothers. In addition, Electronic Arts and Activision have much more predictable earnings and profits, which may make them more valuable to conservative investors. Electronic Arts' sports games are a reliable money-maker (although their exclusivity contract with the NFL might expire soon), and Activision makes steady money from World of Warcraft subscriptions (although the number of subscribers had been declining steadily when they decided to stop releasing the data).
However, I believe that video game investors need to take an entirely different approach when valuing these companies. Reliable income is not where investors can make the big bucks. It's mostly already priced into the stock (especially in times like today, after a considerable bull market run), and the market for subscription-based online multiplayer games is already saturated with too many games, considering its relatively small size.
In addition, I believe investors are way too excited about mobile gaming. The sector may continue to grow spectacularly, but is it suitable for investors? Now that the big boys like Nintendo (OTCPK:NTDOY), Square Enix, and Bethesda are getting into the sector, do tiny startups with no brand recognition still stand a chance? Conversely, will successful mobile games move the needle for these big companies, considering that everyone and their mother is releasing mobile applications?
Anyway, I'm just mentioning this because I'm not going to go into too much detail about Square Enix's subscription-based online multiplayer games or their mobile games. It's a steady, reliable source of income for them, but their upcoming AAA releases (and the hype surrounding them) are what's really going to drive the share price in the next few years. Let me put it this way: Square Enix has set a goal to sell 10M copies of Final Fantasy XV. At $60 per copy, that would be $600M, for a single game, for a company valued around $3B.
Now that the introduction is complete, we can finally get to the exciting part! As the Japanese say, omatase shimashita!
Blockbuster #1: Final Fantasy XV
Square Enix just held an event in Hollywood on March 30th to reveal new details about Final Fantasy XV. I must say, the amount of new information was truly impressive (and inspired me to write this article). I don't think I've been this excited about a game in years (do yourself a favor and watch the trailer yourself). They've decided to go with a style somewhere between a family-friendly Game of Thrones and Grand Theft Auto, on top of traditional Japanese RPG fantasy elements, of course, with cool technology thrown in for good measure. The style should be popular, and previews of the gameplay demo are optimistic about the game on the whole. 10M copies is an ambitious goal, but not unrealistic.
They also announced a Final Fantasy XV mobile game, released a trailer for a Final Fantasy XV movie, and the first episode of a short Final Fantasy anime series is available for free right now. While I don't believe these will make the company a great deal of money, they should be effective in creating even more hype for the main game, which will be released worldwide on September 30th.
Square Enix seems to have taken a page from Bethesda (unlisted, unfortunately), whose E3 presentation last year got people really excited about Fallout 4 with the announcement of its imminent release, a mobile tie-in game, and an amazing collector's edition. This is the way games are supposed to be announced.
Fallout 4 was a massive success, with the company selling 12M copies and making $750M on the day of its release (including pre-orders, of course). Bethesda's mobile game also outperformed expectations. It might be difficult for Final Fantasy XV to match this level of success, since it won't be available on PC at launch, but if it can just come close to this level of success, the share price of Square Enix should skyrocket.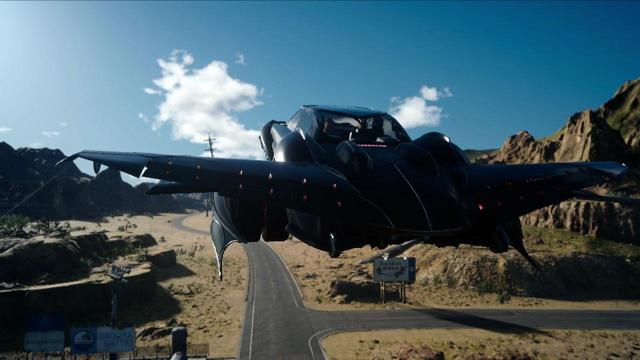 Our hero's car transforms into jet at the end of the Japanese trailer.
Blockbuster #2: Kingdom Hearts III
While Final Fantasy seems impressive, Kingdom Hearts III might even end up being a bigger hit. It should appeal to a wider audience than Final Fantasy XV, especially to women and children, considering the prominence of the Disney worlds and Disney characters in the game. Square Enix hasn't released too many details about the game, and considering that the developers have commented that the game is still in its early stages, I think a holiday 2016 release is off the table (they don't want it to eat into the Final Fantasy XV hype, either).
However, Kingdom Hearts 2.8 will be released this year, which includes a remaster of the Kingdom Hearts III prequel and two new pieces of Kingdom Hearts content. In addition, there are unconfirmed rumors that Square Enix is working on a Kingdom Hearts 2.9. Hopefully, this should tide fans over until the release of Kingdom Hearts III, which I'm expecting to be released in the second half of 2017. It could very well sell almost 10M copies, too.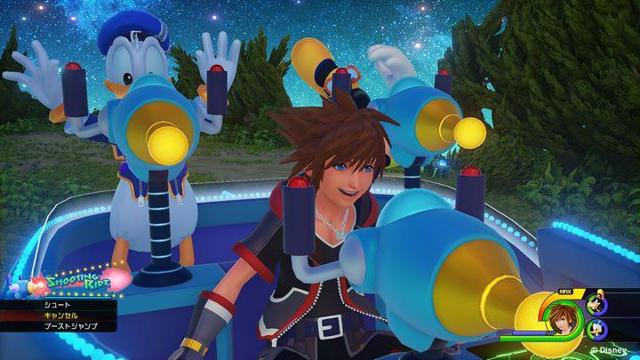 Sora, Donald, and Goofy hop into their ride to shoot some baddies in this trailer.
Blockbuster #3: Dragon Quest XI
The next main game in a series that regularly sells 4M+ copies in Japan before it even gets released in North America or Europe, Dragon Quest XI is slated to be released in Japan by May 27th, 2017, but I expect it to launch earlier than that, maybe even by the end of the year. I expect this one to sell even more than the average entry in the series because it will be released on both the PS4 and 3DS at launch.
I think American investors have totally overlooked this game, but I am quite certain that over 5M copies of it will be sold worldwide when all is said and done, contributing hundreds of millions of dollars in revenue starting this year or next year. There is rampant speculation on the Internet that this game will also be released on Nintendo's new system, the NX, when it is released, so Nintendo investors should take note.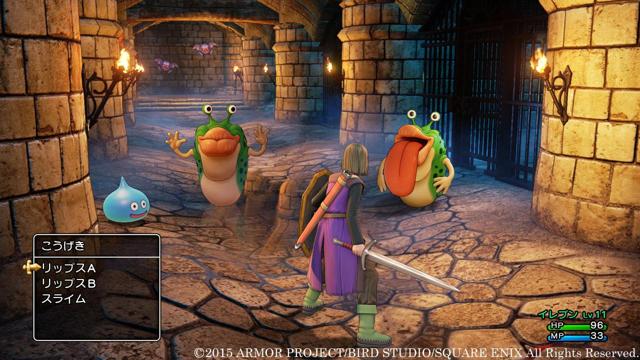 Dragon Quest's lovable mascot, the slime, can be seen in this screenshot. Run away, little buddy!
Semi-Blockbuster: Deus Ex: Mankind Divided
While this one can't realistically reach the 10M level that Final Fantasy XV and Kingdom Hearts III are aiming for, I think it will break the 3M level. The last iteration of the series, Human Revolution, sold over 2M copies with almost no exposure in Japan. As I expect Square Enix to market this one much more aggressively in Japan, I think they will end up selling at least 3M copies by the end of 2016.
At $60 per copy, that would add about $200M in revenue for 2016, nothing to sneeze at. Mankind Divided was originally slated to be released on February 23rd, but it was delayed to August 23rd. This is just a little more than a month before Final Fantasy XV's release on September 30th, with Dragon Quest XI coming soon after, so the second half of this year should be a big one for Square Enix.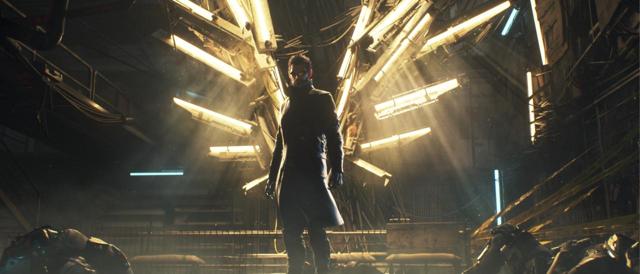 Adam Jensen doesn't bother taking names in this trailer.
Honorable Mentions
While the following may not have a major impact on Square Enix's financial performance in the near term, or are speculations on my part, they should provide the proverbial icing on the cake.
Hitman is being released in episodes throughout this year, but I don't think the game will really reach its full sales potential until the series is finished and a retail copy of the full version of this game is released in January.
Rise of the Tomb Raider, previously released exclusively on Xbox platforms and PC, will be released on the PS4 by the end of the year. Hopefully, it can sell over 1M copies this fiscal year. I also expect Square Enix to release another Tomb Raider at the end of 2017. The last entry wasn't too much of a commercial success, especially because it wasn't released on PS4 at launch, but it could be significant for the company if it's as successful as Tom Raider 2013, which sold over 8M copies.
The Final Fantasy VII Remake announced at E3 last year is also upcoming, and I think it could be released by the end of the year. People are quite excited for it, and it could easily sell millions of copies, if the price is right. It should also pump up the hype for Final Fantasy XV.
Square Enix has registered some website domains for Deus Ex Go, Just Cause Go, and Life is Strange Go, suggesting that some or all of these mobile games are being developed, although the company has been quiet on this. Might it also indicate an upcoming sequel to the Life is Strange series?
The upcoming game Nier: Automata could end up being a sleeper hit for Square Enix, considering it's being developed by Platinum Games, the people who were responsible for the critically-acclaimed Bayonetta 2 last year.
Dragon Quest Heroes II will be released in Japan on May 27th, and considering the last entry in this Heroes spin-off series sold over a million copies in Japan, I think we can expect this one to sell over 1M copies, too.
As I mentioned earlier, Kingdom Hearts 2.8 will be released this year, and it should perform decently, considering the amount of new content it has. And there's a chance that a Kingdom Hearts 2.9 will materialize next year, too.
Taken together, I believe this shows that 2016 is going to be an even better year than 2015.
Financial Performance Projections
Last year was decent for Square Enix, but they didn't really have any blockbuster releases. It was a year of remasters and expansion packs for them, and its one AAA release, Rise of the Tomb Raider, did not meet sales expectations. Nevertheless, they managed to make over $1.3B in revenues and over $100M in profits during the nine months ending December 31st. Not too impressive from a P/E standpoint, but let me explain why I think that will change this year.
The cost of sales and G&A costs came in pretty high last year, and will total almost $1.5B in their year-end financials (to be released on May 12th). This is because they have been developing these four massive blockbuster titles. They will reap the rewards from this investment in development starting this year, when they finally get the chance to release their first batch of AAA games.
I believe that the release of Final Fantasy XV, Kingdom Hearts III, Dragon Quest XI, and Deus Ex: Mankind Divided could add an extra $1.5B in revenues, divided between this year and next year, and I don't believe these releases will significantly increase their cost of sales or G&A costs.
Let's just look at this year. I believe that Final Fantasy XV and Deus Ex: Mankind Divided could add an extra $700M to their revenue this year (calculated from April 1st, 2016 to March 31st, 2017). Assuming they can maintain $1.5B in revenues from their other operations, that makes $2.2B in revenues this year, a 10%-25% increase from last year. But what looks really impressive is when we see where profits might go this year.
Assuming they can keep cost of sales and G&A costs around $1.5B, that makes $700M in pre-tax profits. Assuming they'll continue paying about a third in taxes (although it'll actually be a little less, since the corporate tax rate went down a bit in Japan this year), that makes $450M+ in after-tax profits, a 300%-500% increase in profits compared to last year. I do not believe this is an unrealistic scenario, as long as the company can reach its sales goals for these titles. Next year would look roughly the same, as sales of Kingdom Hearts III and Dragon Quest XI would make up for Final Fantasy XV and Deus Ex: Mankind Divided.
I don't have to tell you what two years of $450M+ in profits would do for the share price of a company that's only valued at $3B, I think you can do the math. If you can't, let me just say the share price should at least double over the next year and change. On top of this, when we consider that the company has a typical Japanese balance sheet, with lots of cash and very little debt, we see that there is very little risk of catastrophic losses, barring a market panic. If you want to hedge the systemic risk, consider pairs trading by shorting Activision and Electronic Arts when you buy Square Enix.
I translated all of the figures into US dollars for your convenience, but when you buy shares, you should really buy them in Japanese yen on the Tokyo Stock Exchange. Shares on the OTC market are not very liquid. Shares are a buy at the current levels, but I feel like the stock has run up quite a bit due to the hype of the Final Fantasy XV Uncovered event, so you shouldn't be in a rush to buy. I think you'll be able to get them below ¥2700 JPY in the near future. I think they should be bought by early May, though. Hopefully, the excitement will die down before the release of their annual report on May 12th, because investors will get excited again for the E3 video game conference in June, followed by their major releases in August and September.
Conclusion
Square Enix should perform spectacularly as they release a slew of AAA titles over the next two years. Assuming these blockbusters can meet the high sales expectations, and the company can replicate their success with their other, smaller releases, then the stock price can still go a lot higher from here. Even if sales don't meet these (admittedly lofty) expectations, the hype surrounding E3 and these games alone should drive the share price higher in the next 2-5 months.
Disclosure: I/we have no positions in any stocks mentioned, and no plans to initiate any positions within the next 72 hours.
I wrote this article myself, and it expresses my own opinions. I am not receiving compensation for it (other than from Seeking Alpha). I have no business relationship with any company whose stock is mentioned in this article.
Editor's Note: This article discusses one or more securities that do not trade on a major U.S. exchange. Please be aware of the risks associated with these stocks.