Last week, we saw a pop in shares of Fitbit (NYSE:FIT) after the company announced it had shipped more than one million Alta wristband devices and more than one million Blaze smartwatches. Fibit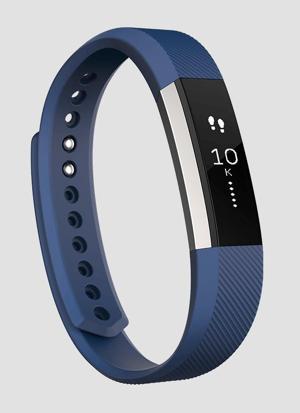 stated that shipments exceeded internal forecasts and cited positive reviews on Amazon's (NASDAQ:AMZN) website. Unfortunately, the situation isn't necessarily as great as some may think, so investors should take the latest news with a grain of salt.
The first thing to think about is what the company detailed - shipments, not sales. As two analysts pointed out in mostly negative notes, here and here, a significant portion of those shipments was likely due to initial channel fill. BlueFin research went as far as saying that many large retailers have inflated inventory of these devices, and that they are hearing unconfirmed reports of production slowdowns. The news from the company would have been much more positive if they had announced two million plus sales.
The second item to examine is in regards to Amazon reviews, most of which have been positive. The Blaze is doing better than the Alta, and both of these new devices are doing much better than previous devices such as the Surge and Charge HR. Unfortunately, while the company talks about such positive reviews, ratings still are well below that of the Apple (NASDAQ:AAPL) Watch. The chart below shows the overall rating of these five devices (1 to 5 scale, 5 is best).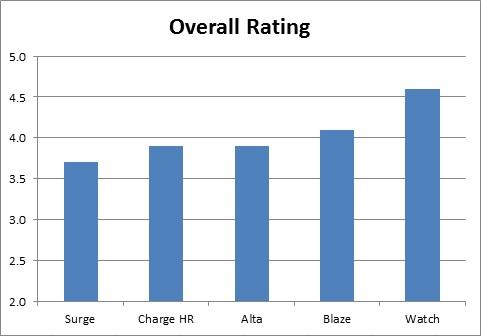 *Data from Amazon.com - each product's respective page
Unfortunately for Fitbit, its ratings on Amazon have weakened a bit in the past few days. The number of 4- or 5-star rating for the Alta has come down from 77% to 76%, with the Blaze declining from 83% to 82%. As a point of reference, the Apple Watch has stayed at 85%, with the Fitbit Surge at 68% and Charge HR at 74%.
For Fitbit, the gap between the Apple Watch (4.6) and the Blaze (4.1) is larger than the gap between the Blaze and the Surge (3.7). All of Fitbit's products fall in the good to very good classification, while the Apple Watch comes in as excellent. It's also telling that despite the age of the Watch, it still garners an almost perfect rating, while Fitbit's more established products come in less than its new ones. Will the Alta and Blaze fall towards their older counterparts as the year progresses and more reviews come in?
While Fitbit guided a bit conservative for Q1 revenues of $420 million to $440 million, expectations seem to be a bit higher. As seen in the table below, estimates on Estimize are much higher, which makes sense given prior beats. Revenues are forecast to surge sequentially throughout the year, with only $965 million of the year's $2.44 billion expected to come in the first half of 2016. The second half of this year, especially the crucial holiday period, will likely depend on whether or not Apple launches a second version of the Watch, and when this potential launch occurs.

Source: Estimize.com
While Fitbit announced strong shipment numbers, one must wonder how many of these units are collecting dust on retailers' shelves. Additionally, while Amazon reviews are mostly positive, they've weakened in recent days, and still trail the Apple Watch quite significantly. Expectations for Fitbit in Q1 will likely be high thanks to recent news, but the company must deliver. That process could get much harder later this year if Apple launches a new Watch, which would surely limit the upside of Fitbit's sales.
*Image Source: Fitbit
Disclosure: I/we have no positions in any stocks mentioned, and no plans to initiate any positions within the next 72 hours.
I wrote this article myself, and it expresses my own opinions. I am not receiving compensation for it (other than from Seeking Alpha). I have no business relationship with any company whose stock is mentioned in this article.
Additional disclosure: Investors are always reminded that before making any investment, you should do your own proper due diligence on any name directly or indirectly mentioned in this article. Investors should also consider seeking advice from a broker or financial adviser before making any investment decisions. Any material in this article should be considered general information, and not relied on as a formal investment recommendation.