Amid an ongoing troubled environment for oil & gas E&P companies, financing has dried up and many firms without ample liquidity have come under pressure. Numerous notable firms have entered grace periods with respect to outstanding obligations and others have sought discussion to alter their respective capital structure. BreitBurn Energy Partners (NASDAQ:BBEP) has suffered along with its peers and posted a nearly $2.6 billion loss in 2015 which includes a major asset write-down. Bank have been increasingly wary of lending to BreitBurn Energy Partners and its peers given the uncertainty surrounding the industry during this downturn. The company has seen its unit price fall tremendously since the start of this oil & gas downturn and this is reflective of the overall concern for the financial health of the company.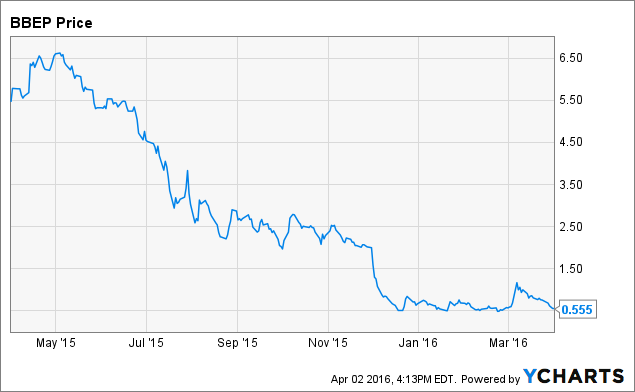 A major source of BreitBurn Energy Partners' liquidity comes from what was a $1.8 billion credit facility from a syndicate of banks. The company initially referenced discussions regarding amendments of this credit facility with its 10-K that was filed in late February. The problem surrounds the semi-annual borrowing base redetermination that was scheduled to give the credit facility providers the ability to meaningfully reduce the borrowing availability for BreitBurn Energy Partners beginning on April 1st. BreitBurn Energy Partners announced on Friday that it had successfully entered into an agreement with the lenders to push this date back to May 1st in exchange for a $400 million reduction in borrowing availability which brought the credit facility down to $1.4 billion.
The initial credit facility documents note the following standards for the borrowing base rate determination:
The Borrowing Base shall be determined based upon the loan collateral value assigned to the Oil and Gas Properties owned by the Company and its Subsidiaries and such other credit factors (including the assets, liabilities, cash flow, business, properties, prospects, management and ownership of the Loan Parties) that the Lenders deem significant. The Lenders' determination of the Borrowing Base shall be in their sole discretion - BreitBurn Energy Partners 8-K
BreitBurn Energy Partners' concern likely surrounds its roughly $2.4 billion in asset impairments in 2015 will negatively impact the liquidity availability under this credit facility. While the company has been able to secure an extension of the borrowing base redetermination, it has agreed to a $400 million reduction in borrowing capacity and will still be faced with this redetermination in a few weeks barring further lender concessions.
One of the issues on the forefront of oil & gas MLP restructuring is the concern for cancellation of debt income and ensuring this can be avoided in any sort of capital structure changes or restructurings. This taxable income can create a tax liability for common unitholders when debt is cancelled even if there are no distributions made. Furthermore, this cancellation of debt income can potentially create a liability that is greater than the unit value. Linn Energy (NASDAQ:LINE) and LinnCo (NASDAQ:LNCO) have been widely discussed in this area as the latter recently announced that unitholders of the former would be able to exchange their units for common shares of the latter. I covered the Linn Energy situation in a March 23rd article titled, "Linn Energy/LinnCo Exchange To Precede Bankruptcy" and noted how this exchange could be a possible precursor to bankruptcy and/or a major capital structure reorganization. BreitBurn Energy Partners would obviously want to avoid this issue where possible.
The May 1st credit facility borrowing base redetermination or any agreements before then will be very significant for BreitBurn Energy Partners. If no further concessions are made, the company may very well have its borrowing capacity further reduced which would put the firm in a tough position as the oil & gas financing market remains weak. BreitBurn Energy Partners has bought itself some time with this credit facility amendment, but the company's financing outlook over the next few months and quarters remains uncertain.
Disclosure: I/we have no positions in any stocks mentioned, and no plans to initiate any positions within the next 72 hours.
I wrote this article myself, and it expresses my own opinions. I am not receiving compensation for it (other than from Seeking Alpha). I have no business relationship with any company whose stock is mentioned in this article.
Editor's Note: This article covers one or more stocks trading at less than $1 per share and/or with less than a $100 million market cap. Please be aware of the risks associated with these stocks.