Introduction
The steel sector hasn't always been a good business to invest in as the volatility in the demand for steel can hit companies pretty hard. Arcelor Mittal (NYSE:MT) is still 'struggling' to repair its balance sheet after the Global Financial Crisis and has recently announced a rights issue to raise $3B. In this article I'd like to highlight Aperam (OTC:APEMY) which was actually spun off from ArcelorMittal in 2011 to become an independently listed company, specialized in stainless steel and other specialty steel products.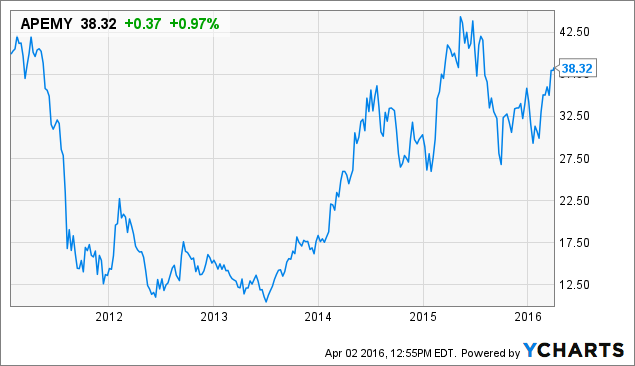 The company has its primary listing on Euronext Amsterdam where it's part of the mid-cap index. The ticker symbol in Amsterdam is APAM and as the average daily volume is approximately half a million shares, you should try to trade in the company's shares using the Amsterdam listing.
The financial results in 2015 were really good
Crash and burn. That's how Aperam 'celebrated' its listing debut, as the share price crashed by almost 70% in just three quarters as 2011 wasn't really a great period for steel producers, and the company had a net debt position of in excess of 1B EUR ($1.15B). Not a good situation to be in, and as the EBITDA decreased throughout 2012, the net debt/EBITDA ratio increased to almost 4.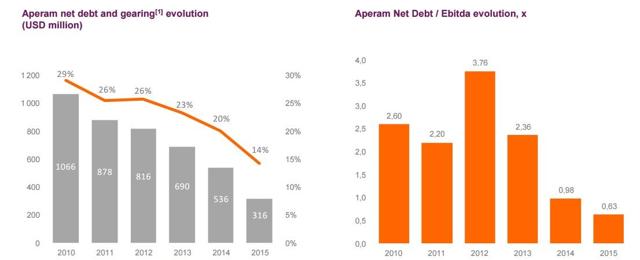 Source: company presentation
Time to re-think the business strategy and the capital allocation plans, and the dividend was suspended at the end of 2012 to prioritize strengthening the balance sheet. This has really paid off as Aperam no longer is the mess it used to be.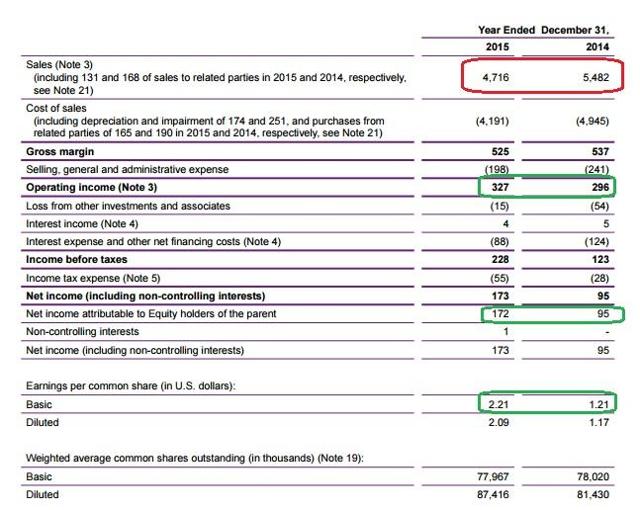 Source: financial statements
The total revenue did decrease by almost 15% to $4.7B, the cost of sales showed a similar decline resulting in the gross margin to fall by just 2%. As the SG&A expenses were reduced by almost 20% to $198M, the operating income actually increased by 10% to $327M. Combined with the lower revenue, this boosted the operating margin from 5.4% in 2014 to 6.93% in 2015, which is excellent. Due to the lower interest expenses and despite a doubled tax expense, the net income increased by 81% to $172M (attributable to Aperam's shareholders).
That's great but Aperam's depreciation and amortization rate has traditionally always been higher than the capital expenditures, and that wasn't different in 2015. The operating cash flow was approximately $389M (but this only takes a part of the interest and income tax expenses into consideration, so you might want to be a bit more conservative and also deduct the tax payments that are due but haven't been paid yet), which would then result in an adjusted operating cash flow of approximately $350M.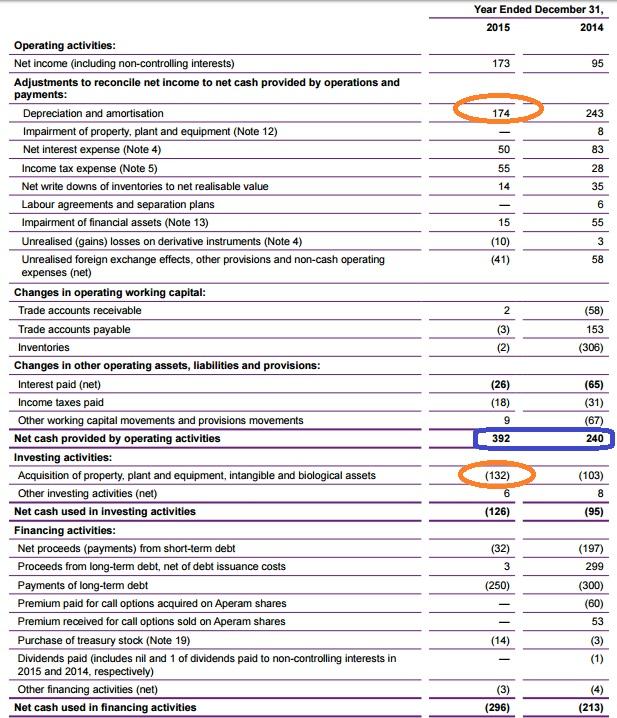 Source: financial statements
That's still totally fine, considering the total capex level was still just $132M, resulting in a free cash flow of $218M (which is 27% higher than the net income, so the FCF conversion rate was 127%, a good result). Considering the total amount of outstanding shares is 78.1M, the FCF/share was $2.79 which means the company was trading at a free cash flow yield of 10% right before the results were announced (and the share price increased by 30%).
The management team has pledged to keep the balance sheet squeaky clean
Probably even more important than another year with strong net profits and free cash flow, was Aperam's announcement it would restart paying a dividend after having suspended it for 3.5 years to save cash.
Not only was the quarterly dividend reinstated, it was also boosted by 65% as Aperam has now started to pay $0.3125 per quarter (compared to just $0.19 per quarter before the end of 2012). The main question now obviously is how sustainable this dividend is as the current dividend yield of 3.2% is very appealing.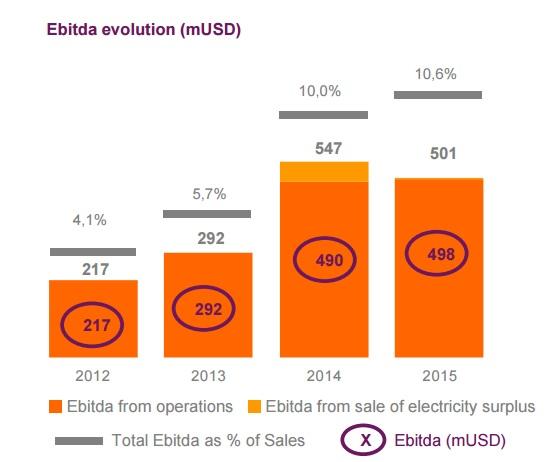 Source: company presentation
Well, it's definitely sustainable. The annual dividend will cost the company less than $100M per year which is less than half of the adjusted free cash flow, so Aperam has a lot of wiggle room here. This also means there's in excess of $100M per year that could be used for further debt reduction, acquisitions or share repurchases.
As the net debt has decreased to just $316M as of at the end of last year, I don't think reducing the debt any further is an important priority for Aperam, so it will be very interesting to see what Aperam intends to do this year! But dividend investors (and yield hunters) should be aware of one thing; the company's management team has said its dividend is safe, but only as long as the net debt/EBITDA ratio remains below 1.
This actually provides additional safety for value investors as well, considering the Aperam board won't stubbornly hold on to the dividend, and keeping the balance sheet clean is priority number one. But with a net debt/EBITDA ratio of just 0.63 (and being approximately $180M away from hitting the 1-ratio), the dividend is pretty safe.
Investment thesis
Thanks to the huge volatility in Aperam's share price lately (with a 30% share price boost after the publication of the financial results as apotheosis), the option premiums have skyrocketed, and this could definitely work in my advantage considering I like to write put options instead of buying the stock outright. Fortunately there are quite a few possibilities, and I'm looking at an in the money put expiring in September (perhaps the P34 at an option premium of 4.25 EUR) combined with an out of the money put option (perhaps a P22 expiring in December for 0.90 EUR) to start gaining exposure to Aperam's performance (and dividend).
I don't think Aperam's share price will fall below 22 EUR ($25) by the end of this year unless the world economy collapses, but I have no problem to catch a 4% return on a 9 month basis. Should my P34 be exercised, I'd be purchasing Aperam at 29.75 EUR/share ($34) for a dividend yield of 3.7% underpinned by a free cash flow yield of 8.2%.
Disclosure: I/we have no positions in any stocks mentioned, but may initiate a long position in APEMY over the next 72 hours.
I wrote this article myself, and it expresses my own opinions. I am not receiving compensation for it (other than from Seeking Alpha). I have no business relationship with any company whose stock is mentioned in this article.
Editor's Note: This article discusses one or more securities that do not trade on a major U.S. exchange. Please be aware of the risks associated with these stocks.