There is an increased focus on the concept of an "interest rate peg." The theory of interest rate pegs was originated by economist Irving Fisher in the 1930s. Fisher said a nominal interest rate is the sum of the real interest rate plus inflation. As long as inflation expectations remain stable, nominal interest rates can remain stable (~pegged) because the real interest rate reflects the (real) growth of the economy.
With interest rates at zero and inflation expectations around 2 percent, an "interest rate peg" has been in place in major developed economies from 2008 up until June 2014. The introduction of negative interest rates affected inflation expectations, and since 2014 the Fisher relationship began to break down. Figure 1 shows this effect. In Europe the combination of real interest and inflation expectations (Fisher relation) is moving into Japanese territory. The same goes for the U.S. which is at tip of European territory (see arrows). The implication is European (market based) inflation expectations may behave like Japanese inflation expectations, and U.S. inflation expectations may mimic those of Europe. As a result, inflation expectations become more volatile, and nominal interest rates are no longer pegged but turn negative.
Figure 1: The Fisher Relationship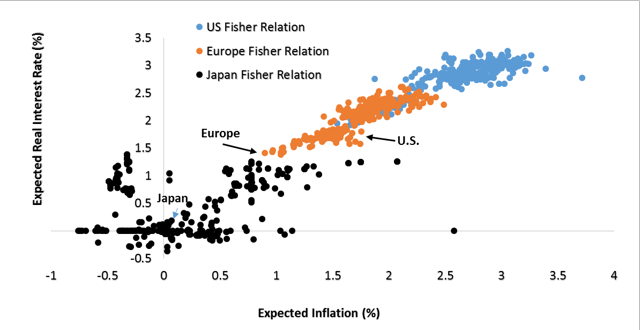 Source: Bloomberg. Weekly data 2010-2016. Expected real interest rate = 5-year inflation linked bond yield 5-years forward. Expected inflation = 5-year inflation break-even 5-years forward.
Historically, inflation expectations in Japan have been in mild deflation. Longer series of data implied from Japanese inflation linked government bonds, shows inflation expectations have twice the volatility compared to Europe and the U.S. A reason is when inflation is oscillating around plus or minus zero, expectations adjust up and down quicker. That is because it is not clear whether the next period there will be deflation or inflation. Japan did not have a formal inflation target that provides an anchor but adopted a price "goal" in January 2013. This goal has not been met despite massive quantitative easing and currency depreciation. Hence inflation expectations in Japan have never truly stabilized.
Volatile inflation expectations have now grasped Europe. The European Central Bank applies price stability of "close but below" 2 percent. But despite QE and 25% nominal depreciation of the Euro, the standard deviation of Europe inflation expectations has doubled since negative rates were introduced in June 2014. The Federal Reserve only recently set a 2% inflation target in January 2012. Despite the stability of a target, the U.S. experienced the standard deviation of inflation expectations rising from 0.07 pre crisis to 0.4 today.
In a low but volatile inflation expectations environment, nominal government bonds benefit. This can be seen from "risk adjusted returns" expressed by the Sharpe Ratio sown in Table 1. Developed market nominal government bonds have seen an improvement in Sharpe Ratios since the 2008 crisis. More specifically, Japanese government bonds ("JGBs") have had positive Sharpe Ratios since the late 1990s when Japanese rates stayed at zero and mild deflation took hold. Since 2014, German government bonds ("Bunds") have positive Sharpe Ratios because of near zero inflation and negative rates. Treasuries are on the heels with Sharpe Ratios moderately negative compared to pre crisis periods. Despite rising Debt to GDP ratios and aging populations, unstable (~volatile) inflation expectations are providing positive excess risk adjusted returns for government bonds.
Table 1: Historical Sharpe Ratios of Government Bonds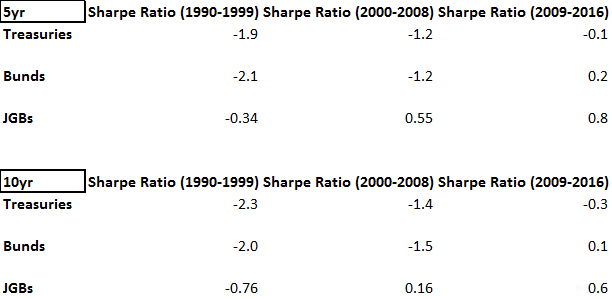 Source: Bloomberg. Monthly data 1990-2016. Sharpe Ratio =Normalized Return - Risk free rate/ standard deviation of return.
The breakdown of the Fisher relationship suggests that unstable inflation expectations may not see a quick normalization of (nominal) interest rates. Although John Cochrane and others suggest the right prescription is to raise rates to stabilize inflation, the Fisher relationship like the Phillips Curve and Okun's Law is no longer working on past assumptions. The norm is inflation expectations will remain more volatile (higher standard deviation), and this creates uncertainty. That drives investors to invest in nominal government bonds despite inflation may rise. JGBs have been exemplar and German Bunds are in the same realm. If the trend in Figure 1 and Table 1 proves correct, U.S. Treasuries may see a similar development of future higher and more consistent positive Sharpe ratios.
Disclosure: I/we have no positions in any stocks mentioned, and no plans to initiate any positions within the next 72 hours.
I wrote this article myself, and it expresses my own opinions. I am not receiving compensation for it (other than from Seeking Alpha). I have no business relationship with any company whose stock is mentioned in this article.