(click to enlarge)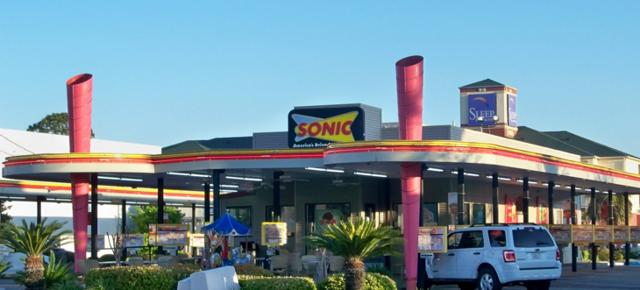 I've been pounding the table on drive-in food chain Sonic (NASDAQ:SONC) for some time now as I've thought in the past that the market was ignoring the company's growth potential. Back in January I said that Sonic was going to make a run at $40 in 2016, representing 33% upside from where I made the call. But after FQ2 earnings, shares have surged to $35, putting my $40 price target well within reach. But one quarter isn't enough; is Sonic still on track to produce great numbers this year for its move to $40?
(click to enlarge)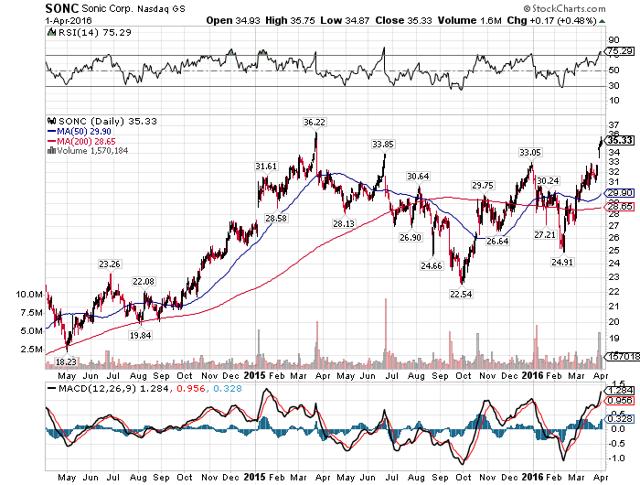 I was originally attracted to Sonic because it serves a niche within the fast food market and it also produces astounding growth numbers. In addition, it isn't afraid to return lots of capital to shareholders, boosting total returns over time. This unique combination is scarcely found in the fast food realm and Sonic continues to deliver.
FQ2 saw comp sales fly higher by 6.5%, something we've become accustomed to from Sonic. But even despite its terrific track record, this number surprised me. Sonic continues to innovate with its menu including refining core items and offering seasonal or limited time items to drive traffic. And its wide variety of drinks that are available also set it apart from also-ran fast food places and drives traffic at non-peak hours. In other words, the menu is at the core of the Sonic growth story and it continues to work as evidenced in FQ2.
But Sonic doesn't just grow comp sales; it also grows its margins at a steady rate as well. FQ2 saw unit-level margins boosted by 60bps, driven by comp sales gains producing leverage on its fixed costs as well as a bit of commodity deflation. Sonic's ability to capitalize on its comp sales increases via higher margins is underappreciated in my view as this combination of high comp sales increases as well as margin growth produces some pretty fantastic profit growth numbers over time. That's the reason I'm so bullish on Sonic and why I can't understand why it has taken the market so long to figure it out.
In addition to strong fundamental growth numbers, Sonic continues its commitment to buying back its own shares, repurchasing another 900K shares during the quarter. That brings Sonic's total repurchases for the first half of this fiscal year to 2.7 million shares, good for a whopping 5.2% of the float. Remember that is for one half of one year and despite the massive scale of its repurchases, that is fairly normal for Sonic. This is the final piece of the puzzle for bulls and again, Sonic continues to deliver.
At 22.8 times next year's earnings, Sonic isn't cheap in a traditional sense. However, the company's comp sales and margin growth combined with its ever-lower share count means that 23 times forward earnings is still a very reasonable valuation. The company raised its guidance for this fiscal year from same stores sales growth of 2% to 4% to a new range of 4% to 6%. That's a huge hike in comp sales guidance considering there are only two quarters left, an indication that the recent strength we've seen from its menu initiatives is set to continue.
In addition, Sonic hiked its profit growth forecast for this fiscal year from 16% to 20% to 20% to 25%. Even if you ignore the once again significant magnitude of the spike itself, the sheer level of profit growth should get growth investors excited. Sonic continues to produce eye-popping profit growth numbers and as though 18% wasn't enough, the midpoint of its guidance is now 22.5%. I suspect there is some upside potential to this as well as management would likely leave a little meat on the bone for later.
Given the company's rapid growth on a few levels and its share repurchase program continuing to impress, next year's 14% EPS growth number should be well in hand for Sonic. That would imply a significant slowdown against this fiscal year's number of 23% or so and I just don't see a scenario where that could happen. Sonic could easily reach half of that number with its repurchase program alone next year, leaving just 7% of EPS growth needed from a combination of comp sales and margin growth. That seems like a low bar to step over for Sonic and I'm betting it will happen. Sonic's FQ2 results have caused me to raise my price target for this year to $42 as I think we'll see continued outstanding results and stronger guidance for next year than where analysts are right now.
Disclosure: I am/we are long SONC.
I wrote this article myself, and it expresses my own opinions. I am not receiving compensation for it (other than from Seeking Alpha). I have no business relationship with any company whose stock is mentioned in this article.