Shortly after Dell and EMC (NYSE:EMC) announced the expected merger between the two computing giants last year, speculation started around the businesses that Dell will offload in order to finance the massive $67B deal. Many tried to assess how Dell and EMC would merge their cyber security divisions, software divisions, professional services, and more as they formed the new computing behemoth. Investors look closely to see what the efficiencies that the merger brings and which assets Dell offers to the highest bidder to help finance the deal. Last week, Dell made one of the most significant steps in offloading assets when the company announced that Japan's NTT agreed to buy Dell's IT services unit (aka Perot Systems) for an amount slightly above $3B.
The second significant step Dell made is to take its cyber security company, SecureWorks (Pending:SCWX), public and slightly reduce the substantial size of the Dell-EMC cyber security business that includes, besides SecureWorks, RSA, Pivotal, and VMware's NSX. Even though SecureWorks filed its S-1 in December of last year, unrest in the markets and private market valuation bubble concerns drove many companies to halt their IPO plans until the markets settled down. So far in 2016, the markets have not settled down, and the IPO market is experiencing its slowest first quarter since 2009, as shown in the chart below. However, Dell has to proceed with its plans to complete the EMC deal, which leaves no other way than to take SecureWorks public despite the current IPO market.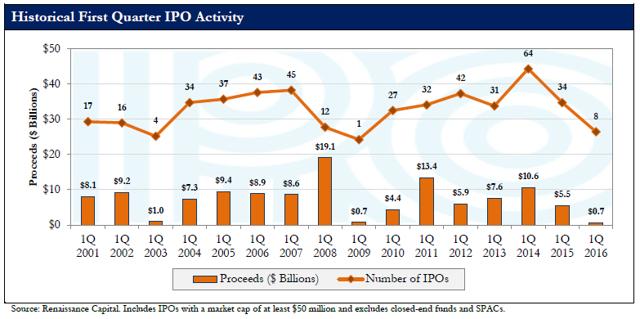 Looking at the IPO, SecureWorks does not offer any tremendous opportunity to investors. The 18-year-old company has been around for a while, and it managed to survive the dot-com bubble burst and the financial crisis before it was acquired by Dell in 2011 to boost its services business. SecureWorks has an extensive cyber security offering that varies from firewalls and managed security services to incident response and threat intelligence. Even though SecureWorks is a cyber security veteran, company losses have widened in the last four years alongside top-line growth, as shown in the chart below.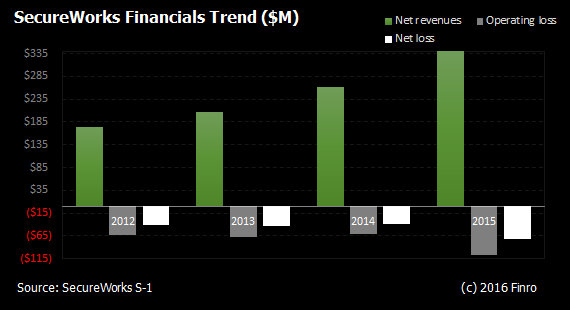 The financials trend above shows that SecureWorks generates an increasing amount of revenues each year. However, growing operating expenses drive the negative operating income, which is slightly offset by a significant tax benefit. This financial growth model might fit a small, growing startup and not to a well-established tech firm with almost two decades of experience. Like many startups, SecureWorks needed an external cash injection that came in the form of $22M of convertible debt that was issued in mid-2015, carries a 5% interest rate and has an automated conversion in case of IPO that will entitle its holders to a 20% discount on the IPO share price. Most of the company's cash generated from issuing that convertible debt, which serves as another indicator that the company is not mature enough to go public.
Some might say that SecureWorks worked within a huge corporation and didn't have to break even or generate a positive bottom line, which is a fair statement as long as the business operates as a private fully-owned subsidiary of Dell. However, when the public is offered to buy a piece of the company, they need to rely on the company that it can stand by itself and not seek additional cash injection from the parent company when needed? SecureWorks will be similar to VMWare when most of the company is kept private by Dell and its affiliates and a limited number of the shares of ahres are listed for trading. However, while VMWare has almost $1B in net income, an 84% gross margin, and 3 P/S ratios profitable with attractive multiples, SecureWorks generated a net loss of $72M with a 46% gross margin and a P/S ratio of 6. VMWare is more than capable of standing by itself. However, in SecureWorks' case, it's not that clear.
An 18-year-old company with an increasing net loss, disappointing margins and multiples, and serious doubts as to whether it could stand by itself as it goes public at terrible market timing just to finance a tiny portion of the Dell-EMC deal and inject additional cash is not an investment I would make. While I believe that cyber security is a great segment to invest in for the long haul, SecureWorks is not a company in which I would like to have a piece. Investors should be very careful before they leap into this IPO.
Disclosure: I am/we are long EMC.
I wrote this article myself, and it expresses my own opinions. I am not receiving compensation for it (other than from Seeking Alpha). I have no business relationship with any company whose stock is mentioned in this article.
Additional disclosure: The information provided in this article is for informational purposes only and should not be regarded as investment advice or a recommendation regarding any particular security or course of action. This information is the writer's opinion about the companies mentioned in the article. Investors should conduct their due diligence and consult with a registered financial adviser before making any investment decision. Lior Ronen and Finro are not registered financial advisers and shall not have any liability for any damages of any kind whatsoever relating to this material. By accepting this material, you acknowledge, understand and accept the foregoing.