It is true that small things can achieve large results. There is evidence of this inside and outside of investing. I was reminded of this when watching my daughter's cheerleading squad in a recent competition. Many of the cheerleaders were young and small, but were able to do some incredible things such as a series of backflips and acrobatics in the air. I was reminded again when seeing a video of a 5'5" basketball player that jumps high enough to make slam dunks.
video source: youtube.com
The idea that small things can achieve large results is also evident with investing. Academic research by Rolf W. Banz (1981) demonstrated that small-cap stocks outperformed large-cap stocks from 1926 to 1975 on an absolute and risk adjusted basis. More recent research widened the study period to include 1926 to 2012. The research for the longer time period revealed that U.S. small-cap stocks outperformed U.S. large-caps. During the study period, small-caps achieved an annualized return of 13.01% as compared to only 9.1% for the large-caps.
The interesting thing is that there is no clear reason why small-caps outperform large-caps. It could be the effect of the small-caps being acquired at higher prices by larger firms. It could also be the market awarding higher prices to the small-caps for their potential to grow to become larger companies over the long-term. It could also be a combination of these.
Regardless of the reason for small-caps to outperform, the knowledge of the outperformance can be used by investors to construct their portfolio mix. Investors with a long-term horizon who want to build wealth over a number of decades can consider allocating a higher percentage of their portfolio to small-caps. One way to accomplish this is with the Vanguard Small-Cap ETF (NYSEARCA:VB).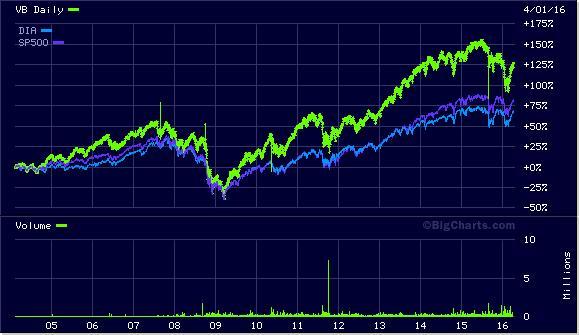 I say investors with a long-term horizon because small-cap stocks are considered riskier than large-caps. There are certain time periods when large-caps will outperform small-caps. Those who are retired or desire more immediate returns will probably desire to be overweight in large-caps stocks that pay steady dividends. The dividends can be used as income for investors with large portfolios.
Investors such as Millennials, who have multiple decades to go until retirement, can consider having a higher weight in small-cap stocks to benefit from the outperformance over the long-term. Owning VB will allow investors to own a collection of small-cap stocks without trying to pick individual winners.
The Vanguard Small-Cap ETF does pay dividends, but it yields about 1.6% as compared to the Vanguard High Dividend Yield ETF (NYSEARCA:VYM) which yields over 3%. Therefore, the total annual return for small-cap stocks could average about 14.6% when dividends are reinvested (13% in stock appreciation + 1.6% in dividends). Large caps are likely to fall short over the long-term with a total annual yield of about 12.4% (9.1% in stock appreciation + 3.3% in dividends). That 2.2% advantage on an annual basis can add up over the long-term.
Example of $10,000 invested between small-caps and large-cap stocks when dividends are reinvested:
| | | |
| --- | --- | --- |
| Year | 14.6% Annual Return | 12.4% Annual Return |
| | Small-Caps | Large-Caps |
| 1 | $11,460 | $11,240 |
| 2 | $13,133 | $12,634 |
| 3 | $15,051 | $14,200 |
| 4 | $17,248 | $15,961 |
| 5 | $19,767 | $17,940 |
| 6 | $22,653 | $20,165 |
| 7 | $25,960 | $22,665 |
| 8 | $29,750 | $25,476 |
| 9 | $34,094 | $28,635 |
| 10 | $39,071 | $32,186 |
| 11 | $44,776 | $36,177 |
| 12 | $51,313 | $40,663 |
| 13 | $58,805 | $45,705 |
| 14 | $67,390 | $51,372 |
| 15 | $77,230 | $57,742 |
| 16 | $88,505 | $64,902 |
| 17 | $101,427 | $72,950 |
| 18 | $116,235 | $81,996 |
| 19 | $133,205 | $92,164 |
| 20 | $152,653 | $103,592 |
Source: Author calculations
Of course every year will not look exactly like the chart above. However, the results after 20 years could resemble the compounded figures for year 20. Those results are not guaranteed, but I would consider it a high probability of occurring if the behavior of small-caps and large-caps continue going forward as they behaved in the past. Investing in the Vanguard Small-Cap ETF could result in about $49,000 or 47% more than investing in a dividend ETF that yields about 3%.
Out of the top ten holdings in VB, you probably heard of less than half of them:
Company

2016 Expected

Earnings Growth

2017 Expected

Earnings Growth

AGL Resources (NYSE:GAS)

13%

5.6%

Waste Connections (NYSE:WCN)

6%

13%

Domino's Pizza (NYSE:DPZ)

21%

18%

Ingredion (NYSE:INGR)

9%

9%

Duke Realty (NYSE:DRE)

0.7%

6%

Atmos Energy (NYSE:ATO)

5.8%

7%

Arthur J Gallagher (NYSE:AJG)

10%

12%

JetBlue Airways (NASDAQ:JBLU)

27%

-5.6%

Cablevision Systems (NYSE:CVC)

-20%

18%

Mid-America Apartment Communities (NYSE:MAA)

6.6%

6.5%
Data Source: Vanguard.com, Nasdaq.com
The top ten holdings of VB together comprise only 3% of the entire fund. The fund contains a total of 1488 companies. Therefore, individual stock risk is minimized. However, if small-caps in general fall out of favor as compared to large-caps, the fund could underperform. Small-caps do fall out of favor in certain time periods. This happened in 2014, when small-caps underperformed the S&P 500. However, I would expect small-caps to outperform over the longer-term due to the premium that the market typically awards companies over time.
I included earnings growth in the top ten chart to show that most of the stocks have earnings growth that is expected to be higher than the S&P 500. The S&P 500 is expected to average about 5% annual earnings growth over the next few years. So, higher earnings growth could be a factor for the small-cap outperformance.
Conclusion
Research demonstrates that small-caps outperform large-caps over the long-term. Investors can use this information to adjust their portfolios to be overweight in small-caps if you desire to outperform the broader market over decades. The result of compounding is significant over decades. Therefore, adjusting your portfolio accordingly can provide improved performance. The Vanguard Small-Cap ETF provides a good vehicle for doing so.
Disclosure: I/we have no positions in any stocks mentioned, and no plans to initiate any positions within the next 72 hours.
I wrote this article myself, and it expresses my own opinions. I am not receiving compensation for it (other than from Seeking Alpha). I have no business relationship with any company whose stock is mentioned in this article.