In his song "The Waiting", Tom Petty had the following chorus:
The waiting is the hardest part
Every day you see one more card
You take it on faith, you take it to the heart
The waiting is the hardest part
The song perhaps is the perfect one for shareholders of Tesla Motors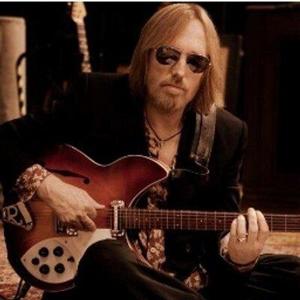 (NASDAQ:TSLA) right now. After a tremendous few days, the electric vehicle maker is probably close to or over 300,000 reservations for its Model 3. Bulls are going crazy with the popularity of this vehicle. Unfortunately, it will probably be about 18 months (or longer) until we finally see the first deliveries, an excruciating wait that will feel like forever for such a volatile stock.
The amount of reservations is great news for Tesla in the short-term, especially as it brings in an influx of cash that will help with capital expenditures. In fact, Tesla super bull Trip Chowdhry has gone so far as saying that General Motors (NYSE:GM) should now kill off the Bolt. I wouldn't go that far just yet, given the Bolt will actually be available sooner than the Model 3, so GM still has a window for which to impress consumers.
Tesla shares, as I write this article, are now up for 2016. That's an impressive statement given the huge fall we had seen earlier this year. The Model 3 reveal certainly had a lot to do with this, and we did see some short sellers cover in early March. We'll have to wait until next week to get the end of March short interest update.
We'll continue to get updates on Model 3 reservations as time passes, with Elon Musk stating on Twitter that we'll get an update this Wednesday for the first full week total. Perhaps the more interesting news at this point would be the Q1 2016 delivery total, which Tesla has not announced yet. In the past, Tesla promised to give a number by the third day post-quarter, or perhaps the morning of the 4th depending on how the weekend fell.
I was expecting to wake up on Monday to an update, but nothing came from the company. If Q1 deliveries were extremely strong, I would have expected the company to add on to the positive news with an announcement. Does the lack of news mean deliveries fell short of expectations, or is Tesla just trying to stretch out the news cycle a bit more?
Tesla can continue to announce strong Model 3 reservations, but for 2016 and most of 2017 the story will continue to revolve around the Model S and X. Tesla has not announced a Q1 delivery number yet, which could fuel bear speculation about a miss. While shares have rallied impressively in recent weeks, bad news on current sales would likely send shares back down to one of its key moving averages, seen in the chart below.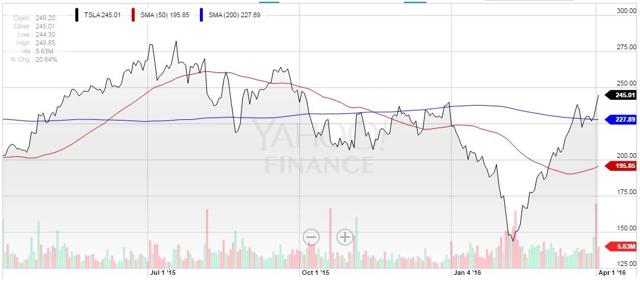 *Image Source: Tom Petty's Twitter Account

Disclosure: I/we have no positions in any stocks mentioned, and no plans to initiate any positions within the next 72 hours.
I wrote this article myself, and it expresses my own opinions. I am not receiving compensation for it (other than from Seeking Alpha). I have no business relationship with any company whose stock is mentioned in this article.
Additional disclosure: Investors are always reminded that before making any investment, you should do your own proper due diligence on any name directly or indirectly mentioned in this article. Investors should also consider seeking advice from a broker or financial adviser before making any investment decisions. Any material in this article should be considered general information, and not relied on as a formal investment recommendation.