OPEC sees a world in which oil prices rise steadily every year by $5 per barrel, averaging $60 in 2016 and $80 in 2020.
Oil trading 'god' Andy Hall sees oil prices rising to $80 over the next 12 months."There is a reasonable risk that the supply response will be insufficient in which case prices will need to rise to levels that destroy demand. That would imply prices above $100," he wrote in his March 2016 Letter.
I have read in many commentaries that oil prices must remain elevated for a sustained period of time for oil shale production to rise again.
What's missing in each of these analyses is the potential impact of crude oil futures hedging. If and when crude prices were to spike or gradually rise to much higher levels, the market will face massive hedge sales that will be difficult for speculators to overcome. Moreover, once producers lock-in relatively high prices, production will ramp up again, and the resulting lower prices will not matter to companies who lock-in the high prices.
Ben van Beurden, chief executive of Shell, said in an interview last summer that "there is still risk in this business…I think they [the Saudis] have been quite successful, if you like, in making it very clear to shale oil companies as well as their financiers that they cannot forget the price risk," he said. "The industry will remember it for some time."
Pre-OPEC Market Share War
Back in 2004, the price of crude oil broke-out of its trading range, which had topped out in the low $40s during crises (1980 Iraq war, 1991 invasion of Kuwait). The impetus behind the break-out was rising oil demand from China.
As oil producers' hedges resulted in red ink, oil producers made a massive adjustment in the summer of 2007. Producer reduced hedges by about 300 million barrels, about 40%, in just 4 weeks.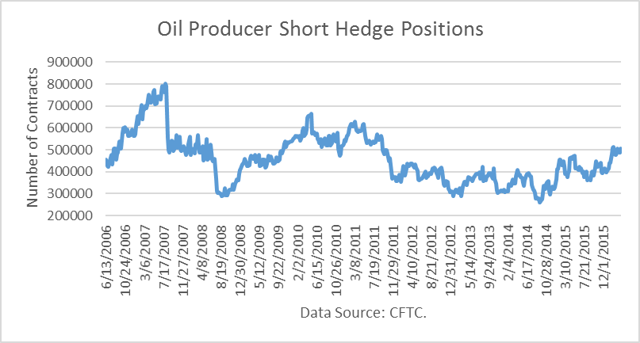 After prices began collapsing in July 2008, producers monetized hedge gains on about 40% of their hedges while prices were still $100/bbl or higher. But prices kept falling, bottoming at $36 in February 2009, and producers put most of the hedges back on as prices fell.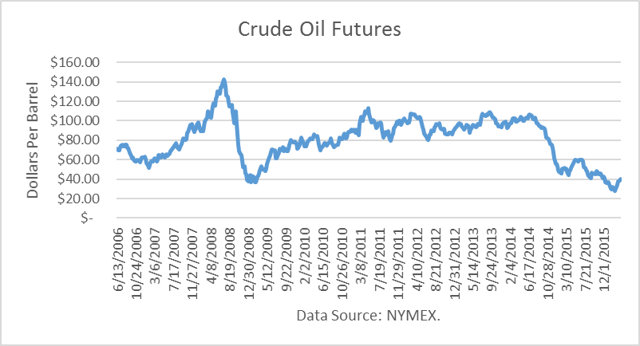 After prices recovered, producers added to their hedges in 2009 and 2010. The industry as a whole suffered from the error of taking hedges off when prices were rising, and chasing the market down to put hedges on when prices were falling.
As Mr. van Beurden had explained, oil producers became complacent in the following years as prices exceeded $100/b at times in 2011, 2012, and 2013. They even reduced hedge commitments going into the fateful November 2014 OPEC meeting, so sure were they that Saudi Arabia wanted oil prices north of $100 per barrel and would defend that price.
The greatest publicized example of all was Harold Hamm's announcement weeks before the OPEC meeting that he had liquidated nearly all of Continental Resources' (NYSE:CLR) oil hedges at around $80 per barrel:
We have elected to monetize nearly all of our outstanding oil hedges, allowing us to fully participate in what we anticipate will be an oil price recovery. We view the recent downdraft in oil prices as unsustainable given the lack of fundamental change in supply and demand."
Mr. Hamm called OPEC a "toothless tiger," but then ended up eating his words. I projected last summer that the move would turn out to be a $1 billion blunder. Analysts estimate the fateful decision has cost Continental more than $1 billion by now.
Post-2014 OPEC Meeting
Oil producers who had hedged outperformed a broad S&P energy sector index of oil and gas producers. Pioneer Natural Resources' shares lost 23% compared to a loss of 46% by the index. Pioneer's hedging has saved it around $1.6 billion since 2014.
Newfield Chief Financial Officer Larry Massaro said hedging has been a strategic pillar for more than a decade. It has a team that meets often to review its positions.
Mexican state oil giant Pemex hedges its export sales to U.S. companies. Last August, it locked in a $49 price per barrel for 212 million barrels of planned oil exports this year.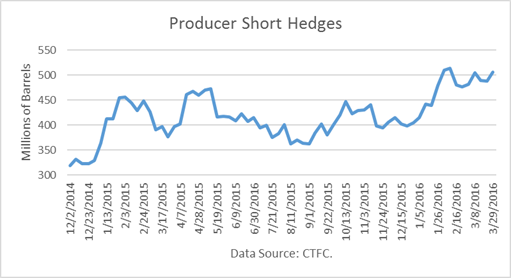 As oil prices started dropping in December 2015, producers increased hedges. Most recently, producer hedges stood at 506 million barrels about their highest since November 2014 but still 300 million lower than in 2007.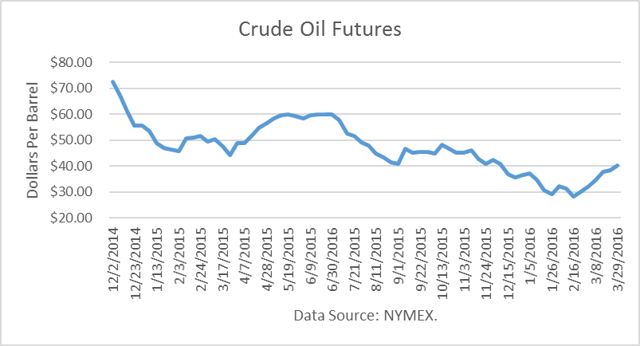 "Those that didn't take advantage of hedging in the past are likely more inclined to do it now, because the longevity of their business depends on it," said an energy market analyst at CHS Hedging LLC.
"The cost of production has declined to the point where at mid-40s they can hedge actively to remain viable."
Even Harold Hamm has changed his tune. "If prices recovered to that range north of $60, we'll seriously be considering hedging."
If the oil industry increased hedges to the previous high of 800 million barrels at $50 per barrel, fo example, it would require $15 billion of buying to support the price. If the shale industry were to hedge out its U.S. production of about 4 million barrels per day for one year out, the short hedges would total 1.46 billion barrels, about 954 million barrels more than the latest level. At $50 per barrel, that would require $47.7 billion of buying to balance the futures market. Producers may want to hedge more years out, increasing the burden on buyers to push the market higher.
Some may wonder if the crude futures market is deep enough to accommodate large hedges. NYMEX average daily volumes (1.15 billion barrels) are about 12 times daily world production volumes in 2016.
Conclusions
Crude oil futures prices will face waves of hedge selling on their way up to $50 and probably even more hedging if prices should rise beyond that. Looking at past hedge levels, and shale oil potential hedging, very significant buying would be required to keep futures prices from falling. For this reason, I believe that a large price move up over the next year would not be sustainable.
Disclosure: I/we have no positions in any stocks mentioned, and no plans to initiate any positions within the next 72 hours.
I wrote this article myself, and it expresses my own opinions. I am not receiving compensation for it (other than from Seeking Alpha). I have no business relationship with any company whose stock is mentioned in this article.