Last week I wrote an article mentioning the start of a new RISK-OFF period. I was wrong. The S&P (SPDR S&P 500 ETF SPY) rose about 1.7%. Mainly because of Yellen's dovish comments and better than expected ISM and nonfarm payroll figures.
The ISM manufacturing index soared to 51.8 with new orders at 58.3. This gives stocks a pleasant tailwind.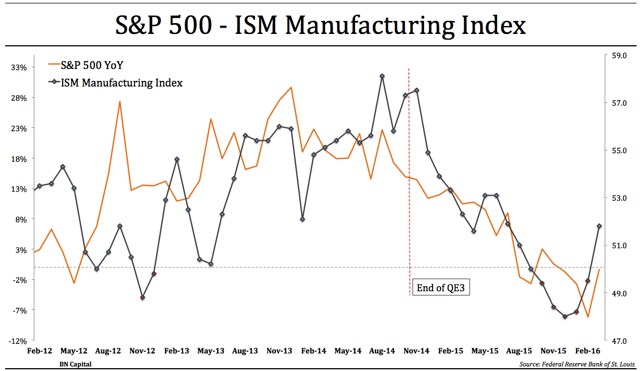 I expected that the ISM index would be stronger but was surprised of the strong number. I think that it is mainly because of the commodity rally. Employment (48.1) and backlog of orders (49.5) remained weak.
Although the ISM print was so strong I think it is sending mixed signals. Rate hike possibilities are soaring due to the better than expected figures pushing the USD higher.
A stronger USD will push commodities lower, resulting in lower high yield bond prices. The very reason why the stock market sell-off started a few months ago.
However, the USD hasn't rallied but oil prices have gone down a bit. One of the two is right. Given that the USD is the real leading indicator for commodities I think that oil will bounce back. But only if the USD stays 'weak'.
Furthermore, if we take a look at GAAP earnings we see a extremely bearish scenario.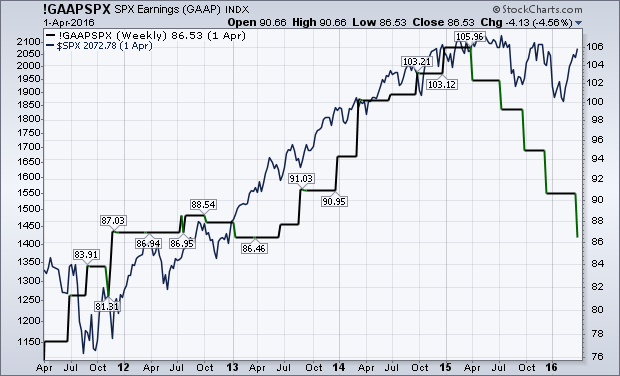 Earnings started falling at the start of 2015 and have not recovered since then. Moreover, the latest lag down happened last week. In all fairness I have to add that corporate earnings are by no meaning a leading indicator but it looks like this earnings crash it not priced in at all.
Furthermore, it looks like 'everyone' is bullish. This is a good indicator for short term corrections. Even if fundamentals are extremely strong (like in 2013).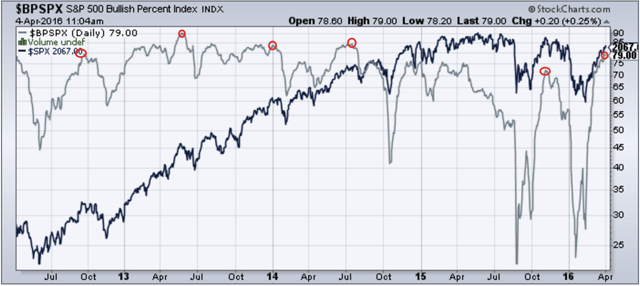 Overall it looks like the bulls who started buying February were right. Fundamentals have soared. The most important indicator ISM soared to a multi-month high. The bad news however is the uncertainty that comes with it. Soaring rate hike possibilities could add to USD strength and further commodity weakness. Add to that the facts that corporate earnings haven't shown any signs of relief and technical indicators are pointing towards a (small) correction.
I think the mid term picture brightened a little bit. However, keep in mind that these headwinds could turn ugly really fast. Therefore, I keep my portfolio flat with a few bearish and bullish spread trades.
Disclosure: I/we have no positions in any stocks mentioned, and no plans to initiate any positions within the next 72 hours.
I wrote this article myself, and it expresses my own opinions. I am not receiving compensation for it (other than from Seeking Alpha). I have no business relationship with any company whose stock is mentioned in this article.