Exxon Mobil (NYSE:XOM), the world's leading oil and gas producer and the largest global refiner, has finally received a green signal from regulators to restart its Torrance refinery in Los Angeles, California.
The refinery shut down last year following an explosion that occurred when Exxon Mobil was doing maintenance work on the fluid catalytic cracking unit, or FCCU, which damaged the unit and rendered pollution-controlling electrostatic precipitator, or ESP, useless. According to the US Chemicals Safety Board, the incident could have caused "serious injury or death to many community members" of Torrance. Exxon Mobil says that it has spent $161 million on repairing the ESPs and an additional $1.1 million on other upgrades. The company estimates daily gross revenue loss of around $1 million to $1.5 million due to the closure.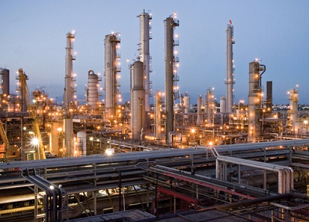 Image: Exxon Mobil
Exxon Mobil has been trying to get the refinery up and running at the earliest. In its most recent filing to the state's South Coast Air Quality Management District (AQMD), Exxon Mobil proposed, among other things, to run the facility at 100,000 barrels a day, almost two-third of its 155,000 barrels a day capacity, for an undisclosed period. The agency held a public hearing on Saturday morning to discuss the company's proposals. The meeting lasted nearly 12 hours after which the board gave green signal to Exxon Mobil to restart the refinery's FCCU in a split decision.
The company will, however, have to $5 million in penalties related to the explosion and any future air pollution violations that might occur during the restart process. The company must also follow a strict procedure during this period to minimize emissions.
The approval from regulators is great news for Exxon Mobil. The company has been trying to sell the Torrance facility for, reportedly, more than a year. Last September, PBF Energy (NYSE:PBF) agreed to buy the refinery for $537.5 million, but only if the oil major fixes the crippled FCCU and ESPs and demonstrates safe and smooth operations, including the plant's ability to run at full capacity. Exxon Mobil has already done the repair work and will now proceed with showcasing stable operations.
And Exxon Mobil's decision to sell the Torrance plant makes sense, even though refineries are expected to do well this year due to persistent weakness in crude prices which lowers input cost, and strong demand of gasoline.
That's because firstly, the Torrance refinery does not fit well with Exxon Mobil's downstream portfolio. Although the facility is one of the biggest refineries in California, its throughout capacity is relatively small when compared against Exxon Mobil's other refineries.
Exxon Mobil's Baytown refinery in Texas, for instance, is the biggest refinery in the company's portfolio and the second largest in the US, with crude processing capacity of up to 584,000 barrels per day, making it more than 3.7 times as large as Torrance. Then there's Exxon Mobil's Beaumont refinery in Texas that can process up to 365,000 barrels of oil per day. Exxon Mobil has been mulling over expanding Beaumont's capacity to 700,000 to 850,000 barrels a day, but has put these plans on hold, according to Reuters. The expansion could have made Exxon Mobil the owner of the largest refinery in the US. The title will be held by Saudi Aramco which will own the 603,000 barrels a day Port Arthur Texas refinery following the end of its joint venture with Royal Dutch Shell (NYSE:RDS.A)(NYSE:RDS.B).
Exxon Mobil has been focusing on larger, more complex refineries that can process different types of crudes and produce significant quantities of petrochemicals. Torrance, however, does not fit well here.
Secondly, Torrance is located in California, which isn't exactly one of the best places to do business for energy companies. The Golden State is the nation's largest gasoline and the second-biggest diesel market, but it has some of the toughest environmental laws. In fact, some of these regulations are even stricter than those set by the US Environmental Protection Agency. Due in part to costs associated with meeting the regulatory requirements, which seem to get tougher every year, a number of operators have either closed or sold their refineries. According to data from the US Energy Information Administration, the total number of operable refineries in California has dropped from 43 in the beginning of 1984 to 18 plants at the start of last year.
The sale of Torrance refinery is not going to meaningfully impact Exxon Mobil's 2016 results on a year-over-year basis. Last year, the company's profits received a major boost from the strong performance of the refining or downstream business. Exxon Mobil's profits dropped by 74.2% in its upstream or exploration and production business to $7.1 billion, but downstream profits more than doubled to $6.56 billion. Torrance refinery, however, had little to do with that performance since it operated at less than a fifth of its capacity throughout most of the year.
The update is also great for PBF Energy as it removes most of the uncertainty regarding its major acquisition. PBF Energy currently owns four refineries in Delaware, Ohio and New Jersey and the recently acquired 189,000 barrel a day refinery in Chalmette, Louisiana, which was co-owned by Exxon Mobil and Petroleos de Venezuela.
Torrance is going to be the smallest refinery in PBF Energy's portfolio, in terms of capacity, but it will allow it to expand into four key markets. Following the two acquisitions in the Gulf Coast and West Coast, PBF Energy will have the geographic diversity which it previously lacked. The company will be in a better position to compete with its bigger rivals like Phillips 66 (NYSE:PSX).
The restart of Exxon Mobil's refinery will also benefit California's commuters. The state's drivers typically pay higher gasoline prices as compared to rest of the country since California's energy companies are required to produce less-polluting, but more expensive fuel and also pay higher fees and taxes. These costs are transferred to the consumers who end up buying gasoline at a premium over the national average. The explosion at the Torrance plant created a supply shortage, given the refinery alone represented one-tenth of the state and one-fifth of Southern California's refined gasoline capacity. That further lifted prices at gas stations.
According to data from GasBuddy, the price for a gallon of gasoline in California averages $2.80, including $2.88 in Los Angeles, as compared to $2.06 for the US as a whole. But Torrance restart will solve some of the problems related to inventory shortage, which could push the prices lower.
On the flip side, the drop in gasoline prices following Torrance restart could be bad news for the refiners like Tesoro (TSO). The company, which operates two refineries in California, including the giant 380,000 barrels per day Los Angeles refinery - the largest on the West Coast, has been enjoying strong margins. But if gasoline prices drop, then the company's West Coast margins will come under pressure.
Disclosure: I/we have no positions in any stocks mentioned, and no plans to initiate any positions within the next 72 hours.
I wrote this article myself, and it expresses my own opinions. I am not receiving compensation for it (other than from Seeking Alpha). I have no business relationship with any company whose stock is mentioned in this article.