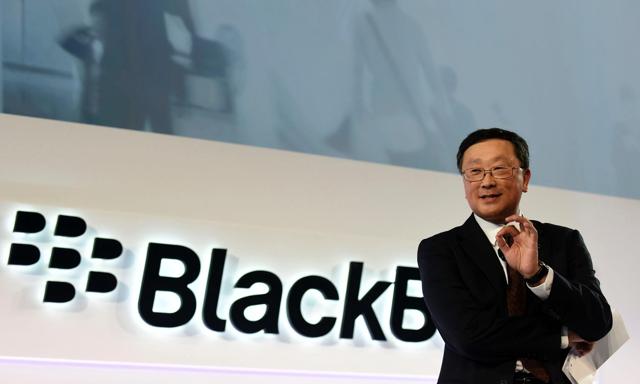 Source: The Guardian
After reporting FQ4 earnings Friday BlackBerry (NASDAQ:BBRY) is slumping. The company achieved GAAP revenue of $464 million and a per share loss of $0.45. Revenue was down 30% Y/Y and off 15% sequentially. Revenue was more than $97 million lower than analysts expected.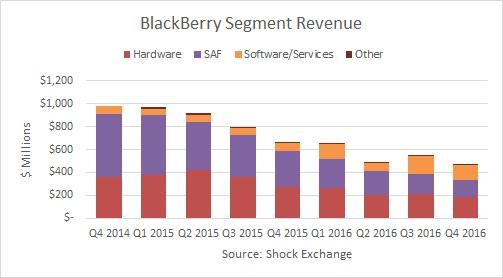 In FQ3 BlackBerry reported a sequential increase in revenue. I expected the company to build upon that momentum which makes this quarter's results a difficult pill to swallow.
Typically, BlackBerry's financial statements provide segment revenue on a GAAP basis. This quarter management reneged to provide the information and preferred to talk up non-GAAP revenue, which I found rather annoying. The difference between total GAAP ($464 million) revenue and non-GAAP ($487 million) revenue was a purchase accounting write-down of deferred revenue associated with recent acquisitions. It probably impacted the software and services segment. Below is my take on the quarter:
Software And Services Is The Future
The story for BlackBerry over the past several quarters has been to find a way to offset SAF run-off. SAF was off 17% sequentially, consistent with historical declines. Last quarter BlackBerry was able to offset that diminution with revenue from software and services and hardware. That wasn't the case this quarter. On a GAAP basis I estimated software and services was off about 14% sequentially. For FY16 the company had $497 million of revenue, on par with its $500 million revenue bogey. This is important as it demonstrates management's ability meet realistic goals and adds to its credibility.
The company expects to grow the segment by double digits in 2017 and expects revenue growth to offset the decline in SAF. That's a tall order. It's also convenient given the lack of visibility in hardware revenue. Management intimated that Good Technology is fully integrated and the company is delivering BlackBerry level support to Good customers. The bull case at this point is to buy BBRY based on software and services, and any contribution for hardware is gravy.
John Chen has wanted to transform BlackBerry into a software company and he appears to have achieved that goal, albeit by default. Chen's next order of business is to expand BlackBerry's secure mobile communications platforms - secure voice, text, data and messaging. Helping companies and governments monitor and analyze, detect and prevent cyber security threats could be a key growth area. Another area of focus is the car industry, through QNX the company provides software components for the connected car and Chen expects to invest more in the area over the next 12 months.
Hardware Is A Disappointment
The company recognized revenue on 0.6 million devices versus 0.7 million in the previous quarter. The average sales price was $315/unit, up from $306 last quarter.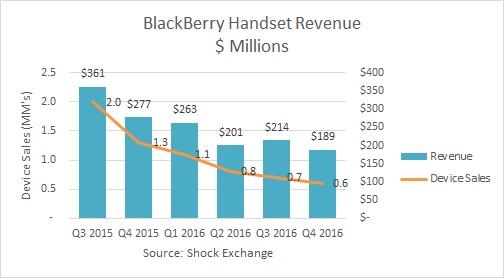 I was encouraged last quarter after handset revenue grew Q/Q for the first time since FQ2 2015. I was disheartened at the decline in revenue and unit sales this quarter. Management was not able to generate frenzied demand for the Priv despite the limited roll out. The Priv is available in 34 countries this quarter, up from only four in FQ3. It was not available with certain major carriers, including Verizon (NYSE:VZ). We have heard this excuse before with other handset launches, and it has grown tiring.
BlackBerry has positioned the Priv as the most secure Android device on the market. However, it doesn't appear consumers are willing to pay up for it. The company may have to cut prices in order to spur unit volume and revenue. Even more disconcerting is that the company believes prices in the premium segment of the market are softening.
In my opinion, deflation in the premium end could be intractable. The global economy is in decline and U.S. consumers are hurting. Most of the jobs created by the Obama administration have been low-paying, part-time jobs. That does not bode well for the Priv or for consumer electronics in general. It could portend both stagnant unit sales and declining prices. Chen might consider dropping hardware if it cannot turn a profit, even I am resigned to this possibility.
I love the phone and have been loyal to the stock, but my affections have been unrequited. Chen might grow software and services by double digits and get the hardware segment to break-even. However, it will not happen overnight, and BBRY could fall further until real results materialize. BBRY is down 22% over the past 12 months and I don't see any near-term catalysts that will change the company's fortunes. For now BlackBerry is a hold.
Disclosure: I/we have no positions in any stocks mentioned, and no plans to initiate any positions within the next 72 hours.
I wrote this article myself, and it expresses my own opinions. I am not receiving compensation for it. I have no business relationship with any company whose stock is mentioned in this article.