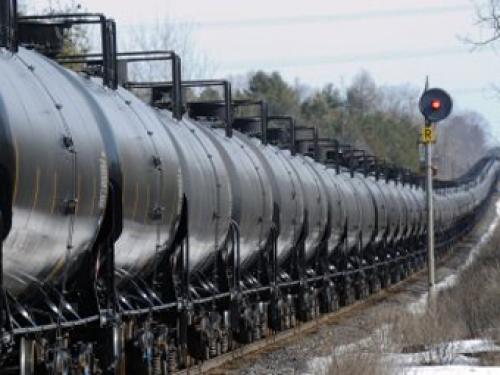 Source: railwayage.com
Greenbrier Companies (NYSE:GBX) is set to report FQ2 earnings on Tuesday. Analysts expect revenue of $729.85 million and EPS of $1.56. The revenue estimate implies a decline of 9% sequentially. Greenbrier may hit its revenue and earnings bogey, but new railcar orders will likely drive sentiment for the stock.
Manufacturing Revenue Should Drive Results
Greenbrier manufactures, repairs, refurbishes and provides management services for companies that lease railcars. Railcar manufacturers have been sitting in the catbird seat amid the energy boom that followed the financial crisis. In particular, the shale oil boom created rabid demand for tank cars to carry oil throughout North America.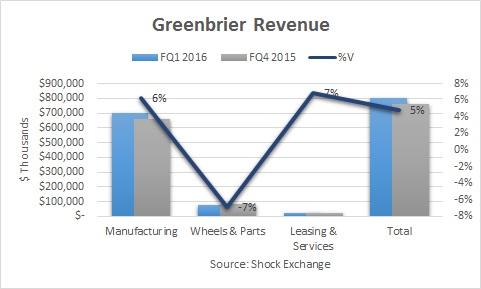 Shale bankruptcies spiked in 2015 and there could be more this year. Demand for railcars has also fallen. Last quarter the company's $802 million revenue was up 5% Q/Q on 6,900 deliveries. FQ2 deliveries could fall slightly and Greenbrier could still meet its revenue estimates. The company expects to deliver 20,000-22,000 orders for the full fiscal year. The lion's share of deliveries are included in the company's backlog of 36,000 units. The question remains, "What happens in FY17 and beyond?"
Plummeting Railcar Orders Could Drive Sentiment
Management has chafed over Greenbrier's link to oil and tank cars. About 11% of its backlog is for tank cars and 27% energy-related in total. The company has talked up its diversified product line. However, overall railcar traffic is falling; carloads for the first 12 weeks of 2016 is off over 6%. That does not bode well for Greenbrier. Not only could railcar orders fall, but the average price per unit could also decline. Falling orders and prices could cause revenue for FY17 and beyond to fall sharply.
Secondly, over the past four months, Greenbrier has generated 2,600 new orders - an annual run-rate of just over 10,000. Over the past two quarters, the entire industry has generated new orders of about 16,500 - an annual run-rate of 33,000. If Greenbrier continues to garner 30% market share, that again would equate to about 10,000 new orders. At the end of the day, new orders for this fiscal year will likely pale in comparison to the 32,400 generated last year.
GBX should be valued based on its sustainable revenue and earnings. With new orders in free fall and a flailing global economy, I anticipate 2017 and maybe even 2018 revenue and earnings to be much lower. Management has been pretty honest about the prospects for the industry. The company's outlook for FY17 will be key. GBX remains a sell.
Disclosure: I am/we are short GBX.
I wrote this article myself, and it expresses my own opinions. I am not receiving compensation for it. I have no business relationship with any company whose stock is mentioned in this article.