Whether you like it or not, the AdvisorShares Ranger Equity Bear ETF (NYSEARCA:HDGE) is a unique ETF. Its portfolio manager, Ranger Alternative Management, L.P., implements a bottom-up fundamental research process to find stocks to short. Nevertheless, I favor shorting this ETF.
I really like the manager's approach to its core fundamental positions which it takes based on earnings quality. These consist of 6-8 positions based on forensic accounting findings. The manager published an infographic clearly detailing its approach to finding shorts based on accounting issues: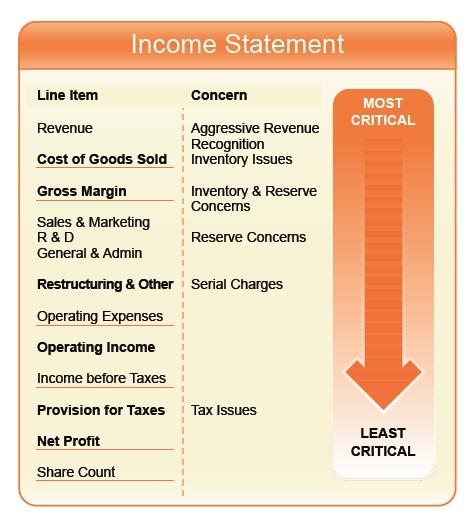 Source: HDGE investment philosophy
Position sizing varies from nearly -5% (its largest short) to about -1% (it has a smaller short position but most of its smaller positions are in the -1% ballpark). Unfortunately, the ETF also includes a lot of positions that aren't based on this core philosophy, and I'm much less convinced the other tactical approaches add any Alpha. Actually, I'm kind of inclined to believe they dilute most of the potential alpha present in the core philosophy. It's understandable the ETF is constructed that way because it would like be too volatile an issue if there were only 6-8 positions. Something else I can't understand is why the manager excludes what it refers to as IBD 100 (now called IBD 50) type stocks. These are companies like Facebook (NASDAQ:FB), LendingTree (NASDAQ:TREE), NVIDIA (NASDAQ:NVDA), etc., as I would expect this to be fertile hunting grounds given the company's tactical approach.
It's also a rule that puzzles me because the ETF holds shorts like LendingClub (NYSE:LC), Toro (NYSE:TTC) and Alibaba (NYSE:BABA).
Performance doesn't look too great: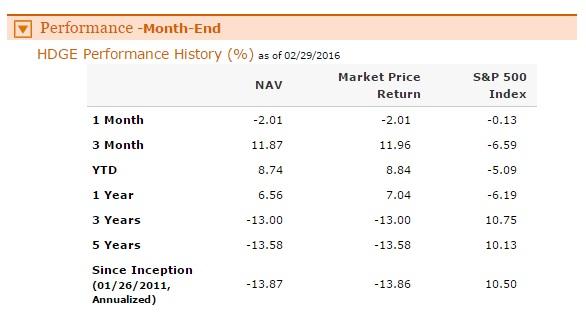 Source: advisorshares website
However, the period since inception has been a tough environment for a focused short ETF. The ETF also sports a very high cost basis adding up to a 2.9% net expense ratio. Short interest expenses extend up to 1.15%. If you were to short shares yourself, you would also have to pay borrow costs, so that should be factored in. On the other hand, you would also receive the collateral yourself and would be able to achieve some yield on that.
Because of the high net expense ratio I started to research whether HDGE could be an interesting short itself. Initially, I was afraid the fundamental deep research core strategy would be too solid, but on second thought, I believe it is sufficiently diluted by tactical trading and factoring in technical indicators that it's unlikely it's actually very strong.
The ETF is catering to pool looking for a tool to hedge equity exposure, looking to add a diversified short segment to its portfolio or people who want the upside of a fundamental short investment process. Outperformance is not the most important thing in order to cater to these demands which alleviates my fears of shorting this further.
I checked the holdings of HDGE and found there are several great short ideas in the portfolio but also a couple of weak ones. On about 50% of its portfolio, I wasn't able to form an opinion. This exercise confirmed my suspicion the managers have some great ideas, but the alpha delivered by these will be diluted away by the weaker ideas. I find it hard to belief they will be able to deliver alpha in excess of the net expense ratio over time.
Finally, I believe there is some risk the managers could get this ETF into a lot of trouble. Management has been wise enough not to include too many hard rules the portfolio needs to adhere to because that would be a good way to get killed by short squeezing with such a public short portfolio. However, I still fear the public nature of the portfolio and the rather small target companies set up the ETF to get short squeezed at some point. The manager tries to mitigate this by going after low short interest companies, but Demandware (NYSE:DWRE) has a short percent of float of about ~20, at GrubHub (NYSE:GRUB) 34% of float is short, and at LendingClub 30% of the float is short to give a few examples. A short squeeze gone wrong could hurt long-term performance even when the managers are in fact skilled.
Shorting HDGE, coupled with a similar sized short on the S&P 500 or a mid-cap index could be an interesting idea to pick up a small return that isn't terribly correlated.
Disclosure: I/we have no positions in any stocks mentioned, and no plans to initiate any positions within the next 72 hours.
I wrote this article myself, and it expresses my own opinions. I am not receiving compensation for it (other than from Seeking Alpha). I have no business relationship with any company whose stock is mentioned in this article.