The Fed has stated various times its intent to raise rates as the economy shows signs of reaching full health. However, protecting against inflation, which is one of the Federal Reserve's mandates, does not seem to be their only concern. They have also spoken frequently about the normalization of monetary policy; that is to say to increase interest rates to levels that were common in the decades prior to the financial crisis in 2008.
Monetary normalization is probably why the Fed hiked interest rates in December, when true there had been stable job creation, but not as much as in 2014. There were a total of 2,744 jobs added in 2015 compared to 3,015 jobs for 2014. There had also been a spike in stock market volatility amidst concerns monetary tightening was being implemented too early and the economy would not be able to assimilate a more restrictive monetary policy. The latest data for the inflation rate at the time was at 0.5%, still far away from the Fed's target inflation of 2%. Yet the move to increase interest rates was made and a tightening monetary policy cycle began.
Inflation fears not contemplated
Since the Fed's interest rate hike in December inflation has risen slightly, although latest data shows the inflation rate at 1% for February after a peak in January at 1.4%. Expectations for next month's inflation data remain flat at 1%. The bond markets do not seem to be worried very much by this new phase of higher interest rates and they are certainly not worried about medium term inflation risk.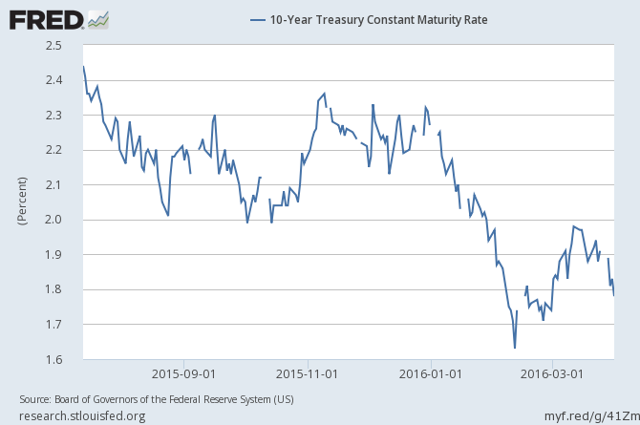 From the chart above we can appreciate how after the interest rate hike in December, 10 year yields went up slightly and have been falling again since. If medium term inflation fears were high a 10 year bond would have to depreciate in price as we have a lot of time until maturity to capture future increases in inflation and interest rates. Yet, the market fails to show any signs of concern.
Speed of interest rate hikes
The Fed has become dovish again after statements by Fed Chair Yellen at the last FOMC meeting that were reiterated during her speech at the Business Luncheon in New York. It would seem that the Fed has taken note of the turmoil that could be unleashed by tightening monetary policy too quickly and has decided to turn the heat down. It would seem that instead of four ¼ point raises for 2016 we are going to get two ¼ point hikes.
One of the reasons stated by the Fed is a reduced risk of inflation increase. The lower perception of inflation risk may also be driving the bond market higher as it would also mean fewer interest rate hikes. But I see a trend in Treasuries, which spans more than twenty years, of increasingly lower yields. Looking at the chart below we can see how Yield in the 10 year Treasury Note has been in free-fall since the beginning of the 80s.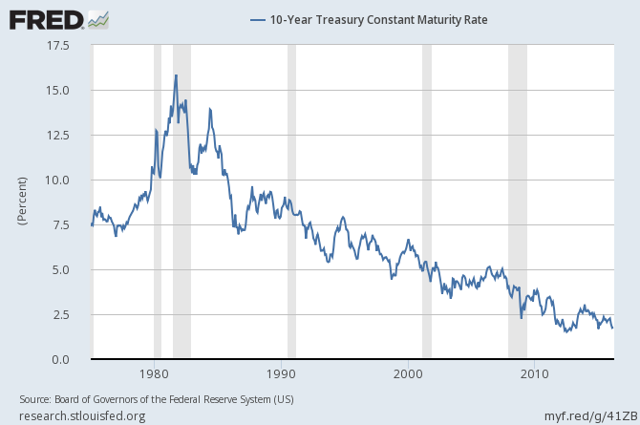 Decreasing correlation
There would obviously have been periods of rising inflation and yields, but overall yields have fallen despite various periods of higher inflation. What seems to be happening over more recent years is for inflation and bond yields to become disjointed, or statistically speaking less correlated. To take a look at how true this assumption may have been I decided to compare correlation of inflation and bond yield over two different periods.
I took the monthly CPI for all Consumers all Items from FRED, and calculated trailing 12 month rates of change. I then plotted those against the yield on 10 Year Constant Maturity Notes. I took two periods, one from November 1979 to March 2016, and another shorter, more recent period, from August 2008 to March 2016. The correlation between the inflation proxy and the 10 year yield for the longer period was 0.685, on a scale from -1 to +1, this would seem a fairly high positive correlation. For the shorter period this correlation falls to 0.329, which also seems apparent when looking at a chart for these two rates for the shorter period.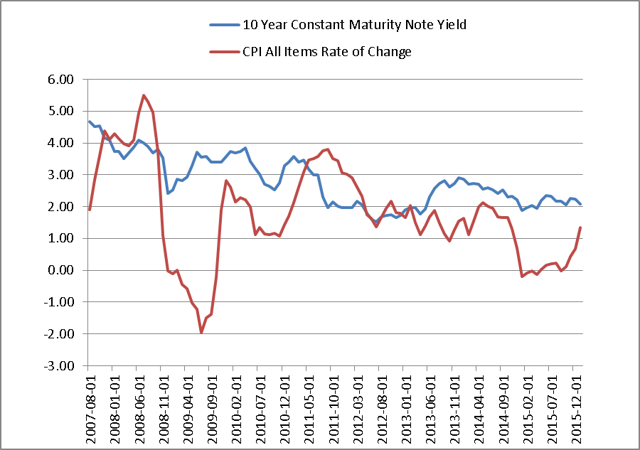 Short term rates still low
2 Year treasury yields have been on the rise since bottoming out in September 2011, although they have also been heading lower since the beginning of the year. This latest decline is due to the more dovish comments from the Fed of late. However, interest rates are set to rise over the next year, the market may be betting that there are more likely to be 2 hikes and not 4. However, 2 year notes are still at an extremely low level when bearing in mind the monetary policy the Fed seems determined to implement. The last close for 2 Year Notes was 0.7481% with the Fed Fund rate at 0.5 that does not seem to be factoring in any further rate hikes at all for this year. When the Fed hiked rates last December 2 Year yields spike above 1% on anticipation further rate hikes would precede.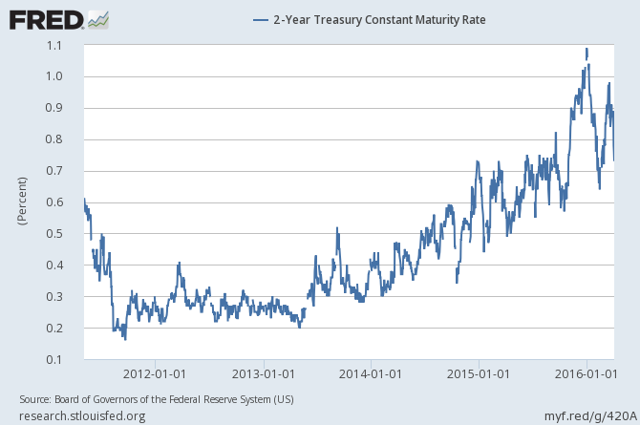 The timing for interest rate hikes may now be taking on a slower pace, and that would seem how the market perceives it. However, the possibility of further hikes has certainly not disappeared and there are most likely still at least one hike if not two hikes, very possible this year. Some executives at the Fed, like Atlanta Federal Reserve CEO Dennis Lockhart, have openly stated there could be room for a rate hike as early as the April FOMC meeting.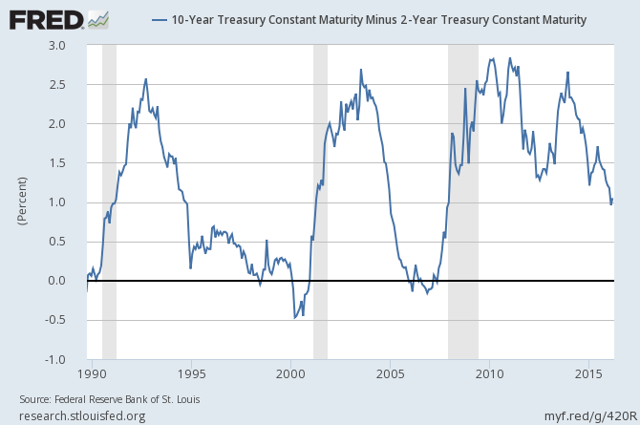 An April hike may be too early given Fed Chair Yellen's most recent speeches which would seem to contradict the version given by Dennis Lockhart. But there is still plenty of time for the Fed to proceed with is normalization of monetary policy. Yields on the shorter part of the curve therefore need to rise at a faster pace than medium or long term yields, bringing the spread between 10 year and 2 year yields ever closer to zero.
Supporting Documents
Disclosure: I/we have no positions in any stocks mentioned, and no plans to initiate any positions within the next 72 hours.
I wrote this article myself, and it expresses my own opinions. I am not receiving compensation for it (other than from Seeking Alpha). I have no business relationship with any company whose stock is mentioned in this article.