Shares of Buffalo Wild Wings (NASDAQ:BWLD) have tumbled more than 20% over the past 6 months. A Q3 miss on both the top and bottom coupled with weak guidance started the plunge at the end of October. Persisting issues related to margin compression and decelerating comps showed up in Q4 results and FY'16 guidance, so shares have remained at depressed levels since the Q3 drop. We believe the company is supported by strong secular growth in theme dining, athletics, and fitness, and that the stock is valued attractively enough to possess a favorable risk-reward profile at these levels. We will begin buying shares here and will add to our position if the stock continues to drop.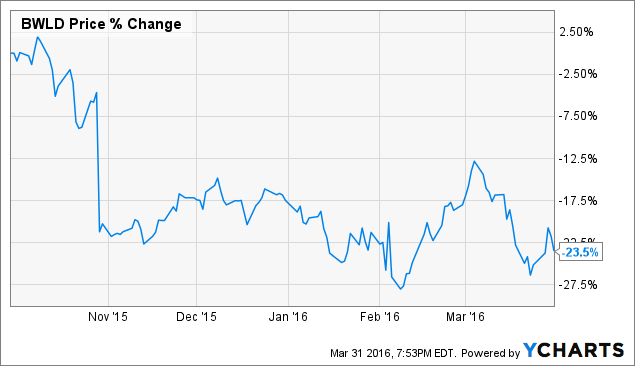 Shares are more cheaply valued now than they have been over the past year. The ~30x P/E and ~11x EV/EBITDA multiples are significantly compressed from where they were in Fall of 2015, but also look like a bottom in terms of valuation over the past year. When the stock has traded at or near this compressed of a valuation over the past year, the stock benefited from marked multiple expansion in the following weeks (June 2015 and February 2016).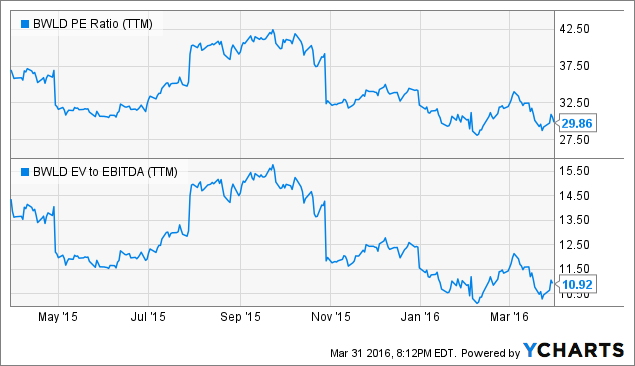 BWLD PE Ratio (TTM) data by YCharts
We believe there are several growth catalysts which will allow for continued strong sales and earnings growth over the next several years. Those catalysts include:
A general rise in popularity of the theme dining experience. Customers are gravitating more and more towards dining experiences that offer a unique value proposition. We believe BWLD and Dave & Buster's (NASDAQ:PLAY) are two iconic chains in the theme dining space. PLAY reported strong Q4 results recently, beating estimates on both the top and bottom line, and hiked guidance for FY'16.
Building off point one, cord-cutting is a trend that is likely playing into the rise of popularity of the theme dining experience. As more and more Americans cut the cord, more and more Americans will look to places like BWLD to watch the occasional big game.
Strong growth in the athletic apparel space as evidenced by the operating results of Under Armour (NYSE:UA), Nike (NYSE:NKE), Skecher's (NYSE:SKX), Lululemon (NASDAQ:LULU) and to a lesser extent Foot Locker (NYSE:FL) and Finish Line (NASDAQ:FINL) is a reliable indicator that interest in fitness and sports is growing significantly. This should generate longer-running tailwinds for BWLD, a choice theme dining experience for those interested in sports and fitness.
BWLD has significant unit growth in front of it, and an annual rate of 45-50 new company-owned restaurants looks sustainable into the foreseeable future. This unit growth eases the emphasis on positive comps to drive sales growth.
Consumer spending on services in America has proven to have longevity even in the face of macroeconomic headwinds. While consumer spending on durable and non-durable goods has fluctuated greatly over the past few months, consumer spending on services has continually ticked up, including a 0.3% increase in February (accelerated from 0.1% in January).
A handful of Wall Street analysts have turned bullish on the stock, with the median price target nearly 20% above the current market value
Our full financial model for BWLD can be seen below. We assume roughly 45-50 new company-owned stores per year over the next few years, and for that annual rate to drop to 30 by FY'20. We model for comps to slow to LSD into FY'20. On the franchise side, we assume relatively flat unit sales coupled with 20-30 new locations per year. G&A leverage should allow for margin expansion as revenues scale, and we see net profit margins hovering around 7% by FY'20.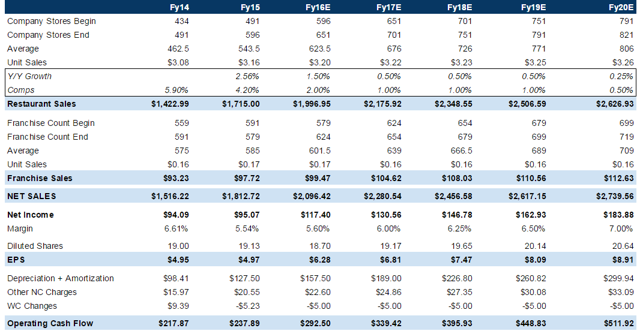 Using a 2% perpetuity growth rate and 10% discount rate, we arrive at a fair value of roughly $160 per share for BWLD. This represents roughly 6%-7% upside from current market value.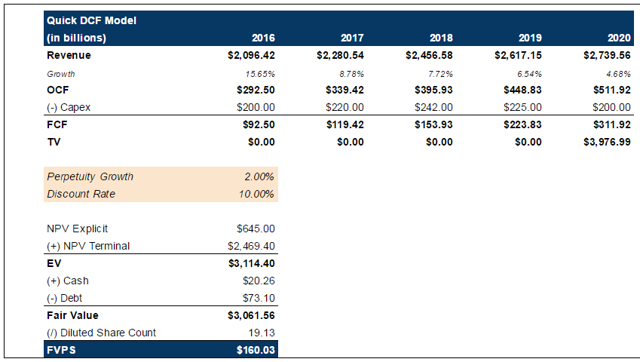 While we do not think shares are a compelling buy here (only 7% upside to fair value), we do believe there is a strong, secular growth story at play here that should sustain strong earnings growth over the next 5 years. The stock has not bounced back from its 3Q'15 plunge, and we believe that an earnings surprise could catalyze marked multiple expansion and send shares notably higher. We think the risk-reward profile here is favorable, though not overly compelling. We will begin buying in small chunks, and will add slowly on further dips.
Disclosure: I am/we are long BWLD.
I wrote this article myself, and it expresses my own opinions. I am not receiving compensation for it (other than from Seeking Alpha). I have no business relationship with any company whose stock is mentioned in this article.