With the first quarter of 2016 in the books, it's time to take a look back at dividends received from January through March.
Let's jump right in:
| | |
| --- | --- |
| Company | CAD Payment ($) |
| Toronto-Dominion Bank (NYSE:TD) | 40.80 |
| RioCan Real Estate Investment Trust (OTCPK:RIOCF) | 89.89 |
| Johnson & Johnson (NYSE:JNJ) | 63.23 |
| BCE Inc. (NYSE:BCE) | 139.10 |
| Canadian Imperial Bank of Commerce (NYSE:CM) | 13.80 |
| Jean Coutu Group PJC Inc. (OTCPK:JCOUF) | 19.25 |
| Corby Spirit and Wine Ltd. (OTC:CBYDF) | 40.69 |
| Bank of Nova Scotia (NYSE:BNS) | 17.50 |
| TELUS Corporation (NYSE:TU) | 30.80 |
| Rogers Communications Inc. (NYSE:RCI) | 26.40 |
| Fortis Inc. (OTCPK:FRTSF) | 15.00 |
| Canadian Utilities Limited (OTCPK:CDUAF) | 16.25 |
| Canadian National Railway Company (NYSE:CNI) | 5.63 |
| | |
| --- | --- |
| Company | USD Payment ($) |
| Waste Management Inc. (NYSE:WM) | 17.43 |
| McDonald's Corporation (MCD | 15.89 |
| Yum! Brands, Inc. (NYSE:YUM) | 15.25 |
| PepsiCo, Inc. (NYSE:PEP) | 5.98 |
| Wal-Mart Stores, Inc. (NYSE:WMT) | 6.25 |
Dividend Summary
The final tally shows a sum of $518.34 CAD and $60.80 USD.
My ultimate goal will be to achieve something of an 80% CAD-20% USD dividend split as the years roll by. I'm not strict enough on that goal to rebalance, but I do live close to the U.S. border and currency hedging in this way allows me to never worry about exchange rates when I travel south.
In total, dividends were received from 18 companies running the gauntlet in terms of industries and their respective sizes. The only omission which may seem egregious to some in today's marketplace is technology. While I have been tempted to perhaps add some Apple Inc. (NASDAQ:AAPL), I have avoided the sector overall since sentiment can change so rapidly. One day people love their iPhone, the next they're onto a new gadget.
I may be even further gun-shy given the fact that I live just a few hours from the headquarters of BlackBerry Ltd. (NASDAQ:BBRY) and saw the carnage left in its wake firsthand as the company went from hero to zero in an incredibly short period of time. Above all, I value security with my dividend payments over growth. Someday, these companies are going to finance my financial freedom and I'd rather not leave that up to consumer whims where I can avoid it.
Most of you likely noticed that I received my JNJ dividends in Canadian dollars. When I bought my shares several years back, my discount broker didn't offer the ability to purchase U.S. companies in U.S. currency within a Tax-Free Savings Account (TFSA). As a result, I wound up buying my JNJ shares in CAD and have held them in this form ever since. Since then, I've actually received a boost to my dividend income in my home currency given the fact that the USD has been so strong. I am now able to buy U.S. stocks in USD within my TFSA and very well may at some point considering selling my JNJ shares and repurchasing them in USD just to avoid any currency fluctuation risk.
I also should point out that Corby paid a special dividend in January amounting to $0.62 CAD per share, which boosted my dividend income from that relatively small position. The company is a relatively small marketer of spirits and wines and kicks off more cash flow than it needs to actively invest in the business to grow. As a result, every now and then it shares some of those extra proceeds with investors such as myself. While I'm not expecting much dividend growth going forward here, a decent starting yield of ~4% and the occasional special dividend make it worthwhile.
Having looked at the dividends received through the quarter, I'd like to also include some additional considerations from the past three months.
Q1 Stock Additions
The most noteworthy portfolio news to share is the addition of both Canadian National Railway Company and Canadian Pacific Railway Limited (NYSE:CP). These companies are the two major railroad players in the Canadian market.
While I consider CNI to be the stronger of the two, I added some CP to spread out my holdings. I've been following both companies for close to a decade but have never been excited about their low initial dividend yields. Nevertheless, CNI in particular has increased its dividend for 20 consecutive years and sports a fantastic dividend growth rate, clocking in at 17% averaged annually since its IPO in 1995. CP's dividend has been steady since 2012 and has seen growth at uneven intervals prior to that as well.
I am betting as much on the overall Canadian rail sector as I am on these two companies with my investment here. I plan to hold my CP shares and add to my CNI position on dips below my entry point; I haven't had the opportunity yet as my shares are up ~8% since my purchase in early February.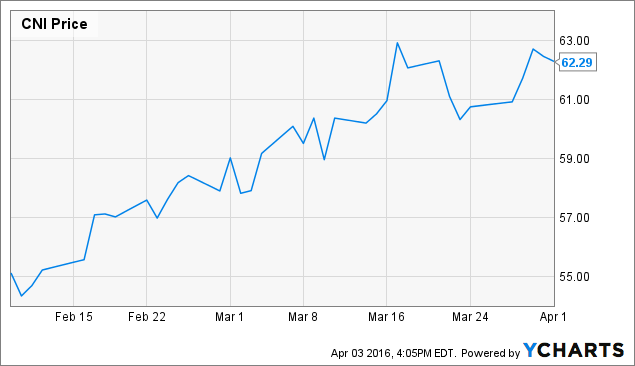 CNI data by YCharts
As far as dividend reinvestment goes, I have all of my companies set to automatically DRiP with my discount broker. With that said, only synthetic dividend reinvestment is allowed; direct reinvestment only occurs in whole shares with the fractional amount deposited to my account in cash.
Conclusion
Overall, this has been a satisfying quarter on the dividend front. I made several stock acquisitions through 2015 that are beginning to churn out dividends and should see 2016 totals well above what I have achieved in the past.
Based on the figures above and assuming a few more purchases through the year, I estimate that I am on track for ~$2,300 CAD and ~$300 USD, which would exceed my goal for 2016 as per my Five Year Plan.
Thank you for reading.
Full Disclosure: Long TD, RIOCF, JNJ, BCE, CM, JCOUF, CBYDF, BNS, TU, RCI, FRTSF, CDUAF, CNI, CP, WM, MCD, YUM, PEP, WMT
All Canadian companies are held in CAD on the Canadian exchange.
Disclosure: I am/we are long TD, RIOCF, JNJ, BCE, CM, JCOUF, CBYDF, BNS, TU, RCI, FRTSF, CDUAF, CNI, CP, WM, MCD, YUM, PEP, WMT.
I wrote this article myself, and it expresses my own opinions. I am not receiving compensation for it (other than from Seeking Alpha). I have no business relationship with any company whose stock is mentioned in this article.
Editor's Note: This article discusses one or more securities that do not trade on a major U.S. exchange. Please be aware of the risks associated with these stocks.