Apple (NASDAQ:AAPL) released its new iPhone SE a few days ago to fill a gap in its line and offer a powerful smartphone to budget-conscious consumers apparently salivating for the opportunity to buy an iPhone. The world pretty much yawned.
Four days after the iPhone SE launch, Fiksu.com reports that a staggering 0.1% of iPhone users now use an iPhone SE. The total installed base of iPhone is reportedly somewhere around 427 to 550 million (I am inclined to believe the lower number, but its accuracy is incidental). Zero-point-one percent of even 550 million is somewhere around half a million units of the new iPhone SE. That uptake is about one-third of the dismal reception of the iPhone 5C.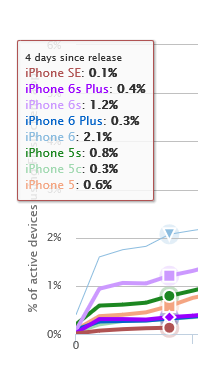 Source: Fiksu.com
The underwhelming sales seem to have seen little benefit from heavy promotion. For example, Wal-Mart (NYSE:WMT) is offering the iPhone SE for $299. There are no reports of lineups around the block at Wal-Mart stores or of hordes of shoppers trampling each other to get one.
There may have been longer line-ups for the new Tesla (NASDAQ:TSLA) Model 3 than for the iPhone SE.
The Fiksu data were bolstered by a similar report from Localytics, which saw lackluster iPhone SE sales over the launch weekend.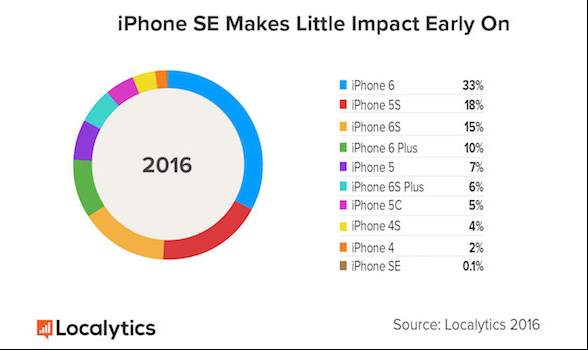 Source : Mac Rumors
Noted analyst Ming-Chi Kuo of KGI Securities now sees 2016 iPhone sales below 200 million units, well below the 217.5 million figure I projected not that long ago in another SA article, in which I saw 2016 earnings of about $8.00 a share. Brean Capital is a bit more bullish than Ming-Chi Kuo calling for iPhone sales of 216 million, about the same as my earlier projection.
Apple investors better hope Brean is a better forecaster. Take out another 17.5 million iPhones and you would see $12 billion less in sales and something like $0.33 less in earnings per share. The good news is that few of the iPhones would seem to be the newer lower-priced ones given their poor reception.
Apple is no longer a growth story, and in my view will soon cease to be a profit story. Lower iPhone sales mean lower sales and profits, weaker cash flows, fewer buybacks and ultimately a lower share price. The weak reception of the iPhone SE should be no surprise - consumers can buy a used iPhone 6 for less and sacrifice nothing in doing so.
I am short the stock through put options at a $111 strike.
Disclosure: I am/we are short AAPL.
I wrote this article myself, and it expresses my own opinions. I am not receiving compensation for it (other than from Seeking Alpha). I have no business relationship with any company whose stock is mentioned in this article.