All 5 Of Our Top Dividend Stocks of 2016 Outperformed the S&P 500 in the First Quarter
We are pleased to announce that all five of our top dividend stocks in 2016 have outperformed the S&P 500 index for the quarter by a wide margin. Our top two stocks, Exelon (NYSE: EXC) and Cummins (NYSE: CMI), beat the S&P 500 by over 28% and 24%, respectively for the quarter. These performances exceeded even our high expectations for the five stocks. The original article entitled "Retirement Investing: Top 5 Dividend Stocks for 2016" can be found here. With the S&P 500 essentially flat for the quarter, the other three stocks easily surpassed the index with Altria (NYSE: MO) returning 7.6%, Staples (NASDAQGS: SPLS) gaining 16.5% and the Southern Company (NYSE: SO) appreciating by 10.6%. The returns were driven by many company and industry specific factors but we think the outperformance by the group is in the early stages. For example, Exelon recently closed its $6.8 billion acquisition of Pepco Holdings (NYSE: POM) after receiving final regulatory approval by the D.C. Public Service Commission and the integration of the company appears underway. This transaction will be accretive to Exelon and will be a significant driver of EPS growth over the next several quarters.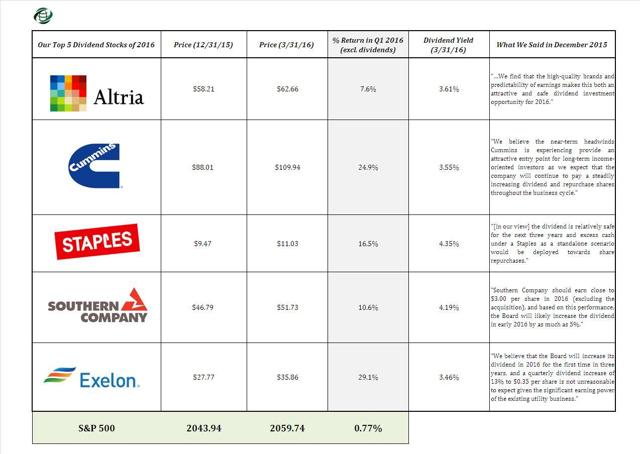 Staples has also shown recent strength as the company steps closer to completing its acquisition of Office Depot. The FTC's case against Staples may be on the verge of being dismissed, which would clear the way for Staples to close the transaction and begin realizing significant cost saving synergies in the second half of 2016. Admittedly, Staples was one of the five stocks that many readers remained skeptical with respect to the financial strength of the company and its ability to continue to fund its dividend. We believe that Staples' earning power will improve even further following the Office Depot acquisition and this development will benefit dividend investors over the next 12 to 18 months.
Furthermore, Altria steadily gained during the quarter following impressive Q4 2015 results and robust EPS growth expectations in 2016. Management issued guidance for the full year of 2016 and expects adjusted diluted EPS to be $3.00 to $3.05 per share or 7% to 9% growth over 2015. In our view, each of the five stocks on our list will continue to outpace the S&P 500 through the remainder of 2016 and we believe Altria in particular is in a position to continue its momentum as there are several near-term catalysts and the company currently trades at a reasonable valuation.
Altria Is Positioned To Continue Momentum
Altria's stock has surged 23.2% over the past twelve months from $51.19 to the current price of $63.06 per share. While the price performance over the past quarter was modest compared to the top performers in our top five picks for 2016, we expect the stock to climb through year-end as management delivers a superior operating performance and the Board declares a special one-time dividend to distribute the proceeds from the AB InBev and SABMiller merger to shareholders.
By all measures 2015 was a very strong year for Altria shareholders. Management delivered 9% growth in diluted adjusted EPS and returned $4.2 billion in cash through dividends. Philip Morris USA's retail market share increased to 51.4% in the fourth quarter and we expect this trend of share gain to continue for Altria behind the strength of Marlboro L&M. Additionally, the smokeless product segment realized higher pricing and strong volume growth with shipments increasing 2.5% for the year. We believe the underlying strength in both Philip Morris USA and Smokeless Tobacco will continue as lower gas prices persist and wage growth modestly increases in 2016.
We believe the superior operating performance in 2016 will also be driven by the productivity initiative management launched this year that aims to maintain Altria's cost leadership position by reducing $300 million in expense in SG&A infrastructure and overhead functions by 2017. By re-allocating the savings from this initiative towards brand building and regulatory capabilities, we expect to see the top-line benefit over the next 24 months. Additionally, much of the savings is likely to flow to the bottom line and allow management to achieve our projected 2017 EPS of $3.44 per share. This performance would exceed consensus estimates for 2017 EPS by 4% and we believe is very realistic given the decent tailwinds in consumer confidence and management's plan to right-size the existing cost structure of the company.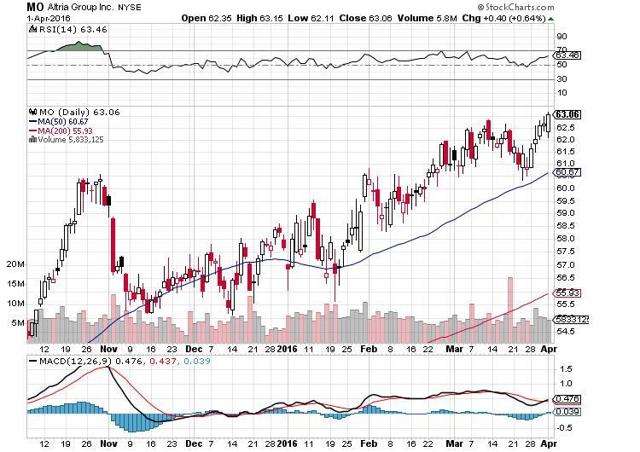 (Source: Stockcharts.com)
In Our View, The Most Significant Catalyst Will Follow The Closing of the AB InBev-SABMiller Acquisition In The Second Half of 2016
The AB InBev-SABMiller merger remains subject to shareholder and regulatory approval, but we expect the transaction to close in the second half of the year. Upon completion of the merger, Altria will receive (1) a 10.5% equity interest in the combined entity and (2) $2.5 billion in cash subject to taxes. Assuming that the after tax proceeds of the cash consideration is ~$1.5 billion, we believe the best use of the cash for shareholders is to distribute the amount to shareholders in the form of a one-time special dividend. With 1.96 billion shares currently outstanding, Altria's Board will be in a position to declare a one-time dividend of $0.77 per share before year-end. This payout would be excluded from the Board's target of an 80% annual earnings payout and we would expect the Board to declare, separately, a dividend increase to its quarterly payout currently at $0.565 per share. In our view, this action is in the best interests of shareholders as a repurchase program is not very attractive unless Altria's shares are trading at a considerable discount to fair value.

We believe the current market valuation is reasonable at a forward P/E of 20.7X and an EV/EBITDA of 15X and approximates the fair value of the company. But the company's valuation is certainly not cheap and does not warrant using the $2.5 billion in proceeds to pay full price for the shares. Furthermore, the company's existing leverage is reasonable and appropriate given the stability of Altria's earnings and projected growth in 2016 and 2017. The current debt to equity ratio is ~4.5 and in 2015, Altria generated operating income of $8.4 billion compared to interest of $817 million. The interest coverage and total indebtedness is certainly conservative for a company of Altria's financial strength and leading market positions in cigarettes and smokeless tobacco. We do not believe shareholders would benefit from a reduction in annual interest expense of ~$80 million as much as they would from receiving a one-time dividend of $0.77 per share.
Conclusion: Long-Term, Income-Oriented Investors Can Expect Momentum In Altria To Continue
In our view, the operating performances of Altria's underlying cigarette and smokeless tobacco businesses are showing no signs of slowing down and favorable economic tailwinds such as lower gas prices, lower unemployment, and modest increases in wages will drive demand in 2016. We believe management's recently announced productivity initiative and cost saving program will also contribute to margin expansion over the next two years as $300 million in annual expense is eliminated. And finally, the cash proceeds from the AB InBev-SABMiller transaction are likely to be returned to shareholders in the second half of 2016 in the form of a one-time special dividend. This shareholder-friendly action would result in total dividends in 2016 of more than $3.00 per share. For these reasons, we remain confident in Altria in 2016 as one of our top five dividend stocks.
Disclosure: I am/we are long MO.
I wrote this article myself, and it expresses my own opinions. I am not receiving compensation for it (other than from Seeking Alpha). I have no business relationship with any company whose stock is mentioned in this article.