Overview
On 3/31/16, Rex Energy Corporation (NASDAQ:REXX) completed an oft-delayed exchange offer that was designed to significantly reduce near term liquidity needs by reducing required interest payments. In order to induce debt investors to accept the deal, REXX provided debt investors with a second lien security interest in its assets and a dollop of potential equity upside in the form of shares of common stock. In sum, REXX issued $633.7 million in new second lien notes due 10/1/20 (the 2nd Lien Notes, CUSIP 761565AE0) and 8.4 million shares of common stock for $633.1 million in existing notes. This then leaves some $41.9 million in existing notes outstanding. Below is my estimate of REXX's pro forma capitalization as of the completion of this exchange offer.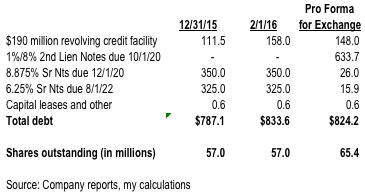 Note that the balance on the revolving credit facility was reduced by $10 million as REXX had to repay $10 million due to a contraction in the borrowing base from $200 million to $190 million. Further note that not all participants in the debt exchange offer opted to accept shares of common stock and instead chose to receive additional 2nd Lien Notes in lieu of such stock. This accounts for the slight $0.6 million increase in principal amount of the 2nd Lien Notes.
One purpose of the exchange offer was to reduce demands on REXX's near term liquidity. I estimate that REXX's cash interest costs would decline from $51.4 million on an annualized basis (excluding interest attributable to the revolving credit facility) to only $9.6 million. Once the first three coupons are paid on the 2nd Lien Notes at 1%, though, the interest rate ratchets up to 8%. Once this happens, annualized cash interest will increase to $54.0 million (excluding any interest attributable to amounts outstanding under the revolving credit facility). This suggests that REXX has an 18-month window in which to sort out its operations and improve its financial situation.
So, what is REXX doing with respect to these issues? There are effectively three categories of issues that REXX needs to address. These are 1) midstream capacity, 2) capital efficiency and 3) enhancements to liquidity.
Midstream Capacity
While production in the Marcellus/Utica grew rapidly, midstream capacity has been challenged to keep pace. As a consequence, differentials in the region with respect to Henry Hub pricing have historically been significant. For example, the differential between Leidy Hub and Henry Hub pricing per MMBtu was recently $0.64 but has fluctuated significantly over time.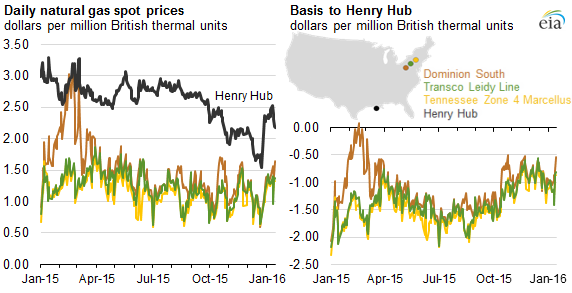 Source: U.S. Energy Information Administration, based on Natural Gas Intelligence
Other transportation and processing constraints in the region have negatively affected the price of NGLs, including ethane. Midstream companies have increased their investment in the region and it is widely expected that such increased capacity will reduce differentials. In the case of REXX, it expects improvements in firm transportation (e.g. 130 MMcf/d slated for the Gulf Coast to commence in November 2016), marketing (additional C3+ sales to commence in 1Q17) and other, including its sales agreement with Ineos Europe AG. In short, midstream capacity is increasing in the region as Mariner East and West, among other midstream entities, increase capacity.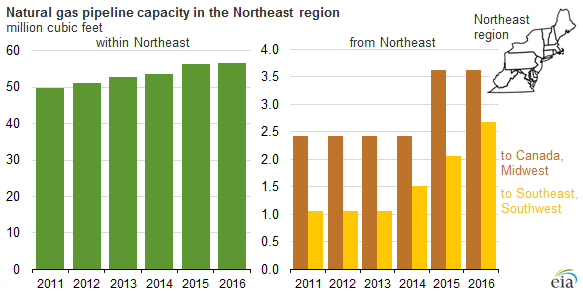 Source: U.S. Energy Information Administration, natural gas pipeline State-to-State Capacity and Pipeline Projects spreadsheets Note: Capacity in 2015 reflects a combination of existing and planned or under-construction projects. Capacity in 2016 reflects only planned projects.
With all these developments, I would expect that natural gas prices would converge and thereby lead to improving realizations in for natural gas produced from Marcellus and Utica Shales. As a leading player exploiting these shales, REXX is a likely beneficiary.
Capital Efficiency
Given its limited resources, REXX clearly needs to focus on capital efficiency when spending its capex dollars. In its March 2016 corporate presentation, REXX demonstrates that it has made some headway on this score. REXX has demonstrably increased the productivity of its Butler County wells by almost 51% in when comparing 30-day initial production rates and reduced first year decline rates on average from 54% to 44% while reducing well costs from approximately $6.5 million at year-end 2012 to approximately $4.8 million at year-end 2015.
Liquidity Enhancements
Earlier this year, REXX drew down almost the entirety of its availability under its revolving credit facility which left the company with cash of approximately $25.9 million. As part of its negotiations with its banks to permit the exchange offer, REXX committed to a borrowing base reduction of $10 million to $190 million, necessitating a $10 million pay-down that would have left the company with liquidity of approximately $15.9 million. Further, as part of the debt exchange process, REXX committed to paying in cash any accrued interest on the 8.875% Senior Notes and 6.25% Senior Notes tendered in the exchange. Based on the amounts indicated, I estimate that these payments would have aggregated approximately $13.7 million, which would have exhausted the company's available liquidity.
In early March 2016, though, REXX had entered into a joint venture arrangement with an affiliate of Benefit Street Partners or BSP such that BSP would provide up to $175 million for past and prospective drilling efforts in order to earn a stake in REXX's acreage in the company's Moraine East and Warrior North operated areas. At the time of the announcement, REXX indicated that it had drilled and completed twelve Moraine East wells and three Warrior North wells. When these were turned to sales, BSP would pay REXX $20 million for a 15% stake in the twelve Moraine East wells and a 65% stake in the three Warrior North wells. However, based upon company disclosures in its March 2016 corporate presentation, this deal came at a price.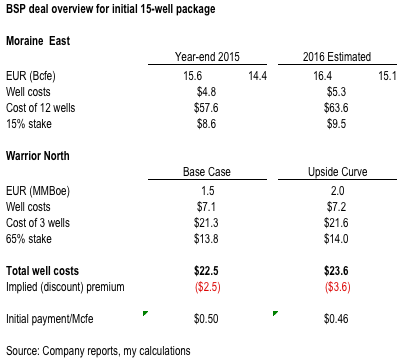 Regardless of the cost, REXX will receive or received a much needed shot of liquidity from this transaction.

Other Considerations
With increased takeaway capacity that will hopefully result in better pricing, improved capital efficiency along with a source of (expensive) capital funding and a vastly improved near-term liquidity outlook, REXX appears to be better positioned to weather the next 18 months. If needed, though, REXX has two other sources of potential immediate near-term liquidity. The first is its existing hedge book. At 12/31/15, the mark-to-market value of its hedges was approximately $35.8 million. The other is its Illinois Basin oil properties. While relatively small with reserves of only 3.4 MMBoe, I believe that REXX could realize in excess of $18 million in proceeds from the sale of these properties. While its revolving credit facility lenders would likely demand a significant portion of any monetization proceeds, it is likely that REXX would be able to retain some for its own use.
1Q16 Estimated Performance
Based on the company's guidance, I developed the following simple model to gauge the company's 1Q16 financial performance.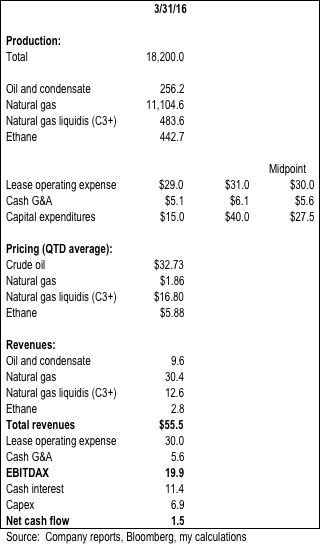 Based on this model, it appears that REXX will operate at or near cash flow breakeven in 1Q16.
Positive considerations
Adequate near-term liquidity due to cash interest holiday and BSP cash infusion.
Available assets that could be monetized to further enhance liquidity. Increasing capital efficiency.
Improved natural gas take-away capacity and the possibility of higher commodity price realizations as Henry Hub and Leidy Hub prices converge.
Improved NGL off-take arrangements and marketing.
LNG exports.
Concerns
Continuing natural gas supply/demand imbalance.
Potentially unfavorable weather conditions.
Infrastructure enhancements do not occur or are delayed.
Export arbitrage opportunities become unfavorable.
Trade Idea
The completion of the exchange offer suggests that REXX has sufficient liquidity for the next several months. In support of this contention, note three factors. First, my 1Q16 model suggests that the company will be effectively cash flow neutral. Second, BSP is making a capital infusion in the company. Third, the institutional investors who participated in the recent exchange likely did so thinking that they would not fall afoul of preference period issues under the Bankruptcy Code. This last is important for if REXX were to seek bankruptcy protection within the next several months, this exchange offer transaction could be voided. Below, I lay out the market adjusted values for REXX's capital structure.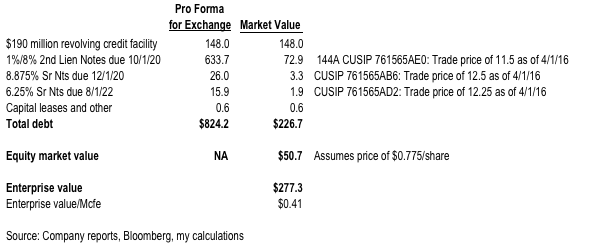 If, for example, I think about the remaining 8.875% Senior Notes (CUSIP 761565AB6), assuming REXX survives through year-end 2016, an investor would receive interest payments netting approximately $59 thousand on an investment of $125 thousand. Realizing these payments would significantly buy down one's basis in the underlying investment. If REXX were to make the subsequent coupon payment on 6/1/17, an investor would have recouped over 80% of his initial investment. If REXX were to pay both coupons in 2017 on the 8.875% Senior Notes in my example, an investor would more than recover his original basis and would still retain an interesting option on the value of the firm. Note this strategy is not without risk as it depends on the price of natural gas and the presumption that REXX will be able to maintain adequate liquidity. While the twelve-month natural gas strip has appreciated to $2.47/MMBtu since hitting a recent low of $2.11/MMBtu in late February 2016 and there appear to other potential positives on the horizon (increased treating and transportation options for Marcellus/Utica natural gas production, LNG exports, increased natural consumption by utilities, reduced associated natural gas production, etc.), REXX's options for improving its liquidity position are limited. Still, with the costly assistance of BSP, it appears that REXX has adequate near term liquidity and so I think an investment in the non-exchanged 8.875% Senior Notes has some speculative merit.
Summary
REXX appears to have addressed its near term liquidity issues as the result of the recently completed exchange offer and the capital infusion from BSP. The reduction of regional transportation and treating bottlenecks coupled with increased off-take, especially in the form of exports, could bolster natural gas and NGL pricing, thereby helping to assuage future liquidity concerns. With this in mind, at current prices, the REXX 8.875% Senior Notes appear to have some speculative appeal given the prospects for what I will call a near term return of capital and as an option of the future value of the firm.
Disclosure: I/we have no positions in any stocks mentioned, and no plans to initiate any positions within the next 72 hours.
I wrote this article myself, and it expresses my own opinions. I am not receiving compensation for it (other than from Seeking Alpha). I have no business relationship with any company whose stock is mentioned in this article.
Editor's Note: This article covers one or more stocks trading at less than $1 per share and/or with less than a $100 million market cap. Please be aware of the risks associated with these stocks.