Over the weekend I examined the prospects of Verizon Communications (NYSE:VZ), and now I want to look at the other U.S. telecommunications giant AT&T (NYSE:T).
The telecommunications or "telco" industry has long been a safe haven for investors due to its stable and slow, but consistent annual growth. The typically high current yields have earned these companies the nicknames of being "widows and orphans" stocks.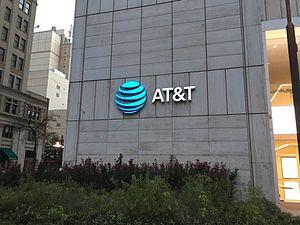 AT&T has a 32-year dividend growth streak, earning it the title of Dividend Champion. Annual growth has stalled since 2008, inching forward by just 2% annually. Unfortunately, as we'll examine later, that is likely to continue due to large capital expenditures and high debt load.
Since intiating a position in AT&T in 2011 and adding more in early 2015, I've been more than pleased with the results. I've since received over 11.7% of my investment back in cold hard cash and generated over a 15% rate of return. Even better is the 11% cumulative organic dividend growth from my first shares which, according to USInflationCalculator, has more than doubled the cumulative 5.4% inflation over the same time period.
Shares of AT&T hit an intra-day low of $33.41 on January 8th. In an apparent "flight to safety," the share price has since increased 16.9% to Friday's closing price of $39.06. For a stodgy, slow moving company like AT&T, rapid share price appreciation like that has pushed me to update my valuation on the company to see if now is the time to take some profits.
Prior to making a decision to sell, I always take the opportunity to reevaluate my thesis and update my value of the company. Since the share price does not equal the true worth of the company, investors must decouple share price changes from the worth their shares represent.
How about that dividend?
At this stage of the game, the telco sector is very mature, especially in the domestic market. As such, the sector traditionally offers solid yields and consistent, yet sometimes underwhelming, dividend growth year after year. AT&T is one of two telecommunications companies found on the Dividend Champions spreadsheet kept by David Fish. They've amassed an impressive 32-year dividend growth streak.
The following chart shows the annual dividend payment from AT&T since 2001 based on fiscal year payouts.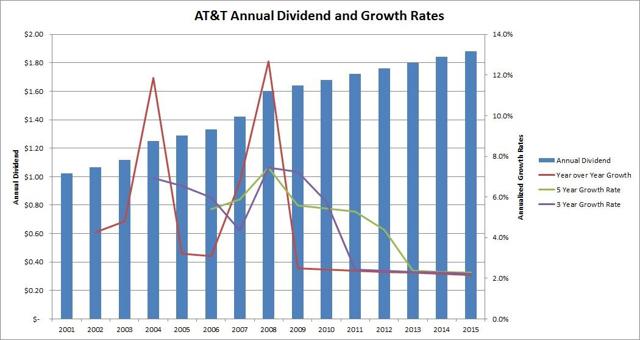 At the start of the period, dividends marched forward, but it was anything but consistent. The first 6 years saw year over year growth of 4.3%, 4.8%, 11.9%, 3.2%, 3.1% and 6.8%. I doubt many will complain about the end result being a rising income stream.
No that's not an error for the last 7 years as the quarterly payout has risen by just $0.01 per share per quarter each year. That amounts to just 2% annual raises.
Until the high debt load is addressed, dividend growth is likely to continue in the 2%-3% range.
Historic Metrics
The telco sector faces plenty of headwinds, heavy price competition and declining wireline users, but AT&T has continually grown the top line. Operating revenue has only shown one year over year decline, 2009 compared to 2008, which was only a 0.8% decrease.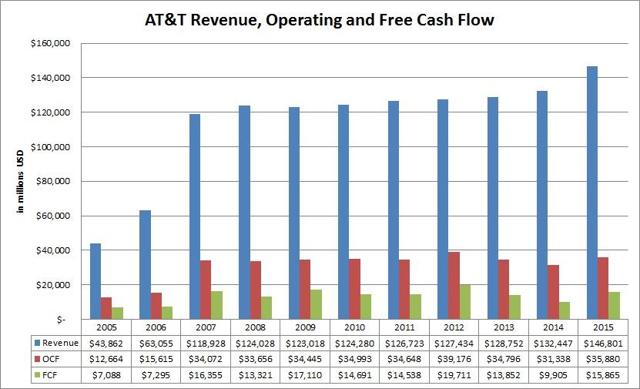 The slow and steady nature of the business is what allows AT&T to continually grow the dividend year after year.
The following table shows the rolling 3-year annualized growth rates for revenue, operating cash flow, capital expenditures and free cash flow.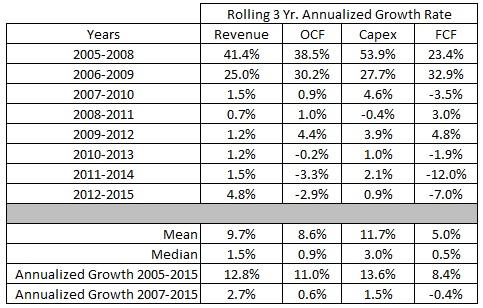 Growth was very strong at the beginning of the period, but that was largely due to the acquisition of Bell South, which closed in late 2006.
To tease out the true operational growth, I've included the annualized growth from 2007 through 2015. Revenues have only marched higher by 2.7% over that time.
It was hard to see the relationship between all 4 factors in the previous chart, so I like to look at them in number form. Operating cash flow has lagged revenue growth by 78%, amounting to just 0.6% annualized growth. Free cash flow has actually shown a decline since 2007.

AT&T has strong operating cash flow margins with averages of 25.0%, 26.6% and 27.0% for the last 3, 5 and 10 years. Free cash flow margin for the same periods has averaged 9.7%, 11.2% and 11.8%, respectively.
The numbers don't lie and AT&T has seen a slow decline in their cash generation, although 2015 has shown a return to higher margins and could be the start of improvement on these metrics.
Surprisingly, AT&T fared significantly worse than Verizon when it comes to cash generating efficiency.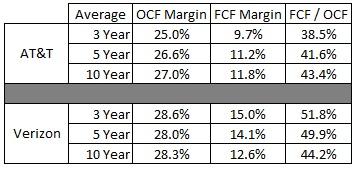 AT&T doesn't fit the mold of a typical GAAP income statement due to their large capital expenditures and associated debt, which comes with non-cash charges against net income. That's why I prefer to look at cash flow, specifically a few variations of free cash flow to see how much cash management has at their disposal at various steps of the process.
Free Cash Flow, FCF - The traditional calculation for free cash flow of operating cash flow less capital expenditures.
Free Cash Flow after Dividend, FCFaD - FCF less the total amount of cash paid to shareholders via dividends.
Free Cash Flow after Dividend and Buyback, FCFaDB - FCFaD less net cash from share buybacks.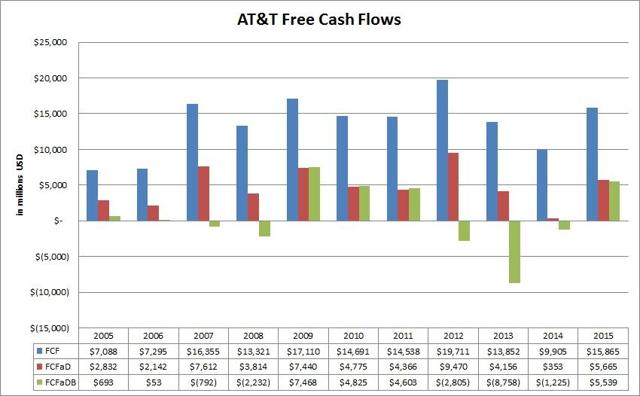 In terms of gross numbers, AT&T's free cash flow is impressive, with $73.8 B in free cash flow over the last 5 years. The problem though is the growth in free cash flow, which, as mentioned earlier, has stalled. After paying the dividend, AT&T has still generated over $24 B in excess cash flow over the last 5 years.
The problem comes when we look at how much cash is left after the buyback program. AT&T hasn't had a consistent history of buybacks, and based on the numbers, it looks like they try to make strategic moves regarding share repurchases. Despite a hefty $24 B in FCFaD to support the buyback program, AT&T has seen a -$2.6 B FCFaDB cumulatively over the last 5 years.
Determining a Value for AT&T
A company is worth the sum of all its future cash flows and discounting them to the present. This process is the discounted cash flow analysis. Before we get started, we first need to set some general information and assumptions so we have a common starting point.
The current share price is $39.05.
Analysts expect revenue to grow 13.7% for 2016 over 2015 and 1.9% for 2017 over 2016.
Assume that total revenue will grow at a 2.0% annual rate for years 2018 through 2025 and 1.5% annually in perpetuity.
A discount rate or required rate of return of 10% will be used to calculate the net present value of the future cash flows.
Diluted shares outstanding at the end of 4Q2015 were 6,195 M.
Capital expenditures will grow at 3% annually through 2025 and then track revenue growth in perpetuity. Management expects capital expenditures in year 1, 2016 to be near $22 B.
Case 1 - Minimum OCF Margin from the 3-year, 5-year and 10-year averages from above. This gives an OCF margin of 25.0% and Year 1 Capex of $21.5 B.
Case 2 - Maximum OCF Margin from the 3-year, 5-year and 10-year averages from above. This gives an OCF margin of 27.0% and Year 1 Capex of $21.5 B.
Case 3 - Minimum OCF Margin of 25.0% and Year 1 Capex of $22.5 B.
Case 4 - Maximum OCF Margin of 27.0% and Year 1 Capex of $22.5 B.
Case 1: Minimum OCF Margin & Minimum Year 1 Capex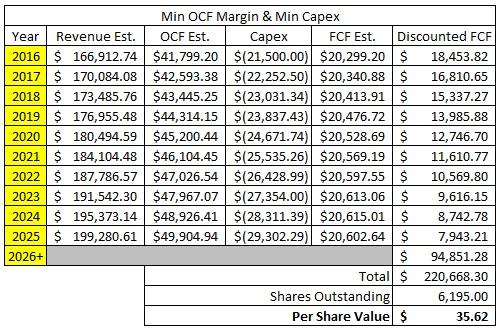 Case 2: Maximum OCF Margin & Minimum Year 1 Capex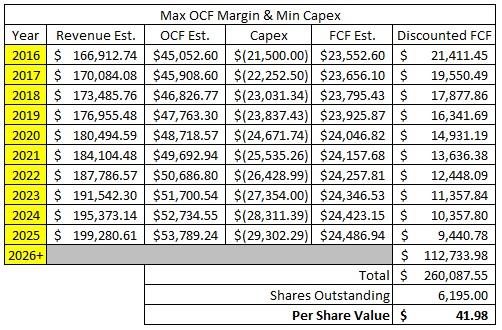 Case 3: Minimum OCF Margin & Maximum Year 1 Capex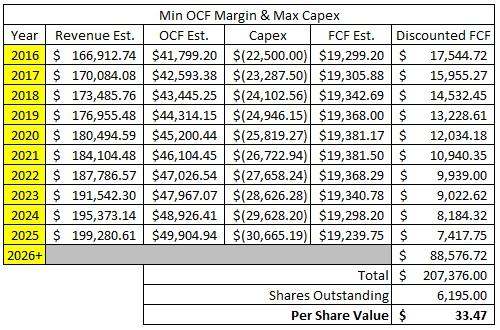 Case 4: Maximum OCF Margin & Maximum Year 1 Capex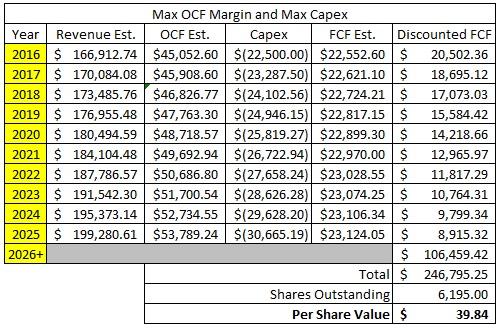 AT&T is trading at a significant premium to the future expected cash flows based on this analysis. The current share price would be trading between a 7% discount and a 17% premium to the calculated values.
Issues with the model
Quite often I see authors/analysts speak in absolutes when it comes to valuing a company. The truth is that forecasting changes is nearly impossible, especially when dealing with investment analysis that have millions of variables that effect the outcome. In the name of being open and honest, I like to point out the potential issues with this valuation model to know the possible sticking points and to improve my future analyses.
Issue #1
This model is highly dependent on future revenue assumptions. If revenue comes in higher than forecast in this model then the current value of AT&T is higher. Likewise if growth comes in lower then the value of the company is lower.
The domestic telecommunications industry is nearly saturated and wireless service has largely become a commodity with no real distinction of service for most consumers between the competitors. This places a drag on the pricing power of these companies. However, AT&T recently closed their acquisition of DirecTV, which gives them a growth aspect especially in the Mexico/Latin America region, which is seeing growing demand for satellite/television as well as wireless services.
If annual revenue growth between 2018-2025 is 3.0% as opposed to the 2.0% from above, the value of the shares ranges from $37.84 to $46.68. The current share price compared to the value would range from a 16% discount to a 3% premium.
Issue #2
Operating cash flow margins were assumed to be static in this analysis at 25% and 27%. In reality these values will vary from quarter to quarter. If operating cash flow margins improve in the future, then the value of AT&T will increase and if they decline, the value is lower.
Historically AT&T had maintained operating cash flow margins around 27%-28% with a high margin of 30.7% in 2012, suggesting there's room for improvement through efficiency gains. However, operating cash flow margins have only been near 24% over the last two fiscal years.
Issue #3
The large capital expenditures that AT&T has to do on a yearly basis come with a large serving of debt. At the end of 2015 AT&T had over $129 B of long-term debt on their books with $45.5 B due over the next 5 years.
| | |
| --- | --- |
| | Debt Due (in millions USD) |
| 2016 | $7,383 |
| 2017 | $10,423.5 |
| 2018 | $10,423.5 |
| 2019 | $8,661 |
| 2020 | $8,661 |
In the 10-K filed for fiscal year 2015 management stated, "With the completion of the DIRECTV acquisition, our priority will be to use free cash flow (operating cash flows less construction and capital expenditures) after dividends to pay down debt."
Now we must see if the cash flow can support it or it AT&T will need to roll over debt as it comes due. Case 3 from above is the worst case scenario in terms of cash flow generation with the assumed low OCF margin and maximum initial capex. Using 2% annual dividend growth, AT&T would only generate $34.5 B in total FCFaD, which falls well short of the debt service requirement.
That's an $11.1 B shortfall that management will need to roll over into new debt unless cash flow can improve further through combination of faster revenue growth, cost cutting and synergies/upselling with DirecTV.
In the best cash flow situation from above, Case 2, AT&T would generate $11.2 B in excess cash flow after reducing the debt.
Issue #4
The model also assumes that every investor is requiring a 10% return from their AT&T investment. However, every investor is at a different stage and has varying return requirements. Given the relatively stable nature of AT&T, investors might be willing to accept a lower return due to a higher confidence in the safety of the return.
The great thing about building valuation models is that it's easy to calculate what kind of returns investors are willing to accept.

Conclusion
The telco industry has long been a source of investment income and AT&T is the quintessential "widows and orphans" stock due to its reliable and steadily growing dividend.
The rapid increase in share price has been a flight to safety for investors with concerns over a flailing domestic and global economy. Unfortunately that has taken AT&T's share price into rather expensive territory for new investment capital.
The current debt load for AT&T will continue to be an anchor slowing down growth capital and dividend growth opportunities for investors.
In a best case scenario, the shares are trading around fair value and without any margin of safety for a very capital intensive and commoditized business.
I have no intention to sell my AT&T shares, however, the current share price is at a level where value is gone and collecting the dividend is likely to be the best option. Investors would be wise to wait for better entry points for capital earmarked for AT&T shares.
Disclosure: I am/we are long T, VZ.
I wrote this article myself, and it expresses my own opinions. I am not receiving compensation for it (other than from Seeking Alpha). I have no business relationship with any company whose stock is mentioned in this article.
Additional disclosure: I am not a financial professional. Please consult an investment advisor and do your own due diligence prior to investing. Investing involves risks. All thoughts/ideas presented in this article are the opinions of the author and should not be taken as investment advice. Information from this article was sourced from Yahoo Finance and AT&T Inc.'s SEC filings. All chart/images presented in this article were created by the author unless otherwise noted.