By Columbia Threadneedle Investments Global Asset Allocation Team
Global Asset Allocation Outlook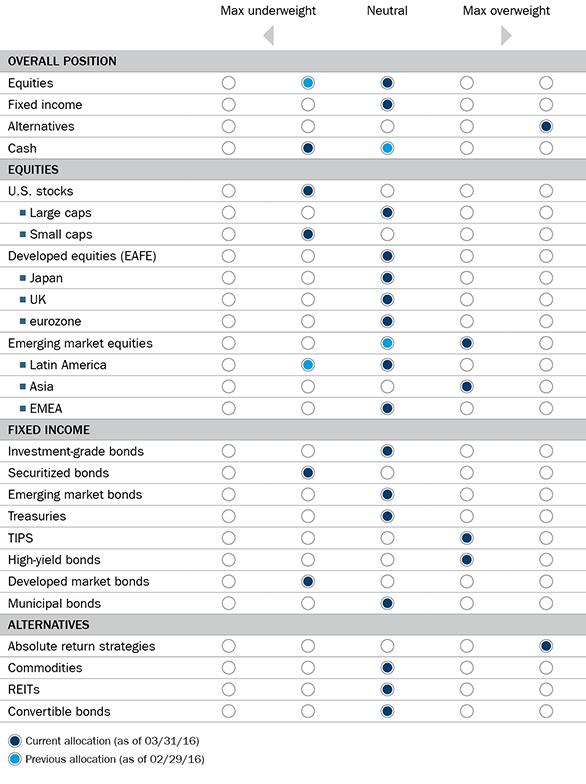 Source of asset allocation table: Columbia Management Investment Advisers, LLC, March 31, 2016. Individual asset class exposure in managed products may differ from the graphic above.
Equities: While our investment clock research still portrays an economy in contraction, other components of our process have improved to the extent that we no longer support an underweight to equities. Our market state classification and equity scorecard both give a neutral reading. In addition, several key headwinds have abated, including central bank hawkishness, commodity price weakness and credit market stress. Portfolio shifts to accommodate this change are not especially well-timed after a considerable rally, but we should take care not to allow further equity market strength to harm performance in a material way. Importantly, markets outside of the U.S. remain well below last year's highs. From a valuation perspective, we think there may be better opportunities in non-U.S. equity markets. For now, we have upgraded equities to a neutral recommendation.
Within equity allocation: Because country-specific allocation views have not been lucrative of late, we do not emphasize them in our current strategy. We remain neutral across developed equities and underweight small caps. The downward trend in the U.S. dollar, even if temporary, may present an opportunity for recovery in the asset classes most beleaguered by a strong USD. Emerging market overweight is beginning to look more interesting in light of improved relative performance, so we increase our emerging equity allocation to overweight. We leave the EM Asia overweight intact and upgrade EM Latin America to neutral.
Fixed income: Bonds have outperformed stocks on a year-to-date basis, and we maintain a neutral recommendation. Negative yields and current low levels of inflation call into question the very definition of low rates. Meanwhile, we have seen the return of negative correlation to equities, which was sorely missing last year. One portfolio management aspect that could take the sting out of a late increase in equity allocations is a neutral duration profile, as bonds have offered useful diversification this year during times of equity stress. Overall fixed income remains neutral.
Within fixed-income allocation: We maintain a neutral recommendation for investment-grade bonds, emerging market bonds and Treasuries. While we retain a modest overweight to high-yield credit as a substitute for equity risk, we are watching the macro backdrop closely as the seasonal strength in high yield has been noticeably lacking. Other sectors are mixed, and we are positioned with a modest overweight to TIPS and an underweight to securitized bonds and non-U.S. developed market bonds. Overall allocations within fixed income remain unchanged.
Alternatives: We maintain our overall overweight for alternative investments based on the high need for diversification in case volatility resumes following the recent stock market rally. Alternatives can also serve as a hedge against a renewed loss of diversification efficacy from bonds. Recent strength in alternative beta performance may signal renewed dependability for factor-based strategies.
Within alternatives allocation: No change. However, we note the strong recovery in oil prices and remain alert to the prospect of a downgrade to commodities as oil approaches $50 a barrel.
Cash: Having moved from maximum underweight to neutral in cash over the second half of last year, we return to modest underweight to fund an increase in equity.
Disclosure: None
Disclaimer: The views expressed in this material are the views of the author through the date of publication and are subject to change without notice at any time based upon market and other factors. All information has been obtained from sources believed to be reliable, but its accuracy is not guaranteed. There is no representation or warranty as to the current accuracy, reliability or completeness of, nor liability for, decisions based on such information and it should not be relied on as such. This information may contain certain statements that may be deemed forward-looking statements. Please note that any such statements are not guarantees of any future performance and actual results or developments may differ materially from those discussed. There is no guarantee that investment objectives will be achieved or that any particular investment will be profitable. Past performance does not guarantee future results. This information is not intended to provide investment advice and does not account for individual investor circumstances. Investment decisions should always be made based on an investor's specific financial needs, objectives, goals, time horizon and risk tolerance. Please see our social media guidelines.