Procter & Gamble (NYSE:PG) is one of the most legendary dividend stocks of all time, and for good reason. P&G has been in business for 178 years, sells its products in more than 180 countries around the world, and generates annual sales in excess of $70 billion. Many of its consumer staples products are purchased and used every day in millions of households across the world. Just a few of its brands include Charmin, Tide, Bounty, Old Spice, Head & Shoulders, Gillette, and Downy. P&G operates 21 brands that each collect $1 billion or more in annual sales.
Consumers tend to need these products no matter the prevailing economic climate, which provides the company with steady profits each year. With its earnings, the company pays its compelling dividend. It has paid a dividend for 125 consecutive years, and has raised its dividend for the last 59 years in a row.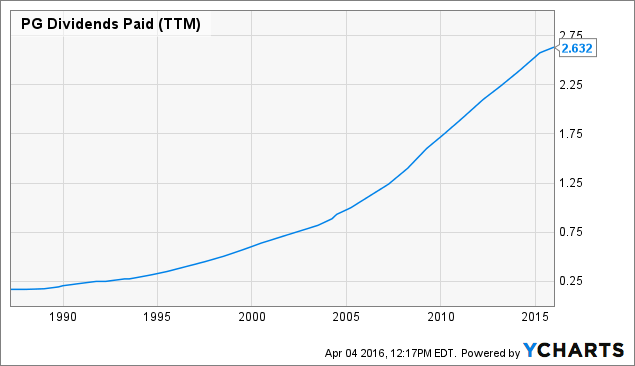 Each year around this time, P&G typically announces its annual dividend raise. Even though the company has come under pressure over the past few years from slowing growth and the headwind of the strong U.S. dollar, it's almost a guarantee the company will raise its dividend once again, in a matter of days. Here's what investors should expect for the 2016 increase.
P&G Turnaround Takes Effect, Albeit Slowly
For such a steady company, this is a surprising and rare period of uncertainty. P&G is in the middle of a significant turnaround, which is no easy task for a company with a market capitalization in excess of $220 billion. Its total revenue declined 5% in fiscal 2015, and diluted GAAP earnings per share from continuing operations fell 21% year over year. Its organic sales, which excludes foreign exchange, inched up just 1%, and that was mostly due to price hikes. Shipment volumes actually fell 1%. This is why P&G is undergoing a major divestment of many non-core brands that management does not consider to be a critical part of the company's future.
For example, P&G sold its Duracell battery brand to Warren Buffett's Berkshire Hathaway (NYSE:BRK.B) (NYSE:BRK.A) for $4.7 billion. P&G later sold a massive collection of 43 beauty brands to Coty (NYSE:COTY) for $12.5 billion. The brands sold included Dolce & Gabbana, Gucci, Hugo Boss, Cover Girl, and Max Factor, as well as the Wella haircare business. With the proceeds from these sales, P&G is buying back a significant amount of its own shares, to help boost earnings growth and to capitalize on its declining share price.
This strategy has worked, to a certain extent. Core EPS rose 9% last quarter. This year has been slightly better, in the sense that P&G is back to core earnings growth, referring to the company's continuing operations. But its organic sales grew only 2% last quarter, which means even when excluding the effects of foreign exchange, underlying demand for P&G's products continues to be weak. Compare P&G's results with that of its competitor Kimberly-Clark (NYSE:KMB), which grew its own organic sales by 5% last year, and it seems that P&G's problems go beyond foreign exchange.
This matters because dividend increases are a reflection of a company's underlying fundamentals. No company can continue to raise its dividend each year at high rates without the supporting growth to justify such increases. In P&G's case, its lack of sales and earnings growth in recent years has prompted the company to take a conservative stance on its dividend growth. For example, last year it raised its dividend by just 3%. Until the company gets organic sales and shipment volumes growing at higher rates, investors can take a double-digit dividend increase off the table.
What Should Investors Expect This Time Around?
As previously mentioned, it's a virtual certainty that the company will raise its dividend soon. The only question, then, is by how much? Will P&G be able to manage a higher raise than last year, or will management decide once again that the best course of action is to give a smaller raise, and allocate more of its earnings to fuel its turnaround and buy back stock?
In the past five years, P&G has increased its dividend by 6% per year, compounded annually. But as previously mentioned, last year's relative dud sets a worrisome precedent. If I were a P&G investor, I'd view last year as an anomaly. I expect P&G to get closer to its five-year average this time around. The company won't go too big, as it carried a 70% dividend payout ratio based on its 2015 core EPS, and many of the headwinds that impacted its dividend increase last year - namely, the strong U.S. dollar - are still intact. Management expects full-year fiscal 2016 core EPS to decline another 3%-8% based almost entirely on currency effects.
As a result, I'd peg this year's dividend increase around 4%-6%. At the midpoint of that range, 5%, P&G's annualized dividend would go to approximately $2.78 per share, which would raise its current dividend yield to 3.3%.
Disclaimer: This article represents the opinion of the author, who is not a licensed financial advisor. This article is intended for informational and educational purposes only, and should not be construed as investment advice to any particular individual. Readers should perform their own due diligence before making any investment decisions.
Disclosure: I/we have no positions in any stocks mentioned, and no plans to initiate any positions within the next 72 hours.
I wrote this article myself, and it expresses my own opinions. I am not receiving compensation for it (other than from Seeking Alpha). I have no business relationship with any company whose stock is mentioned in this article.