As has been widely reported, shares of Allergan (NYSE:AGN) fell by 21.9% in after-hours trading on Monday, following the U.S. Department of the Treasury's announcement of new regulations surrounding corporate inversions, while Treasury Secretary Jack Lew also urged Congress to enact broader legislation on this issue. Corporate inversions have been a hot button issue in US politics in recent years, and a number of high-profile firms have re-domiciled in order to benefit from more advantageous tax regimes abroad. Last November, Pfizer (NYSE:PFE) announced a groundbreaking deal, in which it would seek to complete a corporate inversion to the Republic of Ireland through its merger with Allergan in an all-stock deal that was valued at roughly $160 billion, including the assumption of debt. This is not Allergan's first inversion deal. In fact, the original Allergan merged with Actavis in a deal that closed in 2015, and the merged company assumed the Allergan name. Later, in 2015, Teva Pharmaceuticals (NYSE:TEVA) announced it would be buying Allergan's massive generic drug business for $40.5 billion. Following this flurry of M&A deals, Allergan agreed to be merged with Pfizer.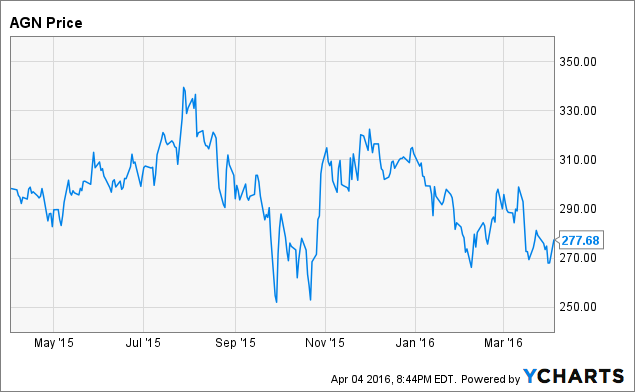 AGN data by YCharts
Unfortunately for Allergan, the Treasury Department's latest regulations announced on Monday may very well bring its inversion future to an end. Specifically, the U.S. Department of the Treasury's regulation relating to Section 7874 of the Internal Revenue Code could prove to be particularly troubling for Allergan and will likely spell the end of the Pfizer merger. The merger appears to be uniquely designed to avoid the stipulated of this tax law under Section 7874(a)(2)(B), which states that a foreign corporation would be treated as a surrogate foreign corporation if at least 60% of the shares of the acquiring foreign firm were owned by former shareholders of the acquiree. In order to avoid this, the Allergan/Pfizer merger would have seen the post-merger company's shareholder sit at a roughly 44% and 56% mix between former Allergan and Pfizer shareholders, respectively.
The U.S. Department of the Treasury's new regulations seem to directly impact Allergan and this merger. Under Section 7874 of the Internal Revenue Code, an asset transfer can be disregarded, such as under a corporate inversion. While the merger would not be deemed to involve a foreign surrogate corporation under the previous rules, the new regulations would most likely change the status for Allergan in this planned merger. The issue surrounds a new three-year look back period that was announced by the U.S. Department of the Treasury, which would exclude the stock of US companies acquired within that time period for purposes of computing the ownership percentage of the merger firm. The news release from the U.S. Department of the Treasury included the following language:
"Some foreign companies may avoid section 7874 - the tax code's existing curbs on inversions - by acquiring multiple American companies over a short window of time or through a corporate inversion. The value of the foreign company increases to the extent it issues its stock in connection with each successive acquisition, thereby enabling the foreign company to complete another, potentially larger, acquisition of an American company to which section 7874 will not apply. Over a relatively short period of time, a significant portion of a foreign acquirer's size may be attributable to the assets of these recently acquired American companies.

It is not consistent with the purposes of section 7874 to permit a foreign company (including a recent inverter) to increase in its size in order to avoid the inversion threshold under current law for a subsequent acquisition of an American company. For the purposes of computing the ownership percentage when determining if an acquisition is treated as an inversion under current law, today's action excludes stock of the foreign company attributable to assets acquired from an American company within three years prior to the signing date of the latest acquisition."- U.S. Department of the Treasury Press Release
Allergan would appear to run afoul of this new three-year look back with the former Allergan and Actavis merger that was completed just last year. These new regulations effectively spell the end of the Allergan/Pfizer merger in its current form, and the market seems to have taken in this new reality.
With the Allergan/Pfizer merger likely off the table, do shares of Allergan represent value following the massive sell-off?
The merger arbitrage spread with Allergan had been one of the largest annualized returns available to merger arbitrage funds and traders, which had appeared to have led to a position build up within many hedge funds. As of December 31st of last year, major funds such as Wellington Management, Clearbridge Investments, Viking Global Investors, Paulson & Co., and Third Point had all reported positions in Allergan in excess of $1 billion each. Event-driven funds can be made to be forced sellers in an environment like this, since the thesis and arbitrage opportunity in Allergan have essentially collapsed this evening. Certain funds, such as merger arbitrage vehicles, have strict mandates, which give managers little choice other than to dump shares on news like this. For value-focused investors, this forced selling can create an opportunity, as heightened volatility and high share turnover can exacerbate a downward move in the stock.
The Pfizer deal had obviously been holding shares of Allergan up, and concerns surrounding Pfizer paying an inflated value in the merger seem to be with merit. Allergan's history with inversions and its unique drug profile had made it one of very few options for a company of Pfizer's size to engage in a corporate inversion with. Now that the rules have changed, this puts that logic out of the proverbial window, and shares of Allergan are now left to stand on their own two feet.
The Irish-domiciled Botox maker has seen its business being revolutionized over the past few years as various acquisitions have driven substantial growth of the company. As Allergan's sale of its generic business should bring in bring in cash proceeds of around $40.5 billion in the next few months, the focus will inevitably be on its branded drug portfolio. The latest news from the U.S. Department of the Treasury is particularly troubling for Allergan and Pfizer, as their inversion is almost certainly over. Forced sellers, such as merger arbitrage funds, will likely continue to drive the price of Allergan shares lower; however, this could represent meaningful opportunity for long-term investors at the right price. A major anticipated cash inflow from the sale of its generic business, combined with this major sell-off could create an opportunity. There is certainly risk with shares of Allergan, and heightened volatility should be expected in the near term.
Disclosure: I/we have no positions in any stocks mentioned, and no plans to initiate any positions within the next 72 hours. I wrote this article myself, and it expresses my own opinions. I am not receiving compensation for it (other than from Seeking Alpha). I have no business relationship with any company whose stock is mentioned in this article.