It has been a disappointing year so far for shareholders of Foot Locker (NYSE:FL) with its shares down 2% year to date. We had been very optimistic about the stock in 2016, but so far it has been very underwhelming. But after reviewing things we have decided this is another buying opportunity and increased our position accordingly.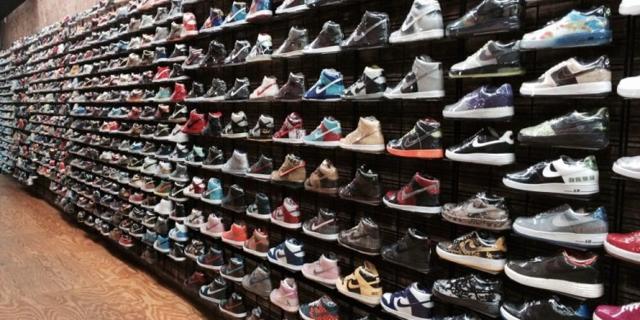 As the northern hemisphere steps foot into spring there will be many people thinking about getting fit for the summer we're sure. We are increasingly hopeful that consumer spending will continue its steady growth (shown on the chart below) and Foot Locker ends up being a company that prospers from it.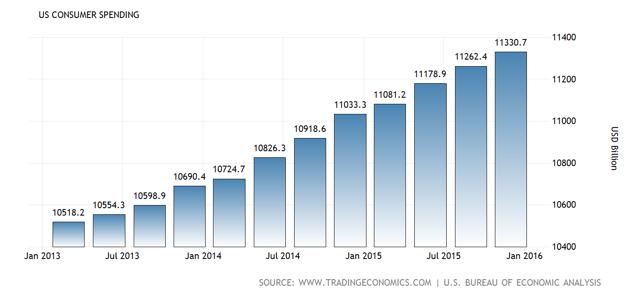 (Source: tradingeconomics.com)
Health and wellbeing is definitely an area we expect money to be spent. It was reported last week, following research from London's Imperial College, that US has 41.7 million obese men and 46.1 million obese women. Shockingly, looking at the worldwide figures there are an estimated 641 million obese persons. This puts an obvious strain on health care systems around the world and we expect governments to ramp up their initiatives to combat things head on. How they go about this, we don't know. But we do expect government's encouraging fitness programs as they have in the past. The Olympics in Rio are just around the corner and we do expect this to be leveraged where possible.
So far this year the rise in disposable income appears to have been great news in the retail industry. Year over year US retail sales have been very strong, with February's coming in 3.1% higher than last year.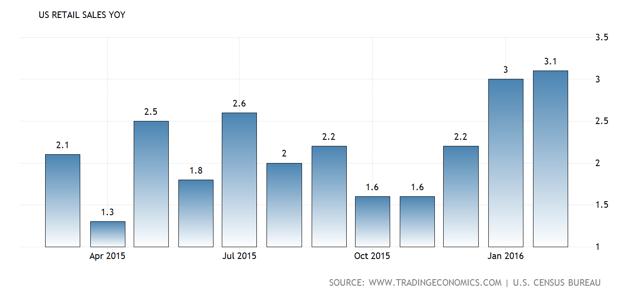 (Source: tradingeconomics.com)
Let's not forget also that tax refunds will be showing up very shortly. This, combined with the savings consumers are making from fuel costs, could mean a big spending splurge coming. This could go some way to helping keep the strong growth in revenue going. As you can see on the chart below Foot Locker has continued to grow its revenue at a solid rate despite headwinds from the strong US dollar. Indeed, it has been almost 6 years now since the company didn't grow its quarterly revenue year over year.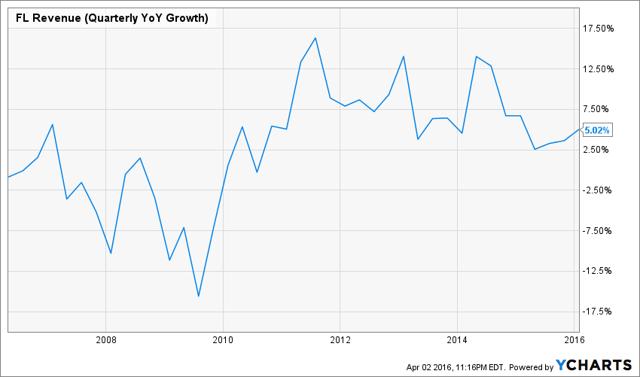 When Nike's management offered disappointing guidance for the year ahead the Foot Locker share price was of course negatively impacted. We don't think Nike's guidance was that bad, though. The market was hoping for 9% growth in revenue, whereas management expects mid-single digits. The fact that the US dollar has weakened a little recently and we expect fewer rate rises could help a little with both companies' currency headwinds. Not to mention the factors we have already spoken about. So, we expect a good year from both especially with the Rio Olympics coming.
At the end of fiscal 2015 Foot Locker had 3,383 stores in operation. Just over two-thirds of these are based in North America, which should mean the company sees a noticeable benefit from any rises in consumer spending domestically. We still believe growth in Asia is going to be a huge part of the company's future. With 600 stores in Europe, but just 93 in Asia, the Asian market is relatively untapped with the potential to expand considerably. Successful expansion into Asia should provide strong growth for the next decade at least in our view. As we said last time, we believe the robust balance sheet and positive free cash flow of $272 million could support this expansion.
In light of this we continue to be bullish on the long-term future of Foot Locker. We expect the company to deliver earnings per share of $4.89 for fiscal 2016, compared to the average analyst estimate of $4.77.
A price to earnings ratio of around 16 is fair for Foot Locker in our opinion. Which means we have a one-year price target of $78.24 on the stock today, providing around 23% upside. If the worst case scenario were to come true and the company earned the consensus average of $4.77, we'd still expect upside of almost 20% on a price target of $76.32.
Of course, this depends if the market remains willing to pay 16 times earnings for the shares. But we believe it will do, especially with the strong growth we expect in the next five to ten years.
Disclosure: I am/we are long FL.
I wrote this article myself, and it expresses my own opinions. I am not receiving compensation for it (other than from Seeking Alpha). I have no business relationship with any company whose stock is mentioned in this article.