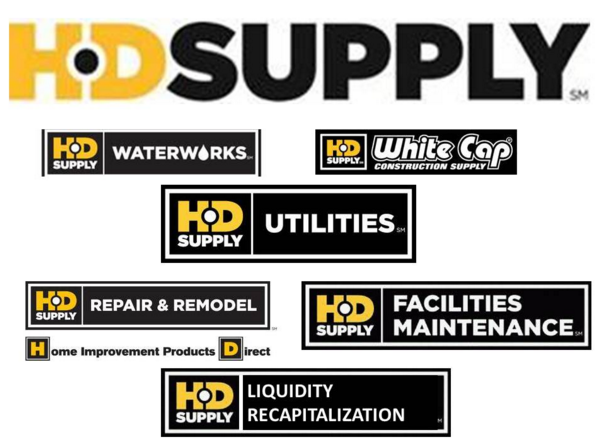 Industrial wholesaler HD Supply (NASDAQ:HDS) has been on fire since the stock bottomed in February. Shares hit just $21 before rebounding and what an epic rebound it has been; shares now sit at $33, knocking on the door to former highs. The company's exposure to the construction and housing sectors has made it a strong pick fundamentally but the share price simply hasn't produced the results one would imagine. But strong Q4 results have shares flying and sentiment turned around on the stock; is there still time to buy?
(click to enlarge)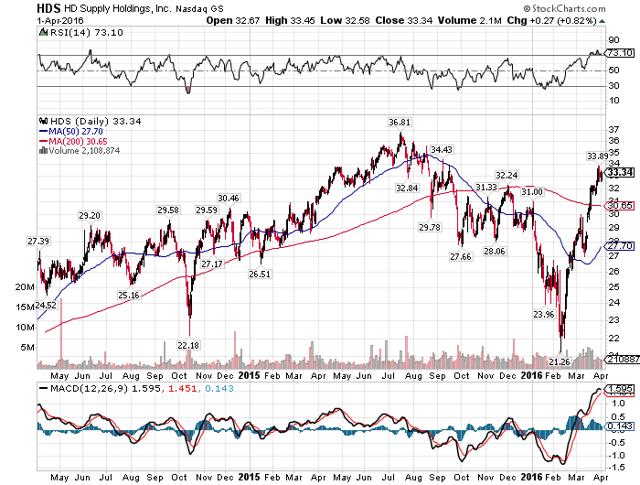 Q4 saw sales boosted by more than 7% - a very strong number in an uncertain environment for HDS. The company's Q4 sales gain represented an improvement upon the first three quarters of the fiscal year and saw HDS gain market share as well. But importantly, management estimated that the total sales gain was well in excess of market share gains, indicating that customers were buying more as well. That means both total and organic sales are rising at HDS - very bullish for the future.
In addition to mid-single digit sales growth for the year, HDS produced strong margin growth as well. This is something that is notoriously difficult to do in the wholesaling business but something that HDS has proven the ability to do over time. Gross margins were up 70bps in fiscal 2015 against fiscal 2014 due to product mix and services income as well as catalog management. HDS has a proven strong ability to find ways to squeeze margin from a low-margin business and that is also very bullish for the long term.
Adjusted EBITDA continues to grow as it hit 11.9% for last fiscal year, up 80bps against last year. The drivers were the same as gross margins with the exception of some cost discipline providing leverage as well. The fact that HDS' margin gains are so well diversified speaks to their staying power and as HDS continues to grow its sales base, we should continue to see margin expansion on par with 2015's levels.
In addition, the company provided preliminary sales for February and the results were spectacular. Year-on-year sales growth of 8.8% was estimated and while one month isn't a quarter or a year, that is a very strong start to the company's fiscal year. This indicates that recent strength is certainly set to continue as management wouldn't have released this number if it thought a slowdown was coming.
HDS' balance sheet is still a bit of a mess as it continues to grapple with high rates of debt and relatively few assets to back it up. The company's net tangible book value is still negative $2.3 billion but that number is rapidly improving. The company's profitability as well as its willingness to pay down debt has helped enormously and HDS' balance sheet continues to improve materially. The company's net debt to adjusted EBITDA ratio at the end of the fiscal year was 4.6, down from 6.1 a year ago. That's a significant improvement, and continued work here will get HDS to a point in the not-so-distant future where its debt level is very manageable.
Analysts have HDS producing gargantuan profit growth numbers for this year and next year as it continues to exhibit gains on operating leverage. The company's profit margins are still growing and in concert with mid-single digit sales gains, we should continue to see double-digit profit growth for the foreseeable future. At 13.2 times this year's earnings estimates, HDS is still cheap despite its epic rally since it bottomed in February. How HDS ever reached $21 is beyond me as it was ludicrously cheap at that level, but even now, it represents strong value. With the bullish guidance management provided as well as the continued reduced leverage and sales/margin growth stories combined, HDS looks desirable here.
I think the long-term bull story with HDS is still very much intact with its broad sales growth across all of its categories. And as it continues to take share from competitors, its operating leverage should continue to grow as well, producing margin expansion for the foreseeable future. That should allow HDS to continue to reduce financial leverage and eventually get to a place where it can buy back shares and/or pay a dividend. We're not there yet, but it is in the cards and from here, I still think HDS represents a strong buy despite being up 57% from its recent bottom.
Disclosure: I/we have no positions in any stocks mentioned, but may initiate a long position in HDS over the next 72 hours.
I wrote this article myself, and it expresses my own opinions. I am not receiving compensation for it (other than from Seeking Alpha). I have no business relationship with any company whose stock is mentioned in this article.