With Alaska Air Group (NYSE:ALK) making a frenzied bid to buy Virgin Americs (NASDAQ:VA) in a bidding war with JetBlue Airways (NASDAQ:JBLU), investors now need to switch into the mode of how to handle the deal. Virgin America shareholders holding from a few weeks ago are going to cash in big time, but Alaska Air shareholders need to decide if the deal is on time for gains going forward like the flights.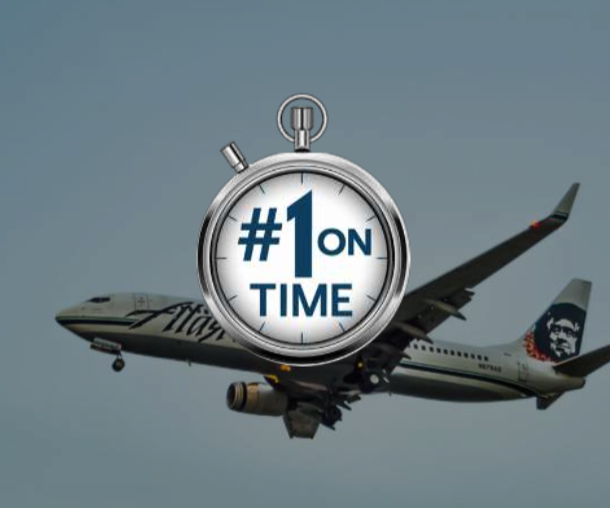 Alaska Air is up sharply from the February lows that incredibly gave shareholders an opportunity to own the stock $20 ago. At the closing price of $83 last week, Alaska Air was a reasonably affordable stock as the industry continues to shift towards a better future. Remember, investors need to not focus on the gains over the last couple of weeks. The yearly gain through Friday was only slightly better than industry leader Delta Air Lines (NYSE:DAL).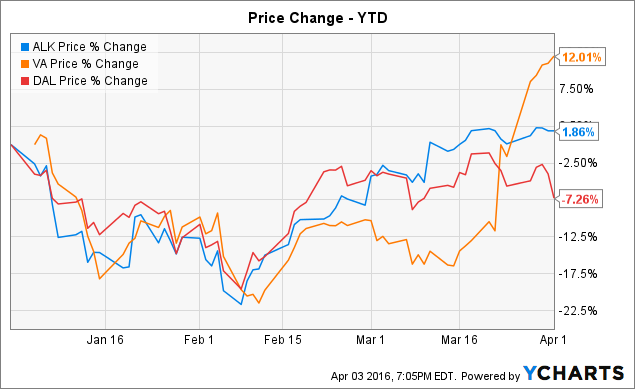 ALK data by YCharts
In that theory, any accretive deal that reduces competition should provide a solid investment opportunity, but the question is whether the bidding war eliminated that value proposition.
Deal Value
The media reports had the deal value originally going from $2.0 billion for Virgin America to now $2.6 billion. The immediate reaction is that Alaska Air is over-paying for the airline. The ability to fund the deal via cash and cheap debt might quickly change that equation to a more favorable outcome for Alaska Air.
With a market cap of over $10 billion, the higher price still leaves Virgin America as a small portion of the combined value of the new entity. And as the above chart shows, a good portion of the recent run was only Virgin America catching up to the market this year.
As far as Alaska Air, the airline ended March with $1.6 billion in unrestricted cash. The airline does have roughly $700 million in debt, leaving a net cash position of around $900 million. This pristine balance sheet comes with the fact that Alaska Air spent $505 million on stock buybacks last year and pays a 1.1% dividend yield. The point being that the company has the cash flow to quickly pay down any debt incurred for this deal.
Some quick analysis on the deal without any synergy benefits:
Alaska Air is forecast to earn $7.60 with 127 million shares outstanding.
Virgin America is forecast to earn $3.61 with 45 million shares outstanding.
Net income equals $965 million + $163 million + $225 million (synergies) = $1,353 million.
Assume $2.6 billion in added debt at a 5% interest rate = $130 million of additional interest expense.
New EPS = $1,203 with 127 million shares = $9.50 (not including tax implications)
In essence, the deal is slightly accretive with a 5% interest rate prior to including the synergies. The synergies including a possibly lower interest rate along with the ability to use existing cash balances and free cash flow generation to quickly pay down debt is very accretive for Alaska Air.
The cost savings and net synergies of $225 million annually need to be explored more considering the limited route overlap and opposite fleets. According to The Wall Street Journal, the airlines only overlap on six routes that account for 6.6% of Alaska's capacity. In addition, Alaska has a fleet of Boeing (NYSE:BA) planes and Virgin America has a fleet of Airbus Group (OTCPK:EADSF) planes.
Naturally, the airline will save on some back office expenses by eliminating the duplicative finance and HR departments. The real question is the commercial synergies from grabbing a larger presence at both the San Francisco International Airport and the Los Angeles International Airport. Combined market share jumps to 16% at SFO and 11% of seats at LAX.
Undeniable Value
Despite a consistent history of one of the few profitable airlines, the stock historically trades at a low multiple. Even without an EPS boost from the merger with Virgin America, Alaska Air is an attractively priced stock.
ALK PE Ratio (Forward 1y) data by YCharts
Maybe the best way to outline the undeniable value of Alaska Air that is further enhanced by an accretive deal is the following chart of its Investor Day presentation.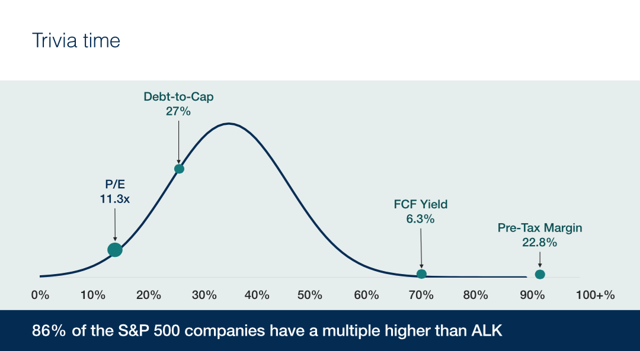 This scenario isn't necessarily unique to Alaska Air in the airline industry, but it does highlight how the company has one of the highest FCF yields and pre-tax margins in the S&P 500. While at the same time, the airline has one of the lowest P/E ratios.
Takeaway
The deal isn't risk free as the Department of Justice could have serious concerns about more consolidation in the airline industry. Ultimately though, a cheap airline stock is only getting cheaper with the accretive nature of the deal. If Alaska Air comes anywhere close to achieving the $225 million in annual benefits, the deal is likely to generate a lot of value for shareholders.
Disclosure: I/we have no positions in any stocks mentioned, and no plans to initiate any positions within the next 72 hours.
I wrote this article myself, and it expresses my own opinions. I am not receiving compensation for it (other than from Seeking Alpha). I have no business relationship with any company whose stock is mentioned in this article.
Additional disclosure: The information contained herein is for informational purposes only. Nothing in this article should be taken as a solicitation to purchase or sell securities. Before buying or selling any stock you should do your own research and reach your own conclusion or consult a financial advisor. Investing includes risks, including loss of principal.