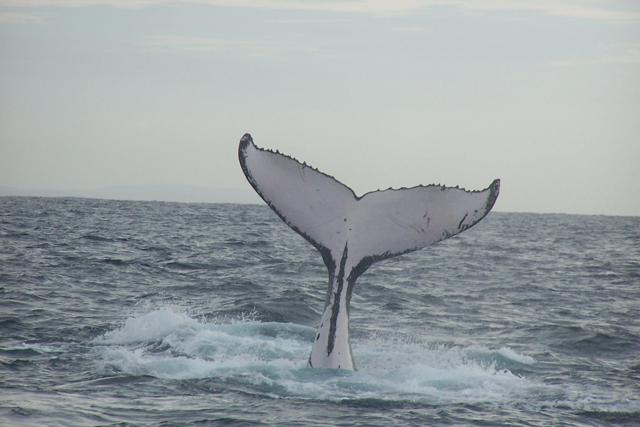 The bear case for Weatherford (NYSE:WFT) suggests it would be difficult to service its $7.5 billion debt load amid declining oil prices, and declining E&P. I also predicted short-term lenders would bail on the Swiss Whale before $1.0 billion in principal payments came due by Q2 2017. Last month Weatherford raised $630 million in equity; however, the prospectus suggested about $548 million would be used to repay its revolver with JP Morgan (NYSE:JPM) and Morgan Stanley (NYSE:MS). That calls into question just how much liquidity the company will have going forward.
At year-end 2015 the company had $967 million outstanding under its $2.25 billion revolving credit facility; liquidity under the revolver was about $1.3 billion. It was expected to be renewed by the end of Q1 2016. Nothing has been announced thus far, which gives credence to the thesis that JP Morgan wants out. I believe lenders could cut Weatherford's revolver to $415 - $830 million. That would reduce its liquidity by $1.4 - $1.8 billion.
The Situation
In my opinion Weatherford is insolvent, in spite of its recent equity raise. The next milestone is for the company to renew its revolver. However, I believe lenders will actually reduce the revolver instead of increasing it. Weatherford had cash on hand of $467 million at year-end 2015. Including $630 million in fresh capital, the company would not have enough liquidity to [i] make a $401 million principal payment at Q1 2016, [ii] meet a $600 million principal payment at Q2 2017 and [iii] repay the $967 million revolver. The key for lenders is to get their money back prior to the Q2 2017 payment coming due. After Q2 2017 the company might not have enough liquid assets to repay its revolver.
New Revolver Will Likely Hinge On Projected Liquid Assets
The credit limit for the revolver could hinge on Weatherford's projected liquid assets at the end of the year. Short-term lenders will likely look to accounts receivable to repay the revolver.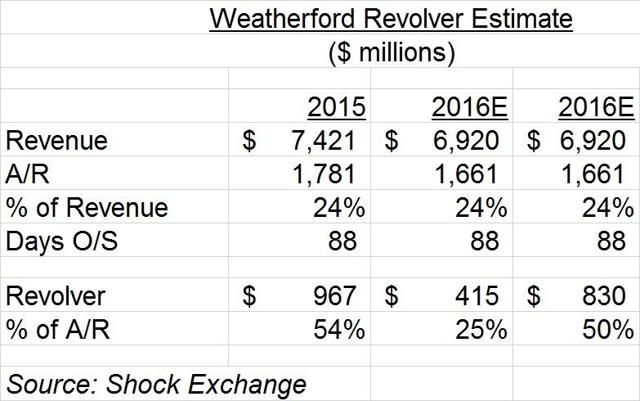 For 2015 the company had revenue of $7.4 billion. Its accounts receivable of $1.8 billion was 24% of revenue, or 88 days outstanding. Analysts expect the company to generate 2016 revenue of $6.92 billion. Based on current days outstanding, its accounts receivable could fall to $1.7 billion by the end of the year. Lenders would likely base the new credit limit for the revolver on some percentage of A/R. At 25% the credit limit would be $415 million; at 50% it would be $830 million.
Current liquidity under the revolver is $1.283 billion.
A $415 million revolver would require the company to repay $552 million to be in compliance with the new credit limit. Its liquidity would decline by $1.8 billion ($1.283 billion + $552 million).
An $830 million revolver would require the company to repay $137 million. The company's liquidity would decline by $1.4 billion ($1.283 billion + $137 million).
According to the prospectus, Weatherford is expected to use the lion's share of the proceeds from the equity offering ($548 million) to repay the existing revolver. The Q1 2016 balance sheet could show the revolver balance at $419 million ($967 million minus $548 million). Why would JP Morgan increase the credit limit substantially after having it reduced to $419 million? That would defy logic.
Implications For Weatherford
Goldman Sachs (NYSE:GS) has a $9.75 price target for WFT -- a 31% increase over its current price target of $7.46. That target is partly based on Weatherford's robust liquidity of $2.4 billion:
WFT's balance sheet and liquidity have improved following its recent 115mn share $630mn equity issuance. We estimate WFT has access to nearly $2.4bn of liquidity through a combination of cash on hand, revolver availability, and proceeds from the recent equity raise, which helped fund a $350mn maturity early this year, and also positions it well for the upcoming $600mn maturity in 2017.
Based on a $415 million revolver limit Weatherford's total liquidity would decline to about $545 million; a revolver of $830 million would reduce total liquidity to $960 million.
A major cut in Weatherford's revolver could hurt sentiment for the stock. First of all, short-term lenders understand Weatherford's financial situation better than outsiders. Retailers could interpret the action that lenders have less confidence in Weatherford's ability to turn things around. Secondly, it could portend that Weatherford needs to raise additional equity to meet its $1 billion in principal payments due by Q2 2017.
Either scenario could cause WFT to sell off. Moody's recently sacked Weatherford due to a potential that it could continue to rely on outside sources of capital. A revolver cut could cause WFT bulls to come to a similar conclusion.
Disclosure: I am/we are short WFT.
I wrote this article myself, and it expresses my own opinions. I am not receiving compensation for it. I have no business relationship with any company whose stock is mentioned in this article.