With art prices looking like they are on the decline and several high-profile employees exiting, we have decided to close our position in Sotheby's (NYSE:BID) lest the ship be sinking. It is hardly a bad time for us to exit either, following a wild but profitable ride since the start of the year.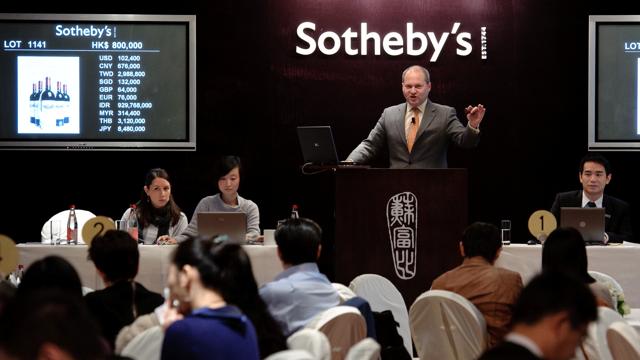 On March 11, Sotheby's celebrated its 272nd birthday. This is a company that has been through it all and has stood the test of time. We have little doubt that it will get through its latest struggles and grow stronger from it. However, the share price may not fare so well. As you can see on the chart below it has been quite a wild ride since we last wrote about the stock on January 20.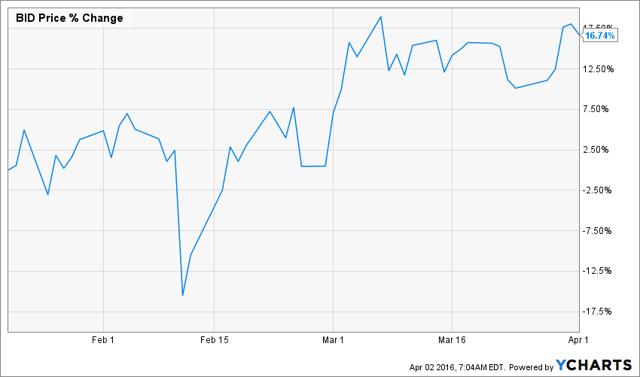 In fact, at one point it was down by 15.5% and we felt like we had made a terrible decision. Well, fortunately it turns out our decision was justified, but we can't help but wish we had waited an extra month to capture a ~30% gain instead. But then, timing the market can be a fool's game.
We made our original decision to buy the stock because it was looking very cheap and there were some big-spending Chinese consumers that had been making headlines. Most notably Liu Yiqian who last year purchased a Modigliani painting for $170.4 million, making it the second-highest price paid for a piece of art in history. We were particularly bullish on his comments to the New York Times. He said:
"The message to the West is clear: We have bought their buildings, we have bought their companies, and now we are going to buy their art."
This was further enhanced by the fact that in the middle of last year China overtook the United States as the country with the most billionaires for the first time. A Shanghai-based consultancy company reported that China had 596 billionaires, which was an increase of 242 on 2014, compared to the United States' figure of 537. With so many billionaires cropping up it really is an auctioneer's dream come true.
But since then things haven't looked as rosy. Malaysian financier Low Taek Jho has recently sold works by Claude Monet, Pablo Picasso and Jean-Michel Basquiat for a total of around $54 million. It was reported that the sales took place with unusually steep losses on at least two pieces. Perhaps the worst thing here was that they were being used as collateral for a $100 million loan from Sotheby's. This isn't great news for Sotheby's to say the least.
Elsewhere, there have been a number of key exits at Sotheby's. Cheyenne Westphal is the most recent exit which has us worried. Westphal had been with Sotheby's for over 25 years and was worldwide head of contemporary art. She was instrumental in almost every major contemporary art sale in Europe since 1999. Her loss, following the exit of co-head Alex Rotter, will be a big blow to Sotheby's. These are two of a long list of exits which makes us wonder about the future direction of Sotheby's without them. Time will tell whether their replacements will have as much sway in the art world, but it's not something we are willing to stick around to find out.
Another thing to consider for shareholders is the negative impact a global slowdown would have on the company. While we don't expect to see another global financial crisis hit any time soon, there are many out there who are saying a recession is overdue. If one were to occur, then Sotheby's could take an almighty hit. As you can see on the chart below, revenue took an incredibly steep decline during the last one.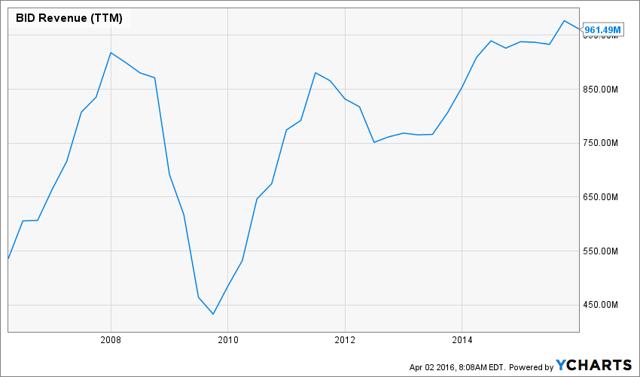 Management itself has said there will be one or more difficult quarters ahead for the company to navigate through. So for us we are going to close our position, take our gains and reinvest somewhere less risky. It just feels as the macroeconomic factors are against the company at present and the uncertainty in art prices is worrisome. When art prices drop, sellers will lock up their best pieces and keep them from auctions. Auction houses will need to entice sellers to auctions by offering terms that favor the seller rather than the house. As competition builds we fear there will be more gambles being made like the Taubman collection. The company may have just scraped through that one unscathed, but it could have gone terribly wrong.
We believe investors are best to stay away from Sotheby's for at least the next couple of quarters so that they can get a better picture of how the company is traveling. However, if the share price were to drop down toward $20-$22 then it could become attractive again.
Disclosure: I/we have no positions in any stocks mentioned, and no plans to initiate any positions within the next 72 hours.
I wrote this article myself, and it expresses my own opinions. I am not receiving compensation for it (other than from Seeking Alpha). I have no business relationship with any company whose stock is mentioned in this article.