My latest article on an arbitrage strategy involving SolarCity's (NASDAQ:SCTY) shares and options caught a lot of attention from the SA community. I noticed a few comments saying that the strategy was hard to implement or almost impossible because SolarCity's shares were unavailable for short-selling at some brokerages (the idea was to buy the synthetic and sell the shares short in a delta-neutral manner). I agree that this was a great idea from a theoretical standpoint but a bit difficult to execute without extra costs (such as interest on shorted stock). Today, I will make sure I do not disappoint arbitrage-seeking investors.
My newest idea involves Valeant Pharmaceuticals (NYSE:VRX). I find that many arbitrage strategies revolve around stocks that are found in special situations, and Valeant Pharmaceuticals is definitely one of these cases. Typically, pharmaceutical stocks offer options that have skewed pricing: calls are often more expensive than puts for the same exercise prices. This is because options sellers know that pharmaceutical stocks move violently when certain events take place (e.g. news about FDA approvals). In Valeant's case, options sellers are worried that the stock may gap higher after having lost more than 90% of its value since September 2015: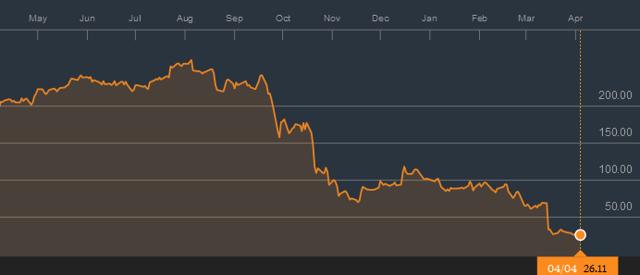 (Source: Bloomberg)
The strategy I am offering today is essentially the same as in the case of SolarCity. The main difference is that I suggest selling the synthetic and buying stock:


(Source: TD Waterhouse)
Note: The above table shows prices for options expiring on April 29, 2016. I used "last" prices to obtain figures for calculations. The actual transaction prices at which readers may execute the strategy may differ from broker to broker.
As a result of this trade, investors have to pay cash upfront (buying the stock is the biggest cash outflow here). I hope that readers will not face problems buying Valeant's stock, especially given the fact that it is under downward pressure.
Here is the profit/loss profile of this trade: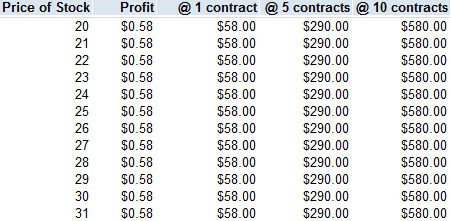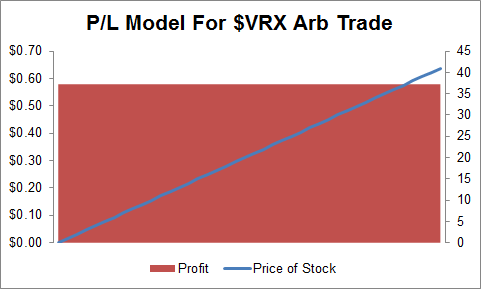 (Source: author's calculations)
As readers can see, investors lock a profit of $58 per contract (100 shares of stock). The optimal trade size, given transaction fees and taxes, is 10 options contracts (1000 shares of stock). In terms of profitability, this arbitrage trade yields a ~2.2% return over a four-week period (a ~13% annualized return), fees and taxes excluded. The strategy is delta-neutral at initiation and remains so throughout its life, so investors will not have to worry about any rebalancing.
Disclosure: I/we have no positions in any stocks mentioned, but may initiate a long position in VRX over the next 72 hours.
I wrote this article myself, and it expresses my own opinions. I am not receiving compensation for it (other than from Seeking Alpha). I have no business relationship with any company whose stock is mentioned in this article.