Two months have now passed since ExxonMobil (NYSE:XOM) released fourth quarter and full-year results. With crude oil prices falling off a cliff all throughout 2015, it didn't come as a surprise that ExxonMobil was not in a position to report strong earnings for the last quarter of the year. That being said, though, ExxonMobil, more than any other oil major, is in a position to keep paying shareholders a growing dividend moving forward, while managing the downturn.
In February, when ExxonMobil released Q4-15 earnings, I penned a piece on the oil company, titled "Exxon Mobil: House Of Pain, But There Is No Need To Despair", in which I described the benefits that come with operating a sizable downstream segment. Integrated oil companies with upstream AND downstream businesses, so the argument, are the best prepared to deal with a longer period of lower commodity prices, and ExxonMobil is one such company.
The reason for that is that companies with downstream segments can offset some of the earnings decline in the upstream business due to lower price realizations with expanding margins in their downstream business. This is what happened in the case of ExxonMobil: In Q4-15 ExxonMobil's upstream profits slumped ~$4.6 billion Y/Y, driven by a dramatic decline in U.S. upstream profits. However, better downstream earnings cushioned the blow from lower crude prices.
(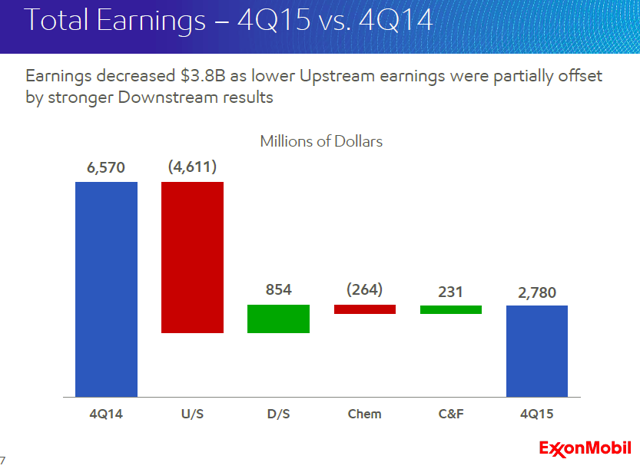 Source: ExxonMobil
ExxonMobil: A Rock Of Stability
ExxonMobil is, in my opinion, well prepared for the new reality of 'lower for longer' crude oil prices. In 2015, arguably one of the worst years for crude producing companies in the oil patch, ExxonMobil pulled in $6.5 billion in free cash flow. That's lower than the $18.0 billion in 2014, granted, but not too many oil companies have the luxury to report positive free cash flows at all during this tumultuous times. In fact, executives of shale oil and gas companies would be more than happy to switch sides and be in ExxonMobil's relatively comfortable position right now.
ExxonMobil has guided for lower capital expenditures this year, and is putting its foot on the buyback-brake, too, in order to account for the reality of lower crude oil prices. In 2016 ExxonMobil will reduce investment spending by 25 percent, or ~$7.9 billion Y/Y to ~$23.2 billion.
Free Cash Flow Power Likely To Sustain Dividend
More than just a few oil and natural gas companies have slashed their dividends/distributions in light of the crude oil price crash, or suspended them altogether in a last-ditch effort to conserve cash and ride out the downturn. And this, by the way, also includes the suspension of preferred stock dividends, as was the case with Chesapeake Energy Corp. (NYSE:CHK).
On the other hand, ExxonMobil should have no real problems maintaining its current dividend payout of $0.73/share. Mountains of free cash flow actually make ExxonMobil's dividend of low risk, and the company's aggressive cost and capex cutting measures could improve ExxonMobil's cash profile even further. ExxonMobil also mentioned in its last investor presentation that it is committed to paying a "reliable and growing dividend".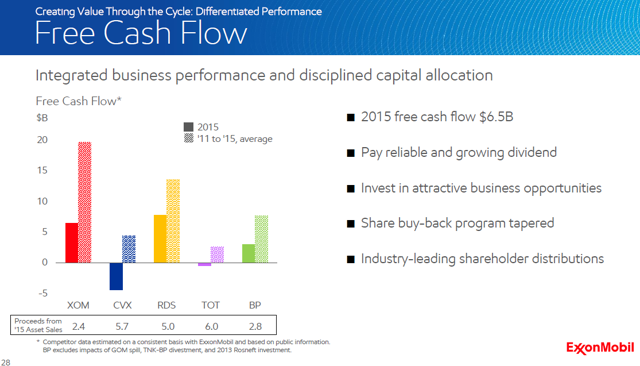 Source: ExxonMobil
Your Takeaway
ExxonMobil went through some pain in 2015, but it was not as intense as the pain other oil and natural gas companies felt. ExxonMobil reacted swiftly to the decline in crude oil prices by cutting costs, adjusting capital expenditures, and managing cash more carefully. ExxonMobil's downstream business further cushions the blow from lower crude prices, should they remain low for longer. Since ExxonMobil continues to pull in mountains of free cash flow, chances are that the oil company will be able to maintain its dividend payout (and potentially even grow it) throughout this downturn. Buy for income.
Disclosure: I am/we are long XOM.
I wrote this article myself, and it expresses my own opinions. I am not receiving compensation for it (other than from Seeking Alpha). I have no business relationship with any company whose stock is mentioned in this article.