It's not a secret that Linn Energy (NASDAQ:LINE) appears headed for bankruptcy. It's been demonstrated in various articles that it simply needs to restructure a substantial portion of its $9.3 billion of debt in order to continue as a going concern. That means a bankruptcy filing, whether in court or out of court, which will wipe out the value of the units. But that's not the reason LINE is a ticking time bomb. The reason it's a ticking time bomb is taxes.
LINE promises to be one of the most, if not the most, high profile publicly traded LLC bankruptcies in recent history. And I don't think it will be forgotten soon for many of unitholders.
Cancellation of Debt Income
Here is the problem. The reduction of debt (whether through an exchange for equity, reduction or cancellation) triggers cancellation of indebtedness income (CODI), which is includable in gross income unless an exclusion applies. The most important exclusion is Code Section 108, which provides that gross income does not include CODI that occurs while the taxpayer is insolvent. In a typical corporate bankruptcy, the corporation is the "taxpayer" and therefore the exclusion in Section 108 applies and no CODI is included in gross income. For a partnership or LLC, however, the "taxpayer" is the limited partner/unitholder, and therefore the Section 108 insolvency exception does not apply unless the limited partner/unitholder itself is insolvent. As a result, all CODI is allocated to the limited partner/unitholder in the case of a bankruptcy of a limited partnership/LLC.
If that sounds unfair, consider that partners/unitholders in partnerships/pass through LLCs such as LINE have been enjoying the benefits of the single layer of taxation during the good times; this is just the flip side of that advantageous tax treatment.
LINE Tax Implications*
By some estimates, LINE needs to reduce its outstanding debt by at least $5 billion. With 355.2 million units outstanding, that equates to around $14 of cancelled debt per unit, which results in $14 of CODI. Personally, I think that's actually at the low end and that they need to cancel more than $5 billion of debt, but let's go with that because it's a round number. That means for every 1,000 units you hold in this scenario, you are going to be on the hook for taxes on $14,000 of ordinary income. If you are at a 35% tax bracket, that's nearly $5,000 of taxes due as a result of the CODI on 1,000 shares, which are currently worth around $350. You may be able to offset that some with capital losses depending on your tax situation.
Taking the example further with bigger numbers - let's say you own 10,000 shares that are currently worth $3,500. In this example, that triggers $140,000 of CODI and around $50,000 of taxes due. Or let's say you own 100,000 shares worth $35,000. In this example, that triggers $1,400,000 of CODI and around $500,000 of taxes due. These are absolutely huge tax liabilities triggered by relatively modest current investment amounts in LINE.
What Is LINE Management Doing?
So what is LINE management doing about this? They are doing the equivalent of waving their arms in the air and screaming, "get rid of your LINE units!"
Their first risk factor in the Tax Risks section of their 10-K reads:
We are exploring strategic alternatives to strengthen our balance sheet and maximize our value. We may consider alternatives that could have significant adverse tax consequences to our unitholders.

We are exploring strategic alternatives to strengthen our balance sheet and maximize our value. We may consider alternatives that could have significant adverse tax consequences to our unitholders. For example, we may engage in additional transactions that result in significant cancellation of debt ("COD") income to our unitholders. As described below, any COD income may cause a unitholder to be allocated income with respect to our units with no corresponding distribution of cash to fund the payment of the resulting tax liability to the unitholder. In addition, we may engage in transactions that trigger a unitholder's tax gain or loss with respect to our units. A transaction that triggers a unitholder's gain may not be accompanied by any receipt of cash to fund the payment of the resulting tax liability to the unitholder. Under certain circumstances, a unitholder's loss upon any such transaction may be permanently disallowed.

We urge our unitholders to consult their tax advisors regarding the potential adverse effects of the various strategic alternatives that may be available to us.
Or, if you need a clearer message, see the LNCO S-4:
What happens if I do not tender my LINN Energy units?

If you do not tender your LINN Energy units, you will continue to own such units unless you sell or dispose of them in another transaction. Tax items of gain or loss will continue to be allocated to you in accordance with applicable tax rules. A U.S. holder that continues to hold LINN Energy units will not recognize gain or loss pursuant to the offer. Such allocations may include CODI in the event of a future strategic transaction involving LINN Energy's indebtedness. Such allocated CODI could be significant and in excess of any particular LINN Energy unitholder's tax attributes that may be available to offset such CODI. For example, if future restructuring of LINN Energy's indebtedness results in $1 billion, $3 billion or $5 billion of CODI, then approximately $2.83, $8.50, and $14.17, respectively, of CODI will be allocated to each outstanding LINN Energy unit (based on 352,751,460 LINN Energy units outstanding (excluding unvested restricted units) at March 18, 2016).

CODI is not itself an additional tax due but is an amount that must be reported as ordinary income by the unitholder, potentially increasing such unitholder's tax liabilities. The amount of any such tax liability resulting from allocations of CODI will vary depending on each unitholder's individual tax circumstances. In addition, it is possible that LINN Energy could seek protection under Chapter 11 of the U.S. Bankruptcy Code, as a result of which, it is possible that LINN Energy units could be severely diluted or even eliminated in such proceedings. See "Summary-Material U.S. Federal Income Tax Consequences." LINN Energy unitholders are highly encouraged to consult their own tax advisors to determine the specific consequences to them of not participating in the offer, including any potential tax liabilities that may result from future CODI allocations.
As far as SEC filings go, that's the equivalent of running through the streets screaming, "We are going bankrupt, get rid of your LINE units ASAP!"
Further, they have instituted the exchange to allow LINE unitholders to exchange their units for LNCO shares. LNCO, as a holder of LINE units, will incur CODI as a result of a reduction of debt in a LINE bankruptcy. However, LNCO is a corporation, so it can declare bankruptcy and avail itself of the insolvency exception to any debt reduced (and CODI generated) as a result of the LNCO bankruptcy. So LNCO will also go to zero, but importantly it will not trigger the huge tax liability for its shareholders that LINE will for its unitholders.
Management, of course, is keenly aware of these tax issues, and I don't think it's cynical to say that of course their number one priority right now is reducing the risk of taxes on them (and other unitholders) personally. That's why they organized the LINE-LNCO exchange offer, which allows management to exchange their LINE units for LNCO shares during a time in which they would otherwise not be permitted to trade their LINE units because of the non-public information that they are aware of.
The Time Bomb
In general, LINE allocates taxable income generated by Linn Energy in a month to those unitholders who held units at the beginning of the month. As stated in the S-4, "In the event CODI were to be recognized in the same month that the offer is consummated, LINN Energy unitholders who held LINN Energy units at the beginning of the month would be allocated CODI under these simplifying conventions."
As a result, anyone who holds LINE units at the beginning of the month in which the restructuring is consummated will be allocated CODI depending on if, and how much, debt is restructured in the bankruptcy.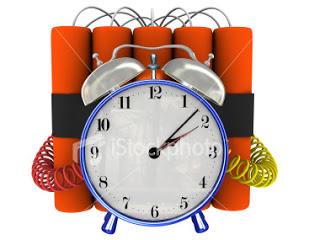 It's a fascinating situation, and I have to say that LINE management is doing a fairly good job warning people in its SEC filings. But LINE was very widely held, including by many retirees who were attracted to it because of its dividend. No matter what the SEC filings say, the fact is that there are a lot of people who own LINE who aren't paying attention and who aren't financially sophisticated. And publicly traded partnership bankruptcy cancellation of debt issues are very complex.
The point is that several hundred, if not thousands, of unsuspecting LINE holders are going to be hit with a big tax bill. Some may even have to declare personal bankruptcy. For some, it will undoubtedly be a real disaster.
What can be done to better educate people now? Should the SEC be more involved? Should Linn release a press release clearly laying out this situation and encouraging people to exchange their LINN units for LNCO stock? And why didn't LINN just incorporate LNCO as a corporation? I imagine that was discussed and perhaps that will be a solution for other near bankrupt partnerships/LLCs in similar situations.
*This article discusses complex tax matters. I am not a tax professional. This merely represents my best understanding of the matters discussed. Please correct any mistakes I have made in the comment section below. I encourage all LINE holders to consult a professional tax advisor.
Disclosure: I am/we are short LINE.
I wrote this article myself, and it expresses my own opinions. I am not receiving compensation for it (other than from Seeking Alpha). I have no business relationship with any company whose stock is mentioned in this article.
Editor's Note: This article covers one or more stocks trading at less than $1 per share and/or with less than a $100 million market cap. Please be aware of the risks associated with these stocks.